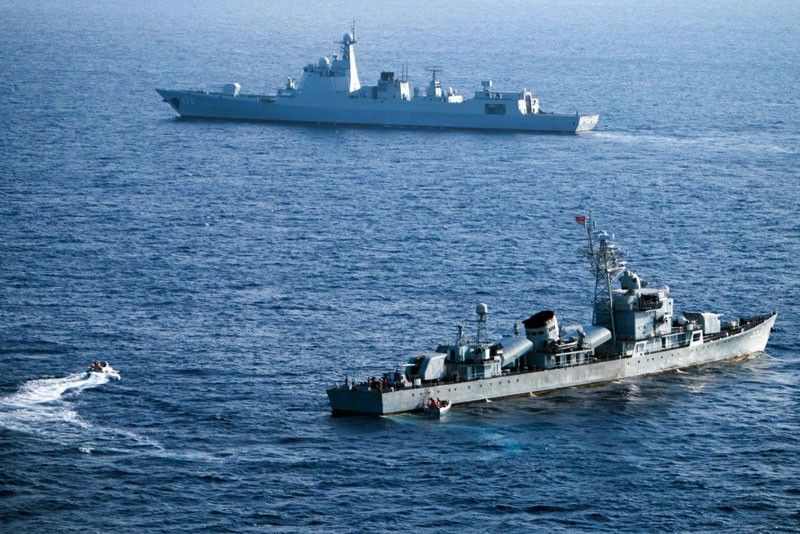 Philippine security officials have been expressing concern over the entry of Chinese warships in Philippine waters, the latest of which is the passage of three vessels through Sibutu Strait in Tawi-Tawi this month.
AFP
Palace: China ships' incursions becoming 'irritant'
MANILA, Philippines — The Philippines and China are embroiled in a longstanding maritime dispute over the resource-rich West Philippine Sea.
Philippine security officials have been expressing concern over the entry of Chinese warships in Philippine waters, the latest of which is the passage of three vessels through Sibutu Strait in Tawi-Tawi this month.
Defense Secretary Delfin Lorenzana has said the series of incursions of Chinese warships into Philippine waters has become an "irritant."
"I agree with Secretary Lorenzana. It's becoming an irritant if you keep on repeating certain acts that may be viewed to be in violation of the UNCLOS (United Nations Convention on the Law of the Sea) and not as an act of friendship between two countries," presidential spokesman Salvador Panelo said yesterday.
Asked how the government intends to deal with such irritant, Panelo said "the government can always file a diplomatic protest and let them respond to it."
General David Goldfein, chief of staff of the US Air Force in the Pacific, said the violation of international rules of order in territorial seas is disconcerting.
"I think quite frankly any activity that we see both at sea and in the air, and increasingly now we're also having the same conversation in space and in cyber, has got to adhere to some international rules of order that we all live by. So, anybody in the region that violates those, it's concerning," Goldfein said in a media teleconference.
Goldfein made the comment after he was asked for his thoughts on the unauthorized passage of Chinese warships in Sibutu Strait.
He said the US wants to ensure the global commons are kept open for all and that is why they are doing freedom of navigation operations.
"So part of our engagement here, and our presence here, is to make sure that we keep the global commons open for all. And everybody benefits when we can have freedom of navigation, to include China," Goldfein said, reiterating the US' commitment to the Mutual Defense Treaty signed by the US and the Philippines in 1951.
"There's no letup in our willingness or our ability to fly or sail where we need to and when we need to, and there will be no letup in the future. That's our commitment to the region," he added.
US Pacific Air Forces (PACAF) commander Gen. Charles Brown Jr. said any violation of rules-based international order should be called out.
Chinese vessels spotted in Sandy Cay
A Chinese coast guard ship and eight Chinese fishing vessels were seen lingering yesterday in Philippine waters close to Sandy Cay in Pag-asa Island, a key Philippine outpost in the disputed Spratly island chain, according to the Western Command (Wescom) of the Armed Forces of the Philippines.
Lt. Col. Stephen Penetrante, spokesman for the Puerto Princesa City-based Wescom, said the dozens of Chinese fishing boats monitored last month have been reduced to nine vessels, including a white ship identified as Coast Guard vessel.
"As of this date, there are eight Chinese vessels and one Chinese coast guard ship near Sandy Cay," Penetrante said.
Wescom, whose operational jurisdiction covers the country's Kalayaan Island Group (KIG), in coordination with the Philippine Coast Guard (PCG), has been actively monitoring the activities of Chinese vessels in the disputed region.
Around 61 Chinese ships, in what security officials described as swarming tactics, made their presence felt close to Sandy Cay in February. The cay serves as a barrier of Pag-asa Island.
Sandy Cay was a low-tide elevation when the Philippines filed a case against China before the Hague-based arbitral tribunal in 2012. The tribunal ruling in 2016 invalidated China's historical claims to nearly the entire South China Sea.
Sandy Cay is located between Subi Reef – another low-tide elevation claimed by China in the Spratlys – and Pag-asa Island (also known as Thitu), seat of the Palawan municipality of Kalayaan. Both features are in Philippines' territorial sea, as stated by the tribunal ruling.
Under the UNCLOS, a low-tide elevation is a naturally formed land area surrounded by water. The area stays above water at low tide but is submerged at high tide.
But Sandy Cay acquired more sand over time as China's island dredging in Subi Reef pulverized coral formations there while storms dispersed the sand to Sandy Cay, causing it to rise above water making it a full-fledged island subject to territorial claim.
The second swarming incident in Sandy Cay took place last July 24 when 113 Chinese fishing vessels, whom local security experts tagged as Chinese militia ships working directly under the People's Liberation Army-Navy (PLAN), were monitored by Wescom near the island town.
Responding to the presence of these Chinese vessels near Pag-asa Island, the Philippines filed a diplomatic protest against Beijing.
Aside from being a military outpost, Pag-asa Island is the seat of Kalayaan town, a fifth class Palawan municipality with population of around 300, including residents.
The islet is very close to Chinese-occupied Subi Reef, now a man-made island and a highly fortified military garrison with missile systems, 3,000-meter long runway and safe harbor in place.
Currently, a civilian contractor is building a beaching ramp to accommodate Navy logistic and supply ships in Pag-asa. A port is also being constructed for civilian vessels.
The beaching ramp nearing completion will be used by the Philippine Navy to deliver construction materials for the planned repair and expansion of the unpaved Rancudo Airfield and other facilities in the island town.
Penetrante said Pag-asa island is no longer isolated from the outside world unlike before, following the completion of repairs and installation of internet service.
"There's already free Wi-Fi services in Pag-asa," Penetrante said, confirming reports released by the Department of Information and Communications Technology.
With free Wi-Fi, local government officials based in Puerto Princesa as well as civilian residents in the island town can now communicate directly.