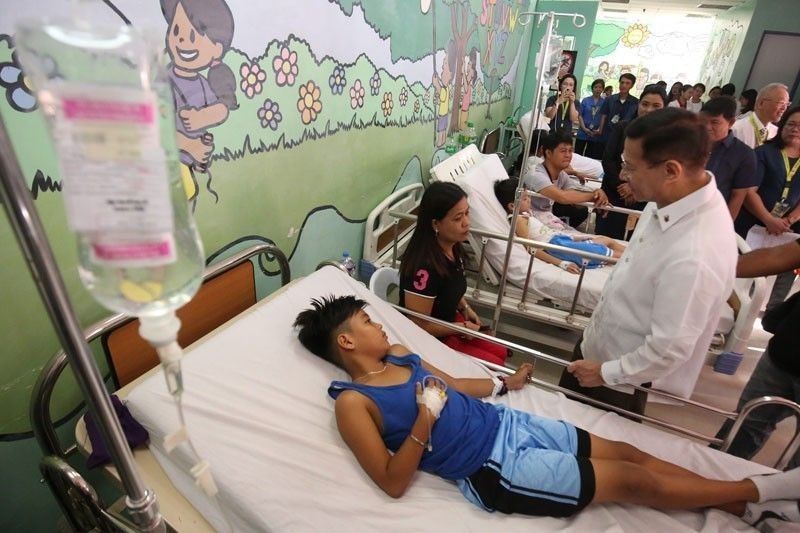 The DOH declared last Tuesday a national dengue epidemic following a meeting with NDRRMC in Camp Aguinaldo, Quezon City due to the alarming number of dengue-related deaths that reached 622 and 146,000 patients infected by the mosquito-borne disease.
Michael Varcas
DOH to distribute dengue detection kits next week
Jaime Laude
(The Philippine Star) - August 9, 2019 - 12:00am
MANILA, Philippines — With the spike of dengue cases nationwide, the Department of Science and Technology (DOST), in coordination with the National Disaster Risk Reduction and Management Council (NDRRMC) and the Department of Health (DOH) will distribute next week diagnostic kits capable of detecting early dengue infection in patients.
The DOH declared last Tuesday a national dengue epidemic following a meeting with NDRRMC in Camp Aguinaldo, Quezon City due to the alarming number of dengue-related deaths that reached 622 and 146,000 patients infected by the mosquito-borne disease.
Developed by researchers from the University of Philippines-Manila, each diagnostic kit offers a simplified method of confirming at the early stage the presence of dengue virus in the patient's blood, according to Science Secretary Fortunato dela Peña.
Dela Peña said the first beneficiaries of these kits from DOST are the Calabarzon (Cavite-Laguna-Batangas-Rizal-Quezon) region, Mimaropa (Mindoro-Marinduque-Romblon-Palawan), Bicol, Western and Eastern Visayas, Western and Northern Mindanao and Bangsamoro Autonomous Region in Muslim Mindanao (BARRM).
Latest dengue cases recorded in Calabarzon region are now at 20,636 with 74 deaths; Mimaropa with 4,488 cases and 13 deaths; Western Visayas with 27,630 cases with 126 deaths; Central Visayas with 11,084 cases with 74 deaths; Eastern Visayas with 7,775 cases and 27 deaths.
In Northern Mindanao, 13,734 individuals were infected by dengue while 53 died because of dengue; 10,338 cases in Central Mindanao with 50 deaths; Cordillera Administrative Region (CAR) with 3,458 cases and seven dengue-related deaths; Caraga with 7,010 cases with 18 deaths.
Dela Peña said the DOST, through its "Tuklas Lunas" program in coordination with the Philippine Council for Health Research, is into various initiatives in drug discovery and development involving two products related to the management of health situation associated with dengue.
The first product so far developed involves the medicinal plant tawa-tawa, which has already undergone pre-medical studies with encouraging results. The drug, considered as a health supplement, increases platelet count.
"As of the moment the certificate of the product registration issued by the Food and Drug Administration (FDA) classifies it as a supplement as it has yet to undergo clinical trial," Dela Peña said.
The second anti-dengue product is being developed by a private pharmaceutical company in collaboration with the De La Salle Health Science Institute, and has completed pre-clinical trial on animals and now undergoing three phases of clinical trial for humans.
He bared that two of three plants that form the anti-dengue product have shown an anti-viral and platelet enhancing effects during the pre-clinical study.
"The DOST fully supports the development of diverse portfolio of product such as functional food, supplements, herbal medicine, through the network of researchers and scientists," he said.
The DOH yesterday advised the public to use mosquito repellant, wear long-sleeved shirts and pants and take other self-protective measures against the dengue epidemic.
DOH Calabarzon director Eduardo Janairo said parents should also let their children bring an extra shirt to school so that they can change from their sweaty uniform.
"Remember children are prone to mosquito bites when they are sweating," he said, adding that boys are more active and thus more prone to being bitten by mosquitoes.
Janairo said people should avoid hanging clothes for long periods to prevent mosquitoes from sticking to the clothes.
Health Secretary Francisco Duque said there is still no cure for dengue, thus it would be best for the people to take the necessary precautionary measures against the potentially deadly illness.
"The best thing that we can do is to clean our surroundings, eliminate all mosquito breeding sites that we can find in our homes such as water in vases, tires, water drain at the back of refrigerators," he stressed.
He also urged the public to check for cracks in septic tanks because this is where mosquitoes hide and thrive.
The other day, Duque met with health and local officials in Quezon province to check on the dengue situation in the area.
Sen. Christopher Go asked the DOH to explain the current situation of the dengue epidemic in the country.
During the first meeting of the Senate committee on health and demography, Go also asked the DOH about the steps the department has undertaken and its future plans on how to address the issue.
Go advised the public to observe the DOH's 4S strategy or search and destroy mosquito-breeding sites, self-protection measures, seek early consultation and support fogging or spraying in hotspot areas to mitigate the dengue epidemic.
"Ang payo ko sa publiko, sundin po natin ang payo ng ating DOH, 'yung 4S (strategy) sa ngayon. Wala naman tayong mas mabisang gamot sa dengue kung hindi ang sundin yung pagsugpo nito," Go said.
Go expressed concern over the various public health issues the country is presently dealing with, including the national dengue epidemic, immunization, failed distribution of expired and expiring medicines, and fraudulent claims involving the Philippine Health Insurance Corp. (PhilHealth).
Go emphasized that healthcare must be treated as a right of citizens, not a commodity, referring to the high cost of hospitalization paid by Filipinos once they get admitted to hospital or have consulted a doctor. – With Mayen Jaymalin, Cecille Suerte Felipe, Emmanuel Tupas, Eva Visperas, Cesar Ramirez