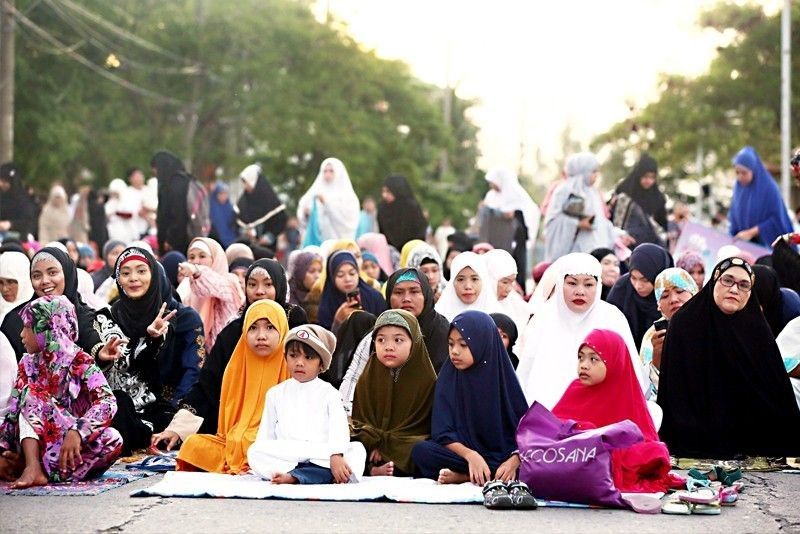 In this June 5, 2019 photo, Muslim women and children gather for morning prayers in celebration of Eid'l Fitr.
The STAR/Miguel de Guzman, File
Bangsamoro region's normalization 'on track' — Palace
MANILA, Philippines — The normalization process in the Bangsamoro Autonomous Region in Muslim Mindanao is going as planned, Malacañang said, a month after President Rodrigo Duterte warned that a revolution might erupt if the budget for the newly formed region is not released.
Cabinet Secretary Karlo Nograles said "things are on track and proceeding as planned" in setting up various institutional mechanisms for the BARMM, the political entity created out of the peace deal between the government and the Moro Islamic Liberation Front.
Nograles, co-chair of the inter-Cabinet cluster that oversees efforts to ensure the smooth transition to BARMM, said the government is fast-tracking the establishment of offices for youth, women, settler communities, disaster risk reduction, planning and development and the attorney general.
READ: MILF's Al Hajj Murad Ebrahim named BARMM transition chief
He said the Development Academy of the Philippines and the Bangsamoro Transition Authority signed an agreement recently to form the core agencies of BARMM. The BTA is the body that will govern the BARMM until 2022.
"We're confident that with DAP's guidance and expertise, these governance initiatives will turn out robust and responsive," Nograles said in a statement issued Sunday.
Last month, Duterte called for the immediate release of the budget for BARMM, saying another revolution might start if the government fails to do so. The administration has allocated P30 billion for BARMM this year.
FULL TEXT: Duterte's 2019 State of the Nation Address
Presidential spokesman Salvador Panelo has said the Budget department would soon release P59 million for the salaries of 82 members of the BTA for July to December this year.
Last June, Malacañang announced the decommissioning of 12,000 former MILF combatants, a key component of the normalization and transition process.
The former rebels and their families are expected to receive housing, livelihood assistance, skills development training, scholarships, employment opportunities, health care coverage, conditional cash transfers and documentation such as birth certificates and postal IDs.
"We're being thorough in our preparations, addressing both grassroots and upper level management challenges. We're way past the experiment stage as far as Bangsamoro autonomy is concerned and our goal is to make everything work and succeed," Nograles said.