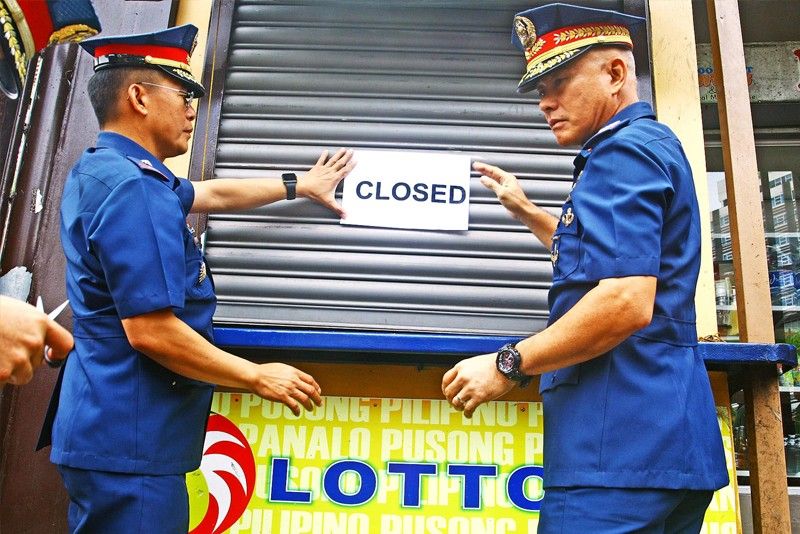 PNP chief Gen. Oscar Albayalde (right) leads the closure of one of several lotto outlets and STL operator offices in Baguio City yesterday.
Artemio Dumlao
Duterte stops lotto, other PCSO games
Duterte fed up with massive corruption, outraged by greed
MANILA, Philippines — Fed up with what he called insatiable and massive corruption in the Philippine Charity Sweepstakes Office (PCSO), President Duterte on Friday night ordered the revocation of all gaming franchises – including the popular lotto – issued by the PCSO.
"All (operations) must stop," he said in a taped message aired by state-run PTV 4.
"The order is grounded on the preservation of the resources of the nation," he added.
"I have today ordered the closure, the stoppage of all gaming schemes of whatever nature, however done, that got their franchises to do so from the PCSO," he stressed.
The order took effect yesterday.
A source told The STAR that active and retired officials of the Armed Forces of the Philippines (AFP) and the Philippine National Police (PNP) are reportedly the ones making a killing in the gaming operations of the PCSO at the expense of government.
"These military and police officials have become a problem for the PCSO, starting when retired military officials headed the PCSO and their hands were tied because they could not do anything about the power of these officials," a source who requested anonymity said.
This prompted President Duterte to order a halt in all gaming operations with franchises, licenses or permits granted by the PCSO. Certain military and police officials are reportedly holders of multiple gaming franchises through proxies.
They also reportedly do not report their proper income and always resort to securing temporary restraining orders from the courts whenever questioned by the PCSO.
The Chief Executive did not mention the amount believed to be lost to corruption at the PCSO but presidential spokesman Salvador Panelo hinted that questionable transactions could reach P50-million, the threshold amount that could qualify for plunder.
"The President is outraged by the discovery of the plunderous machinations of these scoundrels whose insatiable greed is infinite and beyond redemption," Panelo said.
He said the President would soon be naming those involved in the illegal activities.
"The Chief Executive will identify the culprits in due time and the full force of the law will come crushing down on them. This hydra-headed corruption will be cut off until it reproduces no more," Panelo said.
In his televised message, Duterte directed PNP chief General Oscar Albayalde to make sure that all outlets of Lotto, Small Town Lottery, Peryahan ng Bayan and Keno are closed, pending investigation.
He also tapped AFP chief Gen. Benjamin Madrigal Jr. to carry out his orders, especially in the countryside.
"Everybody, everybody has to stop. I am ordering General Albayalde and the military to stop all these government-granted games which involve corruption. Lahat (all). Massive corruption," Duterte said.
"So, I repeat, I'm ordering the military and the police to stop all gaming. Lotto, STL, Peryahan ng Bayan pati (including) those machines that can be found everywhere which is actually gambling," Duterte said.
He gave the PNP 24 hours to implement his order.
"Tomorrow – beginning tomorrow, at sunrise, everything, all transactions and gaming, wager of bets, becomes illegal," he said.
"And goes also for the military, Madrigal, to arrest people engaged in gambling activities in connection with the franchises, licenses, concessions granted by the PCSO," the President said.
"So, it becomes illegal because as of today, all of those permits and concessions and whatever are terminated," Duterte said.
If he could have his way, Duterte said he wants all forms of gambling eradicated. He stressed he acknowledges the need to consult Congress on the possibility of passing a measure that would address gambling.
"Sinabi ko na nga walang (I said no) corruption… We have offered something to tide the people, allowing gambling and maybe it can help in the economic activity because money goes around, but if you f**k government, talagang kayo ang naghingi, ibibigay ko sa inyo (you really asked for it, I will give it to you)," he said.
Exasperation
On learning of the alleged massive corruption at the PCSO, Duterte said he felt exasperated and realized he had to act immediately.
"The ground is massive corruption involving all – even the courts who repeatedly issued injunctions to paralyze government and to allow corruption to thrive," he said.
"Puro dayaan lahat, at yung mga kontrata ay parang (It's all cheating, and the contracts appear to be) crafted in favor of corruption and to favor other corporation....I will not honor any order from any court stopping us or enjoining us to stop our desire to go into investigation for the massive corruption that is existing in the PCSO," he said.
"It appears that there is a grand conspiracy among the major players and enforcers of these government-sanctioned gaming activities and enterprises to cheat the government of its rightful shares, depriving therefore the masses of our people of receiving basic services needed by them," Panelo said.
"Let this be a stern warning to all malefactors in the government, as well as all the enemies of the state, the Duterte presidency will be unrelenting in its war against corruption and unforgiving to the transgressors of the law," Panelo said.
"The President shall continue to brandish the flaming sword of his office and strike it at the heart of this social and political monstrous dragon," he added.
The President's order came a few days after his appointment of former Cebu City police chief Police Col. Royina Garma as PCSO general manager.
"Garma must have unearthed cases in the PCSO which also made the President act on them immediately to put a stop to the massive corruption," a source told The STAR.
Jobless
It's still too early to quantify the impact of the presidential order, but there's no doubt thousands of jobs were lost in one sweep, observers said.
For instance, no fewer than 8,000 people in North Cotabato – particularly in Kidapawan City – lost their jobs as a result of the President's order, according to Catholic Church radio station dxND. The development triggered no untoward incident, according to the station run by the Notre Dame Broadcasting Corp. of the Oblates of Mary Immaculate congregation.
Reports also said at least 141 lotto outlets in eastern and southern Metro Manila stopped operations in compliance with the presidential order.
The Eastern Police District (EPD) reported to the National Capital Region Police Office (NCRPO) that it has closed down 44 outlets – 15 in Mandaluyong City and 29 in San Juan City.
The Southern Police District (SPD) said it initially shut down 97 outlets: 50 in Pasay City, 33 in Makati City and 14 in Pateros.
In Baguio City, lotto and STL operations stopped even before Albayalde arrived, accompanied by Cordillera police director BGen. Ephraim Dickson and Baguio City police chief Col. Allan Rae Co and other police officials.
"There was no report of any resistance," Albayalde told reporters.
"We will abide by the order," Lotto outlet franchisee Rose Ann Tabora told Albayalde.
In Pangasinan, an STL franchise holder lauded the President's order.
"A warm round of applause for the President's intervention," Anthony Ang-angco, provincial administrator of Speed Game Inc., told The STAR yesterday.
He said the President's order would help in the "resolution, rehabilitation and repair" of PCSO's trouble.
"There's really a problem inside PCSO, that's why the intervention of our President, to me, is a positive side on us," Ang-angco said.
Ang-angco said about 5,000 of their workers, including cabos and cobradores, would be affected by the President's order but he said "it was just a temporary suspension."
He said he hopes a full-blown investigation would be conducted to pinpoint and punish the culprits behind the alleged PCSO mess.
He called the PCSO problem with corruption a "cancer."
Ang-angco said STL operation in Pangasinan is experiencing setbacks in its quota as a franchise was also issued to Peryahan ng Bayan despite an agreement with the PCSO giving Speed Game exclusive right to operate in the area. – With Marc Jayson Cayabyab, Roel Pareño, Romina Cabrera, Evelyn Macairan, John Unson, Robertzon Ramirez, Eva Visperas, Artemio Dumlao