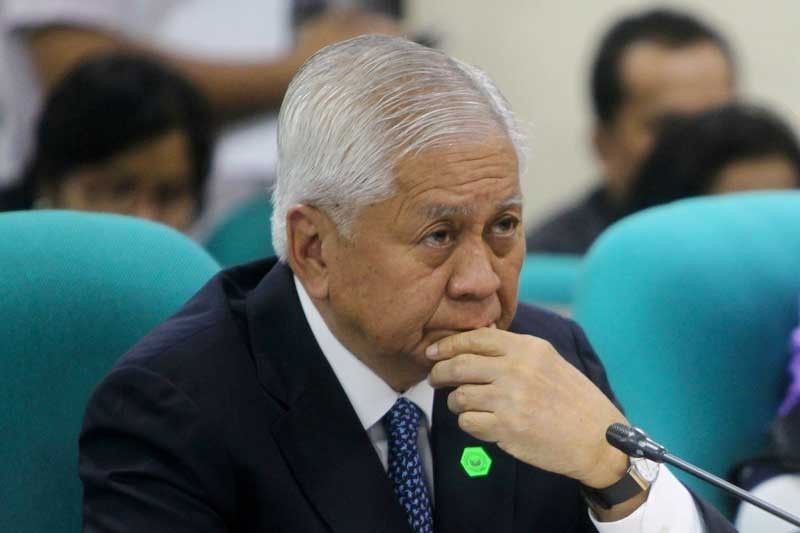 Locsin had suggested that funds for attending "useless" conferences abroad be pooled to give a new boat to the owner of F/B Gem-Vir 1 before China does.
Val Rodriguez/File
DFA returns Del Rosario's P500 K donation to fishermen
MANILA, Philippines — Former foreign affairs secretary Albert del Rosario donated P500,000 to the 22 fishermen abandoned by the Chinese ship near Recto Bank that hit and sunk their fishing boat, but this was returned by the Department of Foreign Affairs (DFA).
Del Rosario made the donation through the DFA on June 19 to "manifest that we truly care for them (fishermen) and empathize with what has happened."
But Foreign Affairs Secretary Teodoro Locsin Jr. yesterday returned the check to Del Rosario, saying the department cannot dispense donations.
"I have to return the P500,000 check donation or I shall be compelled to turn it over to Treasury… I certainly won't turn it over to another department; that's malversation. So with florid expressions of gratitude I had it returned to Del Rosario," Locsin said on Twitter.
Reacting to Locsin's move, Del Rosario told "The Chiefs" last night in One News, "That's his call."
Locsin had suggested that funds for attending "useless" conferences abroad be pooled to give a new boat to the owner of F/B Gem-Vir 1 before China does.
This was in reply to a tweet about Felix dela Torre, owner of Gem-Vir 1, who said the destruction of their fishing boat was a big blow to their livelihood. Dela Torre also recalled their difficulties in keeping the boat for 19 years.
China insisted the sinking of a Philippine fishing boat by a Chinese ship in Recto Bank was due to "accidental" collision, a statement that Philippine officials echoed pending investigation of the incident.
The Bureau of Fisheries and Aquatic Resources (BFAR), for its part, defended the kind of boats distributed to the 22 fishermen involved in the Recto Bank incident after test runs showed they could be used within municipal waters.
The Department of Agriculture-attached agency conducted test runs in the waters of Occidental Mindoro of the 30-footer fiberglass-reinforced plastic boats with 18 horsepower diesel engines received as livelihood assistance from the government last week.
"These boats can now be used by the beneficiaries to fish within the municipal waters, which is primary home to diverse marine resources while they wait for the restoration of the mother boat F/B Gem-Vir 1," BFAR said.
"Made from fiberglass materials, these boats are hardier and more resistant to rot, corrosion and harsh marine environments, and are easier to assemble and repair compared to their wooden counterparts. To top it all, they are engineered to be disaster-resilient that ensures the safety of our fisherfolk at sea," it added.
Critics earlier claimed that the 12 units of fiberglass fishing boats will sink and are equipped with under-rated engines.
The distribution of the fiberglass boats is part of an existing livelihood assistance program of the DA-BFAR called FB Pagbabago, under which a boat is awarded to and shared by two family-beneficiaries who will ensure that the vessel is responsibly used and maintained. This strategy was also designed to prevent the recipients from selling the boats.
The program – which identifies poor fishermen, including victims of calamities – has already distributed a total of 15,000 boats to fishermen since its launch in 2016.
This program was in response to the requests from poor fishermen all over the country for sturdy fishing boats they could use for fishing in municipal waters.
The boats are fabricated by the fishermen themselves and they are paid for their labor.