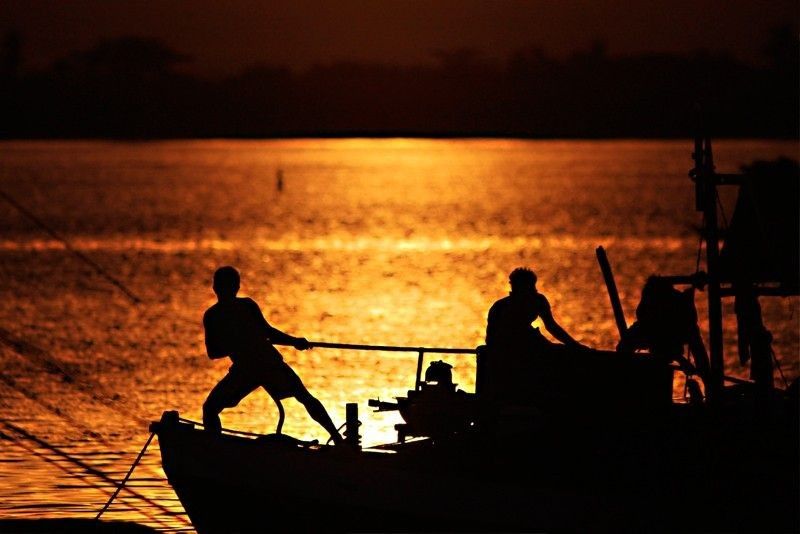 Gregory Poling of Asia Maritime Transparency Initiative (AMTI) and a fellow in the Southeast Asia Program at the Center for Strategic and International Studies (CSIS) said the sinking, which happened near Recto Bank on June 9, was an "inevitable result of Beijing deputizing hundreds of fishing boats as a militia force."
File
Filipino anger over boat sinking palpable — think tank
MANILA, Philippines — There is "palpable" anger among Filipinos over the sinking of a fishing boat by a Chinese militia vessel and the latter's abandoning the hapless fishermen in open sea, the director of a Washington-based think tank specializing in maritime affairs said.
Gregory Poling of Asia Maritime Transparency Initiative (AMTI) and a fellow in the Southeast Asia Program at the Center for Strategic and International Studies (CSIS) said the sinking, which happened near Recto Bank on June 9, was an "inevitable result of Beijing deputizing hundreds of fishing boats as a militia force."
The incident, he said, is bound to happen again as there are hundreds of Chinese state-directed militia vessels in the Spratlys alone.
Beijing, he said, should not be allowed to hide that fact.
Chinese maritime militia and coast guard vessels regularly harass and even beat Vietnamese fishermen in the Paracels, based on some accounts.
"It is not a secret, it is written in the Chinese legislation. These militia vessels train with the People's Liberation Army. They have uniforms in many cases. They put up photos on Weibo. It is not a secret and yet Beijing tries to deny it in the international press," Poling said in an interview on ANC.
Many of these Chinese boats are engaged in poaching beyond China's waters.
Poling, who was in the Philippines last week, said there was already noticeable anger among many Filipinos over Chinese clam harvesting and their continued military presence around Pag-asa.
"This Recto Bank incident may be the straw that breaks the camel's back," Poling said. "The anger of Filipinos over this incident is palpable."
He stressed that other claimants in the South China Sea must not be intimidated by China, which, he said, should not be allowed to use its paramilitary force to shove them out of their own waters.
"As an international community, we can do a better job of monitoring these Chinese boats and making them pay some kind of reputational and economic cost when they violate international law, which this boat did and which hundreds of Chinese boats do," Poling added.
According to the US Defense Department's 2018 Annual Report to Congress, part of China's plan is to mobilize maritime militia, specifically the People's Armed Forces Maritime Militia (PAFMM), an armed reserve force composed of civilians.
China is the only nation in the world that has a government-sanctioned maritime militia.
"PAFMM plays a major role in coercive activities to achieve China's political goals without fighting specifically in relation to movements in the South China Sea," the report said.
It is guided by China's military doctrine, which states that "confrontational operations short of war can be an effective means of accomplishing political objectives."
'Truth movement'
In a statement released from her detention cell at Camp Crame, Sen. Leila de Lima has expressed support for Supreme Court Senior Associate Justice Antonio Carpio's call for the creation of a "truth movement" to help rectify China's fake "historical" claim over almost the entire South China Sea.
De Lima agreed that the creation of such a truth movement will help the Chinese people better understand the history of the South China Sea and eventually help them put pressure on their government to stop flouting international law.
"I fully support Justice Carpio's call for a 'truth movement' to push back against China by reaching out to the Chinese people who occasionally travel outside their country and educate them about China's distorted historical claim in the South China Sea," she said.
"After all, the best way to disprove the lies peddled by the Chinese government to its people is to counter it by spreading the truth: that China does not own the entire South China Sea and that it has, in fact, violated international law by building military bases on artificial islands within our exclusive economic zone," she added.
Carpio described the South China Sea "truth movement" as "a people's movement using freedom of expression to explain the historical truth about the South China Sea."
He recounted how the Chinese government has been teaching its citizens that South China Sea has been under China for over 2,000 years, despite a resolution by the United Nations arbitral tribunal in 2016 in The Hague nullifying such claim.
Last year, De Lima filed Senate Resolution No. 744 proposing the immediate convening of the National Security Council to determine decisive courses of action on China's militarization in the South China Sea.
She also filed Senate Bill No. 2201 this year, declaring July 12 of every year as a "West Philippine Sea Victory Day" in observance of the country's victory against China before the Permanent Court of Arbitration.
"The Chinese people are inherently good people," Carpio said, but "they have, however, been taught by their government only one historical narrative that happens to be totally false." – With Cecille Suerte Felipe