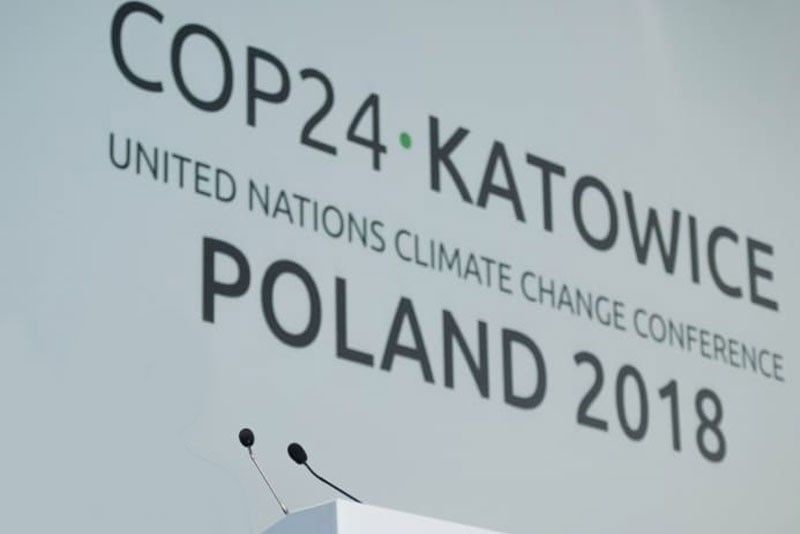 On Twitter, Locsin said members of Congress and non-government organizations (NGOs) from the Philippines may still attend climate change conferences – but on their own and at their own expense.
Janek Skarzynski/AFP/File
Philippines not abandoning climate change talks — Locsin
MANILA, Philippines — Despite his exhortation to officials not to attend climate change conferences abroad, Foreign Affairs Secretary Teodoro Locsin Jr. has clarified the country is not abandoning discussions on the matter altogether.
On Twitter, Locsin said members of Congress and non-government organizations (NGOs) from the Philippines may still attend climate change conferences – but on their own and at their own expense.
He also said that the country, recognized by experts as a leading voice on climate discussions, would still make arguments and proposals but only through the internet.
"NGOs (are) free to go on their own. Also members of Congress to talk in side events. DFA (Department of Foreign Affairs) bars officers from Manila. (Philippine permanent mission) officers in NEW YORK to vote Yes to the strongest proposal," he wrote Saturday.
"UN (United Nations) experts say the Philippine DFA's – not NGOs' – climate arguments and proposals are the strongest. So who will make and propose them now? We will – on the internet as UN Conference urged. (No more) traveling faces. But NGOs are free to come and go at their own expense," he added.
Locsin noted a previous observation that conferences could contribute to worsening situation due to air travel requirement of participants.
"We can do this from home on the internet. That spares the planet from more jet travels that wreck the environment. That was the conclusion of a Nauru sponsored conference I attended as UN rep. An entire world summit was done online," he added.
The foreign affairs chief issued the directive barring DFA employees in Manila from attending climate change summits after President Duterte claimed that these conferences did not accomplish anything and that they are a waste of money.
The Climate Change Commission has yet to comment on Locsin's policy against attending climate conferences, but stressed that these are important.
Climate Secretary Emmanuel de Guzman said the Philippines, being one of the most vulnerable countries that bears the brunt of the devastating effects of climate change, will continue to actively pursue climate action in the context of climate justice.
"We support the statement of President Duterte, our chairman in the Commission, that all governments must do their fair share in combating the climate crisis," he said.
"Unfortunately, global action has been slow. The Philippines has been actively pursuing climate action, but largely on our own efforts and resources. We have no choice but to act, and sometimes we have bilateral partners to thank when they give some help. With the unrelenting impacts of climate change in our communities, we must do all we can to survive and thrive as a people and nation," he added.
Extremely important
For Albay Rep. Joey Salceda, restricting official participation in climate change discussions may cost Filipinos "the right and opportunity to articulate" their views on issues of "extreme importance."
In a letter to the President on Thursday, Salceda stressed that climate change discussions are extremely important "not only for the survival of humanity but because of immediate pragmatic considerations affecting the economic and other dealings of the Philippines with its Organization for Economic Cooperation and Development and other partners."
He said the country should "continue to engage even if the pace of the negotiations are perceived to be slow." Salceda pointed out that "negotiations are in a critical phase of rule making where the implementation of the modalities for the Paris Agreement (on climate change) are being worked out." Salceda had been a participant in some of the conferences held abroad.
He emphasized that the Philippines always sends a "very lean and mean" delegation to the talks comprising trained representatives from critical oversight and sectoral agencies like the DFA, National Economic and Development Authority, Department of Environment and Natural Resources, Department of Energy, Department of Agriculture, Department of Finance, Climate Change Commission, among other institutions.
He said "participation normally increases during the main conference of parties meetings, once every year, which also doubles up as a showcase of what countries are doing on climate change mitigation and adaptation."
"It is therefore a very important networking event where the Philippines also gets a comprehensive overview of state-of-the-art climate change responses all over the world and touching base with old, current and potential partners," Salceda said.