Comelec to release results of manual audit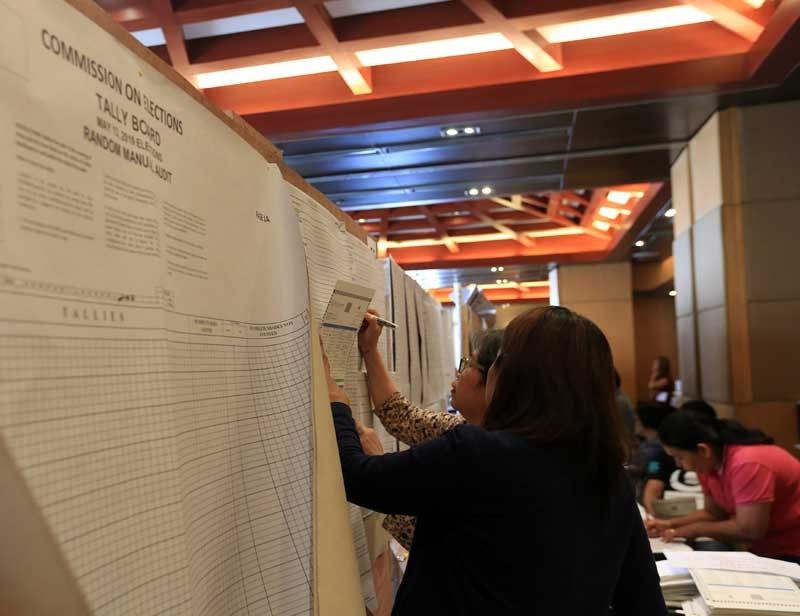 MANILA, Philippines — The Commission on Elections (Comelec) may release the results of the Random Manual Audit (RMA) on the vote counting machines (VCMs) this week, an official said yesterday.
According to Comelec Commissioner and RMA Team head Luie Tito Guia, they expect to complete the audit and release the results on Thursday.
"As of 5 p.m. (Sunday), 635 out of the 715 randomly selected sample precincts from all the 246 legislative districts all throughout the country have been audited. We hope to complete the audit by this week," he posted on his Twitter account.
RMA is mandated by the poll automation law to determine the accuracy of the VCMs.
For the May 13 midterm polls, the audit is being done by the Comelec, poll watchdog Legal Network for Truthful Elections (Lente) and Philippine Statistics Authority, with the help of the Philippine Institute of Certified Public Accountants (PICPA) and public school teachers from Metro Manila.
Guia noted the RMA involves comparing the precinct count of the VCMs with "visual count and manual tally of the vote marks or shades on the ballot."
He added that variances are examined carefully and when manual tallying errors are eliminated, the RMA team will "deliberate and decide on whether to consider the shades as votes based on a shading threshold for which the VCMs are calibrated."
A team is composed of three teacher-auditors. The audit report is verified on site by a team of verifiers.
"The Lente and PICPA volunteers, with Comelec personnel, act as audit supervisors to make sure that the process is done according to the rules and procedures," he maintained.
As a rule, overvotes, undervotes, as well as incomplete and misplaced shades are also tallied.
Meanwhile, a group that claims to advocate fraud-free and transparent polls is preparing an impeachment complaint against Comelec commissioners while urging Congress to abolish the poll body.
The Mata sa Balota Movement, through spokesman Michael Aragon, said they expect to file the impeachment complaint at the opening of the 18th Congress in July.
The group said it wants the poll officials impeached for their failure to implement technical provisions of the country's automated election system law.
The Comelec is led by chairman Sheriff Abbas, with Al Parreño, Luie Guia, Rowena Guanzon, Socorro Inting, Marlon Casquejo and Antonio Kho Jr. as commissioners.
Last month, Mata sa Balota filed complaints of serious dishonesty and gross neglect of duty against non-impeachable Comelec officials – Jose Tolentino Jr., Teopisto Elnas Jr. and spokesman James Jimenez – and officials of Smartmatic-Total Information Management.
Aragon also bared the group's plan to call on the incoming Congress to amend the 1987 Constitution through people's initiative, specifically to abolish the Comelec and have it replaced with another body. – With Ghio Ong