Senate winners may be proclaimed tomorrow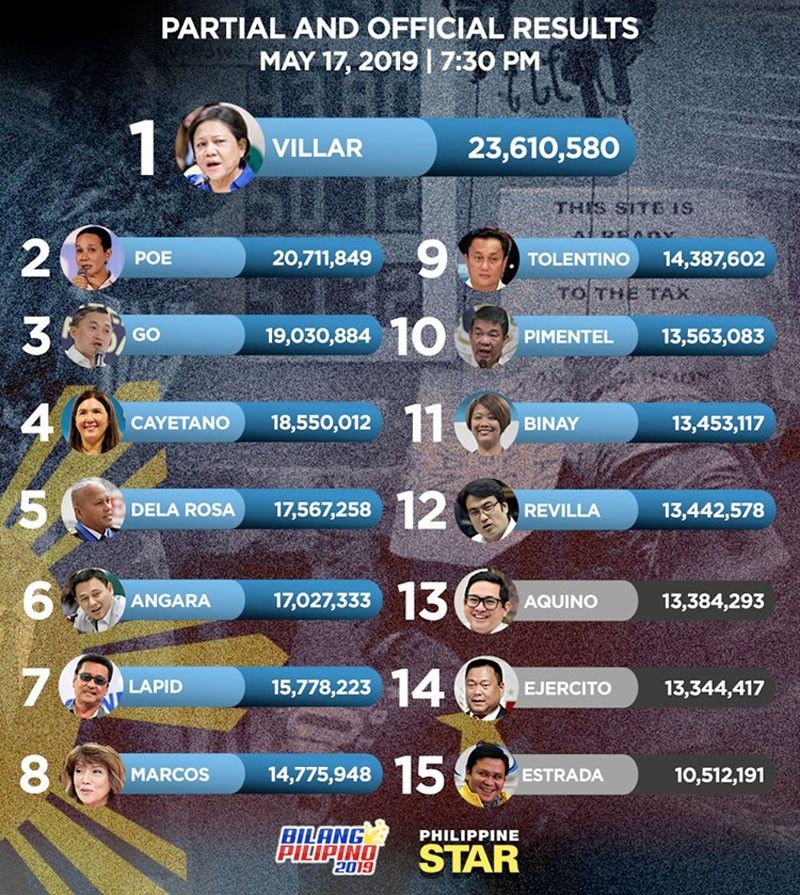 MANILA, Philippines — Winning senatorial candidates and party-list representatives may be proclaimed simultaneously tomorrow, with poll officials reportedly already sending out informal invitations to the event to sure election victors.
"There are still some matters to be settled, but the direction that we are going is one proclamation for both Senate and party-list," Commission on Elections (Comelec) spokesman James Jimenez said at a press briefing yesterday.
"It's more efficient that way. Better for everyone, tapos agad (it's over quickly)," he added.
In the 2016 elections, proclamations were done in the morning and in the afternoon, he recalled.
"We are not rushing things because we have to compute the votes for the party-list. Again, sobrang tentative pa ang Sunday," Jimenez clarified.
The staff of Senators Cynthia Villar and Grace Poe, who placed first and second in the senatorial race, said their respective offices had received either calls or text messages from election officials inviting them to their proclamation.
"We are preparing for the proclamation of senators tentatively set on Sunday at 4 p.m. Senator… is entitled to bring (five) companions. He will receive an invitation from the Chairman. However, considering the proximity of the date, may we coordinate (with) you in advance for the names of companions and designation as well as the details of vehicles for our gate entrance," read a text message received by a senator's staff.
The message included instructions regarding the number of persons, including photographers, who can accompany the senatorial candidate.
The Comelec, sitting as National Board of Canvassers, has already tabulated 145 certificates of canvass as of around 3:30 p.m. yesterday. A total of 167 COCs will be canvassed.
In the party-list polls, there are 131 groups competing for 61 seats at the House of Representatives.
Meanwhile, Sen. Paolo Benigno "Bam" Aquino IV is requesting for prayers for him and for the country as he struggles to make it to the so-called Magic 12. He also expressed gratitude to all those who continue to support him.
In an Instagram post, Aquino, however, did not comment on the nearly finished canvassing of votes at the Comelec where he remains at 14th place.
"I wanted to make my first public statement after the counting (is) finished, but since so many friends are asking how I am, I just want to tell everyone out there that I'm OK!" Aquino said.
"Please continue praying for me, better yet, please continue praying for and loving our country," he said.
He said his love for his countrymen will not diminish whether or not the results of the elections end in his favor.
"Love, love, love and gratitude to all those sending their messages of support!" the senator said.
Directly above Aquino in the canvassing rankings is Sen. Joseph Victor Ejercito, who has been occasionally making posts on his Twitter account, thanking his supporters and remaining hopeful of his chances of reaching 12th place.
"Bitter," Ejercito tweeted on Thursday, apparently referring to comments of his estranged half-brother, former senator Jinggoy Estrada, who is now 15th in the race.
Estrada on Thursday congratulated Sen. Nancy Binay, who so far remains in 12th place but with only over 200,000 votes ahead of Ejercito.
"You are the BETTER person among others. Congratulations my friend," Estrada said in a Facebook post congratulating Binay.
Binay on Thursday said she can safely claim victory based on calculations of experts she has consulted.