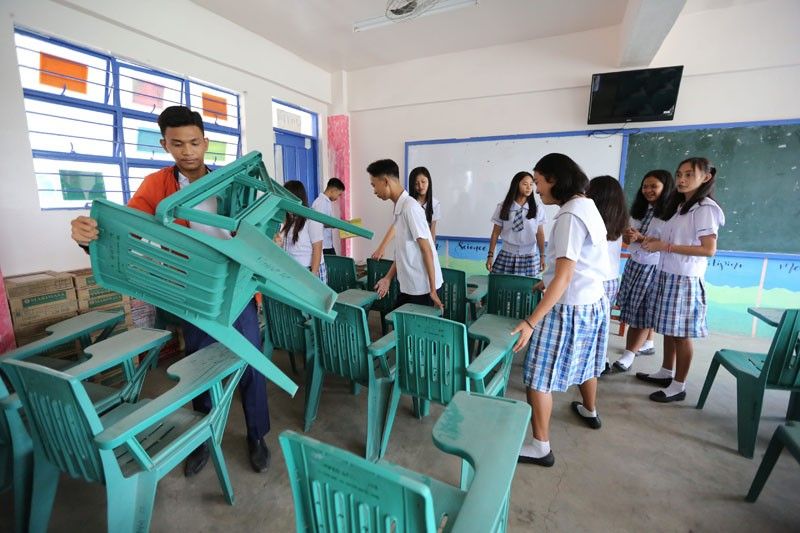 Dalig National high school students Antipolo City volunteer to clean up classes before the bragada eskuela on Monday.
Walter Bollozos
Preparations for school opening in full swing
MANILA, Philippines — With the midterm elections over, preparations for the upcoming school opening next month have gone into full swing.
Officials of the Department of Education (DepEd) led the nationwide kick-off of the annual Brigada Eskwela at the Alfonso Central Elementary School in Cavite on Thursday. Thousands of schools functioned as polling centers last Monday.
In her message, Education Secretary Leonor Briones underscored the role of the entire community in ensuring the education of the Filipino youth.
"Education is not the business of DepEd alone. It is the responsibility of our communities; it is a national responsibility," she said.
"Today is one of those few occasions when Filipinos across the country set aside differences and become integral members of a united community with a common goal: to nurture lifelong learners whose values and competencies enable them to contribute meaningfully to nation-building," she added.
Officially known as the National Schools Maintenance Week, Brigada Eskwela began in 2003 as a voluntary effort to prepare public schools for the opening of classes. This year, it will be held nationwide from May 20 to 25.
According to Briones, the activity is no longer just about painting or cleaning schools in preparation for the return of the students.
"It's also a matter of seeing to it that we provide them the requisites of learners and the requisites of a good learning environment, namely safe schools, supplies, furniture, equipment and good teachers," she added.
She noted that volunteers ballooned from 11 million in 2017 to 22 million in 2018, which she said proves that Brigada Eskwela brings out the best in Filipinos and that the spirit of bayanihan is still very much alive.
Undersecretary Tonisito Umali said Brigada Eskwela has since expanded to include other objectives beyond preparing the schools for the opening of classes.
"It has more targets like bringing back our out-of-school students to classroom," he added.
Various groups are expected to take part in the Brigada Eskwela.
The Philippine Business for Social Progress, in partnership with various companies, will hold its annual Brigada Eskwela activity at the Malabon Elementary School today.
The Aboitiz Group of Companies will also hold a similar activity today at the Pateros Elementary School.
Meanwhile, TELUS International Philippines will hold its annual Days of Giving activity at the Victorino Mapa High School in Manila on May 25.