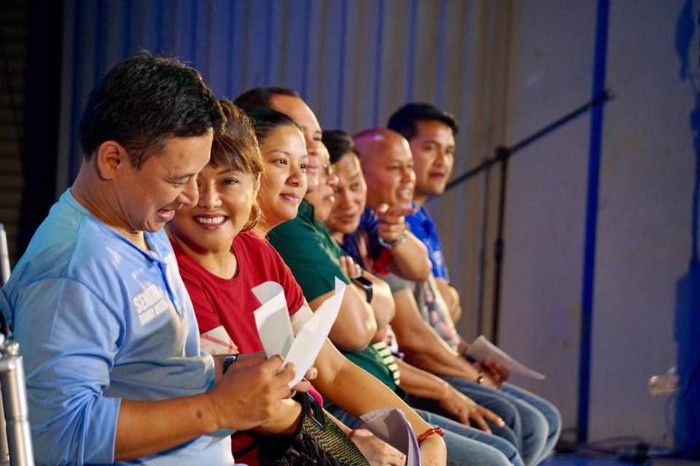 Some members of the Hugpong ng Pagbabago slate formed by presidential daughter Sara Duterte, who is also mayor of Davao City in March 2019.
HNP campaign via Facebook
Duterte gets midterm thumbs up as allies rule
MANILA, Philippines — Unofficial results of the midterm elections showed big wins for President Duterte's candidates, indicating a resounding public endorsement of his rule, political analysts said.
Nine of 12 available seats in the all-important Senate looked set to go to pro-Duterte candidates and the rest to independents, unofficial tallies showed, as the opposition that campaigned against his strongman approach failed to make the cut.
Monday's ballot for more than 18,000 posts, among them hundreds of mayors, governors and congressmen, was billed as a referendum on the firebrand president, with special focus on his bid to consolidate power in an upper house that has not always worked in his favor.
A Senate majority would cut the chance of censures and house investigations against his government, making it easier to co-opt independents and remove the few remaining hurdles to an ambitious agenda for massive infrastructure spending, re-drafting the Constitution and return of the death penalty.
"This President's popularity and transferability of his popularity is unprecedented to say the least, despite all the controversies," said political analyst Edmund Tayao.
"You expect normally two or three candidates from the opposition to win, but this is a wipe-out."
At least four reelectionist senators are assured of victory while three others are praying for a miracle as the Commission on Elections (Comelec) started yesterday its canvassing of votes cast in the midterm elections on Monday.
Referendum on Rody
After casting his vote on Monday, President Duterte told reporters the outcome of the midterm elections could be seen as a referendum on the remaining three years of his administration.
"It could be. It could be taken as one referendum. So that if you agree with me, then you can vote for my candidates or the people I am supporting this election," the President said. He cast his vote at the Daniel R. Aguinaldo National High School.
The President had actively campaigned for the administration Senate slate of the PDP-Laban and allies, assisted by his daughter reelected Mayor Sara Duterte-Carpio who chairs regional party Hugpong ng Pagbabago.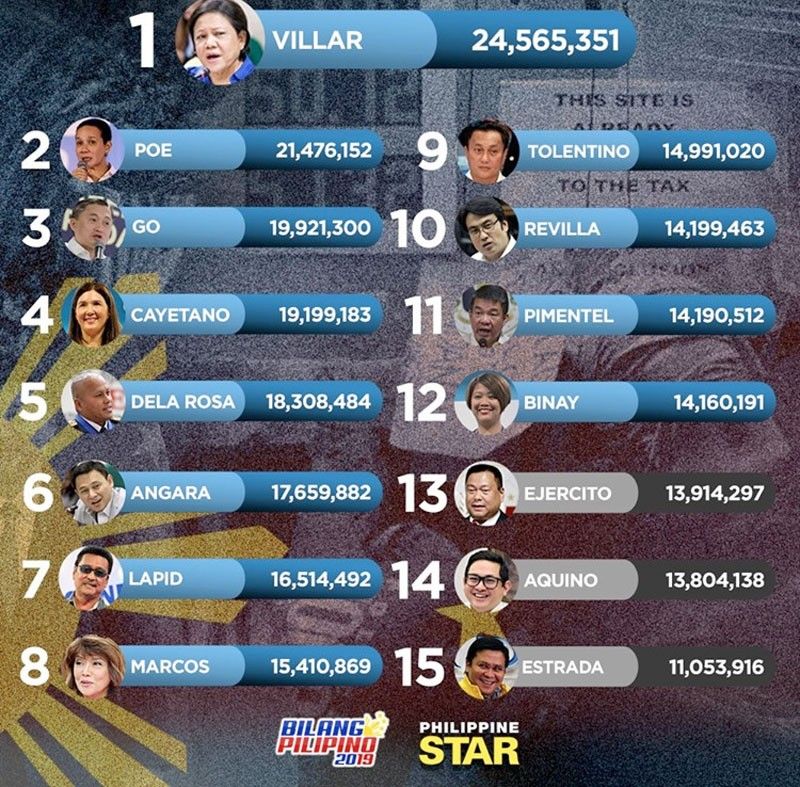 "Now if I am repudiated by the loss of all candidates coming from the Hugpong slate, then that would indicate that the majority of the people ayaw nila ako (don't like me). Madali lang 'yan. Easy to solve," the President added.
He stressed he has no qualms about stepping down from office if asked to do so by "legitimate, tax paying" media. He was apparently referring to Rappler, which he accused of being foreign owned and not paying the right taxes.
"I can stomach a tricycle driver shouting slogans at me. I will never bow down to any foreigner," Duterte said.
But based on partial and unofficial tally of the Commission on Elections, Duterte does not have to worry much as his Senate candidates appear headed for a sweep.
An official of Pulse Asia attributed his Senate lineup's impending victory to the "power of a popular President."
Pulse Asia research director Ana Maria Tabunda described the votes in the recently concluded midterm elections as the "people's response on the sitting President."
Nine of the 12 senatorial candidates who obtained the highest number of votes are allied with the Duterte administration. None of the candidates of opposition Otso Diretso entered the winners' circle.
Tabunda also noted the opposition did not field "stronger" candidates, saying "it is hard to be a "forthright opposition" under a president like Duterte.
"This is a popular President, who has a particular style of dealing with his adversaries," Tabunda told The STAR.
For two officials of the Catholic Bishops' Conference of the Philippines (CBCP), the election results – although not yet final – were clear proof of the people's continued trust in the President.
"Our people have spoken. It is their will, and we have to respect it," said Bataan Bishop Ruperto Santos, chairman of the CBCP-Episcopal Commission on Migrants and Itinerant People (ECMI).
"We must admit that our people still place their trust and their future to the present administration. Given a fresh mandate let us pray they will live up to our expectations, and we will not be sorry we have elected them," he added.
"It is our prayer and hope that our elected officials will truly work at service of our people, not for certain person or political party. And they will not fail us, nor fail us again," Santos said.
Sorsogon Bishop Arturo Bastes, chairman of CBCP Commission on Mission (COM), said "the results of the election show that the majority of Filipinos are satisfied with Duterte."
Meanwhile, Pulse Asia's Tabunda noted that the partial results of the May 13 senatorial polls were not that far from the polling firm's latest pre-election survey – at least based on "statistical ranking."
She said people tend to give much attention to the "straight ranking" or the Top 12 in the surveys, and not to "statistical ranking."
Tabunda made the clarification after some questioned the high votes received so far by former presidential political adviser Francis Tolentino.
"He (Tolentino) has a statistical ranking of 10th to 15th in our latest survey," she said.
Tolentino lost to Sen. Leila de Lima in the 2016 senatorial elections, landing 13th place. He filed an electoral protest against De Lima but the case was recently dismissed.
Tabunda said what they did not expect was the lower ranking of former senator Ramon Revilla Jr. in the partial and unofficial count. The actor-turned-politician, who was acquitted by the anti-graft court of plunder charges, placed 10th with initial votes of more than 14 million as of 12:53 p.m. yesterday.
She said they had expected Revilla to rank fourth to eighth.
Tabunda explained that groundwork is important especially in the six days before the elections.
"Tolentino even before 2016 had many groundworks as chairman of the MMDA (Metro Manila Development Authority). He has helped LGUs (local government units) during disasters, he (is good) in networking," Tabunda said. – With Edith Regalado