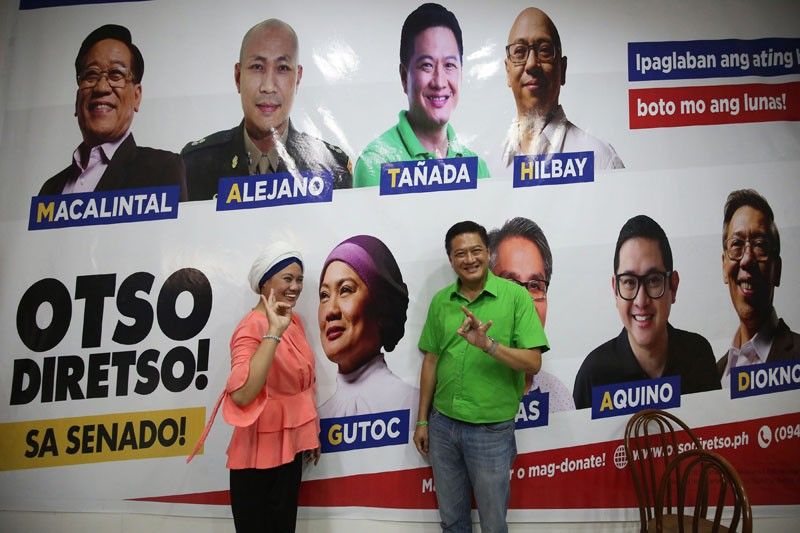 Samira Gutoc and Erin Tanada gestures after they concede for senate seat during their presconference at LP Heradquarters in Cubao in Quezon City last May 14, 2019
Michael Varcas
4 Otso Diretso bets concede defeat
MANILA, Philippines — Four candidates of the opposition Otso Diretso accepted yesterday their defeat in the May 13 senatorial elections but stressed their fight for democracy continues.
Veteran election lawyer Romulo Macalintal, who ranked 26th as of 12:53 p.m. yesterday, was the first opposition senatorial candidate to concede.
"From the results coming from all the clustered precincts, it is clear that a great majority of our voters have chosen other candidates. And I respect their decision as I concede defeat in this senatorial race," Macalintal said in a statement.
He said he is thankful for the opportunity and rewarding experience to offer his services to the people.
At a press conference in the Liberal Party headquarters in Cubao, Quezon City, Marawi civic leader Samira Gutoc and former Quezon representative Erin Tañada also waved the white flag.
"It is with mixed feelings that I concede the senatorial race to those who won the vote of the people," Gutoc said.
Gutoc also expressed gratitude to the people who supported her campaign.
"This is not the end of our fight," she said.
Tañada, for his part, said they accepted the challenge to run for the Senate despite the lack of resources.
"We all know that we're the underdog, but it is clear to us that somebody has to stand up and fight," he said.
"Yes, we would concede the elections but we will never concede our principles. We will continue our fight," Tañada said.
Former solicitor general Florin Hilbay said he respects the will of the people.
"This is not the result we hoped for, but it is the reality that we have to face with the optimism that we will have better days. In the words of Gabriel Gracia Marquez, 'There's always something left to love,'" he said.
Gutoc, Tañada and Hilbay ranked 25th, 27th and 29th, respectively, based on the latest partial unofficial tally of the Commission on Elections.
Other Otso Diretso candidates human rights lawyer Chel Diokno, who placed 21st, and Magdalo Rep. Gary Alejano who ranked 23rd have yet to concede but they also thanked their supporters.
In his Twitter account, Alejano described his Senate bid as "a good fight."
The opposition, however, continued to pin their hopes on reelectionist Sen. Bam Aquino and former interior secretary Mar Roxas, who are closest to the winners' circle.
Liberal Party president and Otso Diretso campaign manager Sen. Francis Pangilinan urged the public to remain vigilant as around seven percent of votes or about three million votes are still to be counted in the unofficial tally. – With Cecille Suerte Felipe, Paolo Romero