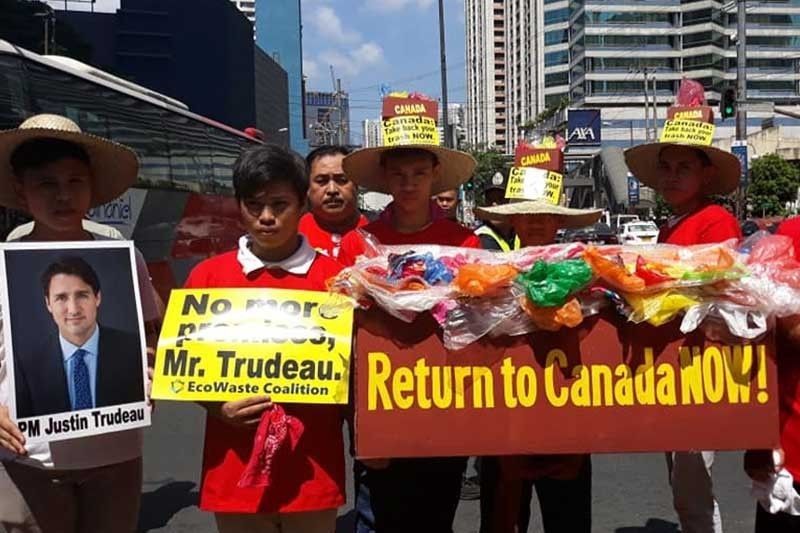 Filipino protesters troop to Canadian Embassy to demand re-export of illegal garbage shipments.
EcoWaste Coalition, Facebook
DFA's Locsin: Canada trash 'on ship in 15 days'
(Philstar.com) - May 1, 2019 - 2:19pm
MANILA, Philippines — The Philippine government's top diplomat said Wednesday the waste exported to the country in 2013 will be shipped back to Canada in 15 days.
In a tweet, Foreign Affairs Secretary Teodoro Locsin Jr. said: "In fact garbage will be on ship in 15 days."
"No ifs or buts," Locsin added.
Locsin made the Twitter post in response to a May 1 report by The STAR titled: "DFA chief not keen on shipping back Canada trash".
@PhilstarNews is on payroll of native importer$ of Canada garbage & misreport I don't want to return the garbage. In fact garbage will be on ship in 15 days. No ifs or buts. We offer to match the bribe of the native importer if @PhilstarNews rectifies the news it di$torted.

— Teddy Locsin Jr. (@teddyboylocsin) May 1, 2019
Manila has repeatedly filed diplomatic protests with Ottawa over the containers of trash shipped to the Philippines in batches beginning in 2013. The Canadian government has maintained it had no hand in the shipment, saying it was a commercial transaction.
Last week, President Rodrigo Duterte threatened to sail to Canada and "dump their garbage there." In response, the Canadian Embassy in Manila vowed to work with the Philippines in ensuring that the waste shipment will be "processed in an environmentally responsible way."
It is our mission to nail those natives who imported Canadian garbage to our country. We will make them miserable for the rest of their natural lives. However we reject the suggestion to ship them out in a container of garbage. That's too much pollution.

— Teddy Locsin Jr. (@teddyboylocsin) April 29, 2019
The Bureau of Customs on Monday said they received orders from Finance Secretary Carlos Dominguez III to return the containers of trash back to Canada by May 15. — Ian Nicolas Cigaral