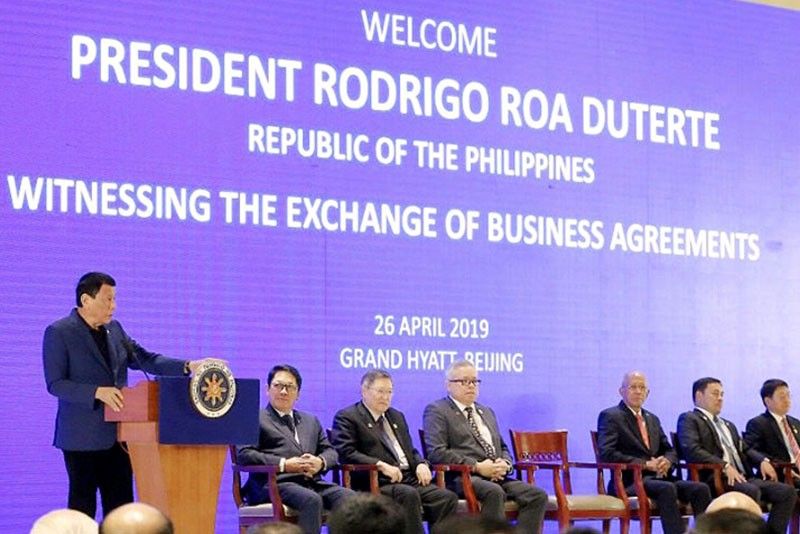 President Duterte delivers his speech after witnessing the exchange of business agreements between Filipino and Chinese investors at the Grand Hyatt Hotel in Beijing on Friday. Joining him on stage are Cabinet secretaries (from left) Silvestre Bello III of DOLE, Carlos Dominguez III of DOF, Ramon Lopez of DTI, Delfin Lorenzana of DND and Mark Villar of DPWH.
Duterte pushes peaceful use of seas
BEIJING – President Duterte yesterday urged other heads of state, including Chinese President Xi Jinping, to collectively promote the sustainable and peaceful use of oceans and seas in accordance with international law.
"As channels of transportation and communication and a vital source of sustenance and livelihood, our oceans and seas connect and sustain us," the President said during the Leaders Roundtable Session of the Second Belt and Road Forum at the Yanqi Lake International Convention Center here.
Without mentioning the disputed West Philippine Sea, Duterte stressed the importance of the effort to protect the world's oceans and seas.
"As an archipelagic state, the Philippines seeks to improve our collective capacity to manage and protect marine resources," he said.
He also cited the commitment of the international community to work together to end poverty, hunger, violence and environmental degradation, as the governments' moral obligation to the global community.
"Development challenges transcend national boundaries. Indeed, no country can stand alone and hope to effectively overcome these challenges. We must therefore work together, aware of our shared humanity and common future," the President said.
He also stressed that the Belt and Road Forum, which Xi initiated in 2013 as a major foreign policy of China, presents an opportunity for countries to explore avenues of
mutually beneficial partnerships for sustainable development.
Duterte told the participating heads of state that the Philippines and the rest of Asia are on the path of economic resurgence.
"By 2020, the combined economies of Asian countries will be larger than that of the rest of the world. The Philippines in particular is set to join the ranks of upper middle-income countries as it is projected to become the 25th largest economy in the world," the President said.
He pointed out that Asia's future is promising, "but this is not preordained."
He also said the Philippines' national development plans are aligned with the UN 2030 Agenda on Sustainable Development.
"Our ultimate goal is to provide a comfortable and secure life to all law-abiding citizens in a country that is stable, peaceful and resilient," he said.
"My government will do all that is necessary to realize this vision. We will build strong partnerships with like-minded states, multilateral institutions and other stakeholders that share our vision," he added.
Duterte also said agriculture is an important driver of growth.
"This is why we welcome economic investments that will help us improve our economic productivity with the entry of relevant production and post-harvest technologies," he said.