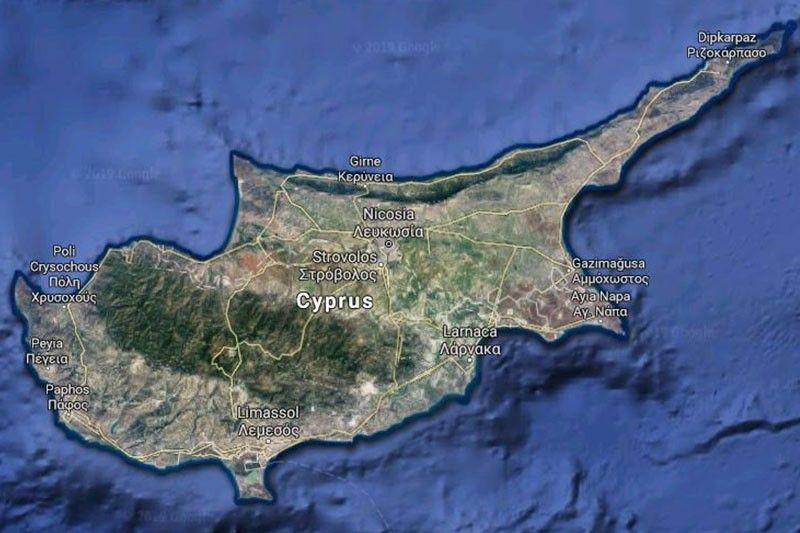 A self-confessed serial killer admitted to killing seven women and girls, including three Filipinas, in Cyprus.
Google Maps
3 Filipinas murdered by Cyprus 'serial killer'
(Philstar.com) - April 26, 2019 - 5:35pm
MANILA, Philippines — Three Filipinas are among the seven victims of a suspected serial killer in Cyprus, the Department of Foreign Affairs said Friday.
The DFA has extended its sympathies to the families of the victims, whose identities cannot be be disclosed for now as respect to their next of kin.
According to the DFA, Philippine Embassy Charge d'Affaires Judy Barbara Robianes reported the cases of the missing Filipinas to Cypriot authorities.
The Philippine Embassy has been monitoring the developments in the investigations of the murders and has been updating the families of the victims.
"Embassy representatives are now in Cyprus to meet with authorities on the case and provide further assistance to the investigation, including the provision of DNA samples to help in identifying the victims," the DFA said in a statement.
According to the DFA, the three Filipinas, one of them was with her daughter, were reported missing between 2017 and 2018.
Cypriot authorities initially thought the Filipinas disappeared for other reasons and were not victims of such crime.
"The DFA welcomes the break in the recent investigation in light of the discovery of bodies in the abandoned mine in Mitsero earlier this month," the DFA said.
The six-year-old daughter of one of the three Filipinas is also feared dead but her remains have not yet been found.
A 35-year-old Greek Cypriot army officer confessed to killing seven foreign women and girls, and has appeared at a court hearing in connection to the murder of a Filipina reported missing last year.
Police sources, quoted by the state-run CNA news agency, said authorities were also looking into cases involving an Asian woman as well as that of a Romanian mother and her young daughter reported missing in 2016.
The suspect showed investigators the spot where he had dumped a body in a well at an army firing range outside the capital Nicosia.
As the case becomes more complex, Cypriot police are requesting the aid of experts from British law enforcement.
They include a coroner, a clinical psychiatrist, a forensic specialist and investigators experienced in multiple murder cases.
Local media have dubbed the case the island's "first serial killings" after two bodies, both believed to be Filipinas, were recovered from an abandoned mineshaft since April 14. — Patricia Lourdes Viray with AFP