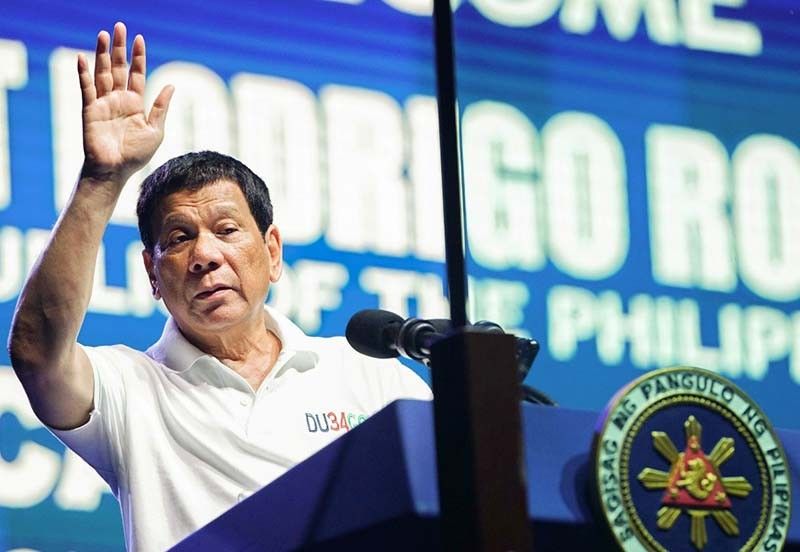 President Rodrigo Roa Duterte gestures to the supporters while delivering his speech during the Partido Demokratiko Pilipino-Lakas ng Bayan (PDP-Laban) campaign rally at the Caraga State University in Cabadbaran City, Agusan del Norte on April 21, 2019.
Presidential photo/Joey Dalumpines
Duterte to issue dismissal letters vs corrupt officials
MANILA, Philppines — Many officials tagged in irregularities are about to lose their posts, President Rodrigo Duterte said, as he complained about the corruption in the Philippines that "seeps down to the core."
Speaking during a conference of doctors in Pasay last Tuesday, Duterte said he would fire the officials before he leaves for China to attend the second Belt and Road Forum.
The president departed for Beijing Wednesday but Malacañang has not made an announcement about the dismissed officials as of this writing.
"I'm going to work for the next three years. But if you ask me if I'm happy with the job, I am not because of so many corruption and I have to fire. I'm leaving for China, and before that I will leave so many letters of dismissal," Duterte said.
"Corruption is really - seeps down on the core. You have to have something more than just a warning. I'm the only president who...beats up people. You can ask the security guards," he added.

Duterte said corruption is one of the problems that made him regret running during the 2016 presidential election.
"Maybe it was a very stupid decision. But if you ask me now in the hindsight, in a hindsight, when I think of the moment I decided to run, that I regret," Duterte
said.
Last October, Duterte admitted he had offered to quit during a military command conference because he could not punish all corrupt officials.
Duterte: Avoid Zamboanga
Aside from corruption, another problem hounding the country is the presence of armed groups that pose a threat to public safety, the president said.
He warned tourists not to go to Zamboanga because of the threats posed by Abu Sayyaf, a local terrorist group that has pledged loyalty to the extremist Islamic State of Iraq and Syria.
"There is a certain place which I would not recommend to anybody to go there, not just as yet - is Zamboanga," the president said.
"Some Europeans go there for a bird-watching. And they are captured; and eventually they are decapitated even after the payment of ransom. It's the ISIS actually. It used to be the Abu Sayyaf - it's a band of brigands but now it's an Abu Sayyaf territory," he added.

Duterte claimed the Abu Sayyaf do nothing but "to kill and destroy" because of a "corrupt" interpretation of Islam.
"That's a mass insanity," he added.
Duterte warned criminals that they do not have a "monopoly of the evil in the world"
"Don't even think of it. In front of the people of the Republic of the Philippines, again, I will say, I will kill you. Period. No apologies, no nothing. I love my country. You know, not everybody can be president of this republic," he added.