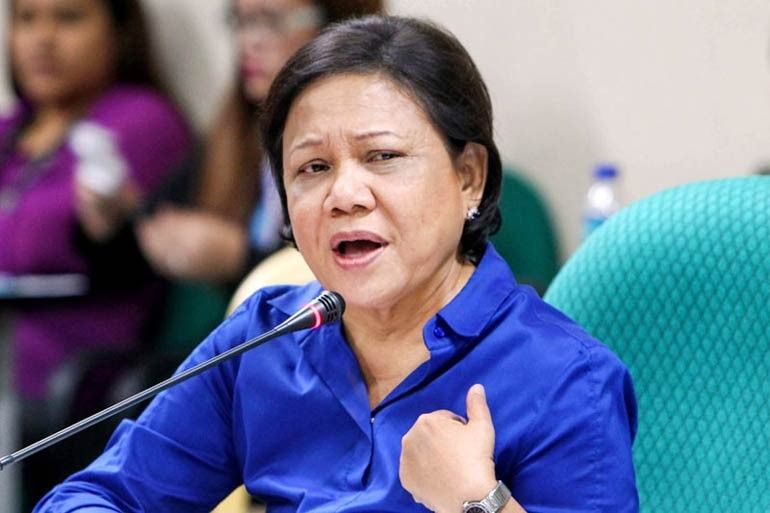 Villar said she is thankful to the voters who appreciate her projects and continue to vote for her "because they believe that we will do everything we can to alleviate their plight from poverty through the provision of livelihood."
File
Helen Flores
(The Philippine Star) - April 13, 2019 - 12:00am
MANILA, Philippines — Reelectionist Sen. Cynthia Villar topped the latest senatorial survey of the Social Weather Stations (SWS) taken from March 28 to 31, obtaining a 57 percent voter preference.
She was followed by re-electionist Sen. Grace Poe, who got the support of 48 percent.
Former special assistant to the president Bong Go was ranked third with 44 percent, followed by Taguig City Rep. Pia Cayetano with 42 percent.
In fifth place was reelectionist Sen. Sonny Angara with 38 percent, followed by former senator Ramon Revilla Jr., who obtained 36 percent voter preference.
Tied at seventh to eighth places were former Philippine National Police chief Ronald dela Rosa and former senator Lito Lapid, who received voter preferences of 35 percent each.
Reelectionist Sen. Nancy Binay placed ninth with 34
percent while former senator Jinggoy Estrada and re-electionist Sen. Aquilino Pimentel III shared the 10th and 11th slots, both receiving 30 percent voter preference.
Re-electionist Sen. Paolo Benigno Aquino IV took the last spot with 29 percent voter preference. He was the only candidate from the opposition who made it to the SWS's Top 12.
Re-electionist Sen. JV Ejercito was ranked 13th with 27 percent; followed by Ilocos Norte Gov. Imee Marcos and former presidential political adviser Francis Tolentino, who shared 14th to 15th slots, with 26 percent each.
Former senator Mar Roxas landed in 16th place with 25 percent voter preference.
Speaking with reporters during the Kalabasa Festival at Umingan town in Pangasinan, Villar also expressed her elation at the recent Pulse Asia survey for senatorial candidates, where she ranked second.
Villar said she is thankful to the voters who appreciate her projects and continue to vote for her "because they believe that we will do everything we can to alleviate their plight from poverty through the provision of livelihood."
The survey showed her garnering 63.7 percent voter preference. It was conducted from March 23 to 27 among 1,800 respondents.
Villar is known by her moniker as "Misis Hanepbuhay" for her various livelihood projects, particularly for women.
If she wins again in the May 13 elections, the lawmaker promised to closely monitor the implementation of the Rice Competitiveness Enhancement Fund as she cited her role in the oversight committee to safeguard the P10-billion fund that will be given to small farmers from the proceeds of the tax on imported rice.
"This is to ensure that farmers will be competitive and their income will be increased as soon as possible," said Villar, chair of the Senate committee on agriculture.
The fund, she also said, will be divided equally among 1,100 rice-producing towns. The farmers, she added, would first be given the machinery to mechanize their farming system and taught to produce in-bred seeds that will increase production.
Villar also revealed that a P1-billion fund would be given to the Land Bank of the Philippines and the Development Bank of the Philippines. It is from this fund that farmers could take out a loan at low interest rates.
Another P1 billion will be given to the Technical Education and Skills Development Authority and the Agricultural Training Institute to finance farmers' education on improving knowledge and skills to make them more competitive. – With Paolo Romero, Eva Visperas, Cesar Ramirez