Russian warships set to visit Manila tomorrow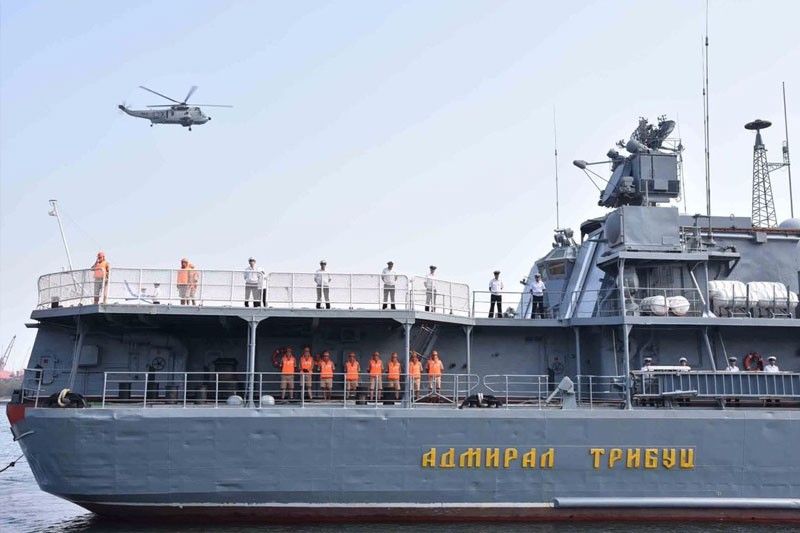 MANILA, Philippines — Three Russian warships will arrive in Manila tomorrow while Filipino and American soldiers prepare for the launching of military exercises in various parts of the country.
Russia's anti-submarine ships Admiral Tributs and Vinogradoy and sea tanker Irkut will drop anchor at the Port of Manila on Monday, according to the Philippine Navy.
Navy Capt. Jonathan Zata said the Russian warships will dock at the Manila South Harbor Pier 15 for a five-day goodwill visit.
"The Philippine Navy will render customary welcome ceremony upon arrival of the vessels to be followed by a press briefing with both navies' key officials," Zata said.
A Navy official said the arrival of the Russian ships coincided with the ongoing joint Philippines-US Balikatan military exercises.
He said the Russian port call was a reciprocal visit brought about by the improved relations between naval forces of Russia and the Philippines following last year's historic visit of the Navy's strategic sealift vessel BRP Tarlac to Russia's Pacific Fleet headquarters in Vladisvostok.
Meanwhile, organizers of the Balikatan exercises have included a live fire drill at the military's gunnery range in Crow Valley, Capas, Tarlac on Wednesday and a joint amphibious landing on the shorelines of Zambales the following day.
This year's joint exercises involve 4,000 Filipino soldiers, 3,000 US servicemen and 50 Australian troops and will also involve the American vessel USS Wasp and US Marines F35B Lightning II fighter jets.
The war drills also include counterterrorism training, urban operations training, aviation operations and bilateral planning in key areas of the country including Palawan, Zambales and Fort Magsaysay in Nueva Ecija.
This Balikatan series will end on April 12.
The Philippine Navy also hosted a 23-man visiting navy student delegation from Pakistan that arrived in the country last Tuesday for a five-day study tour.
The visiting Pakistanis, students and staff of the Pakistan Navy War College, is headed by Rear Admiral Naveed Ahmed Rizvi.
The delegation that also included naval students from Sri Lanka and Brunei left the country yesterday.
During their visit to Navy chief Vice Admiral Robert Empedrad, Rizvi conveyed the Pakistani navy offer to host Filipino sailors at their Navy War College.
Navy inspector general Maj. Gen. Nathaniel Casem highly appreciated the Pakistanis visit as this further opens opportunity to build stronger ties between the two navies.
He said both navies play a major part in the development and enhancement of relations between the two countries.