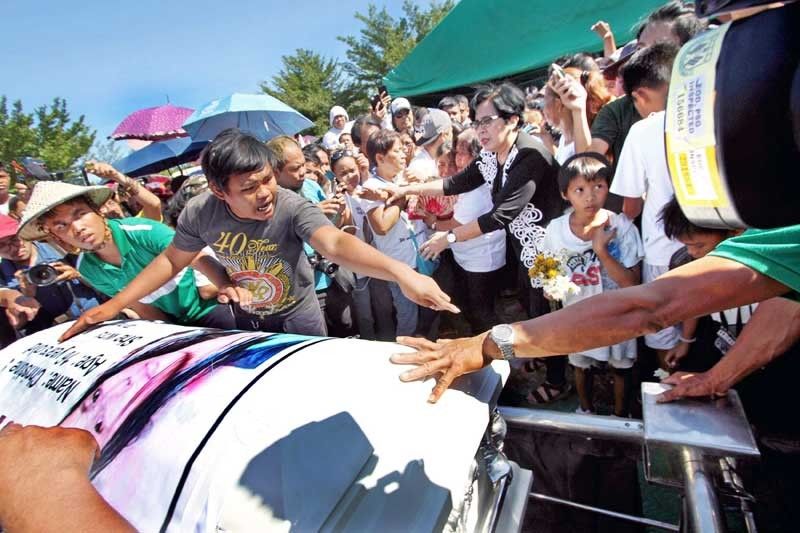 A man holds back the crowd during the burial rites for murdered teenager Christine Lee Silawan at the Catleya Memorial Garden in Cordova, Cebu yesterday.
Freeman News
Suspect released as Cebu teen laid to rest
MANILA, Philippines — The 17-year-old suspect in the slay of 16-year-old Christine Lee Silawan in Cebu was ordered released on Friday by the Lapu Lapu City Prosecutor's Office for invalid arrest.
The prosecutors noted the authorities made the arrest without securing a warrant from the court.
Lawmen cited the provision in the Rules of Court allowing warrantless arrest if it was made in hot pursuit of the suspect following the commission of the offense.
"The progress reports of the complainant detailing therein the steps taken in the investigation conducted from March 11, 2019 cannot persuade this office to rule that there was a valid warrantless arrest," the order read.
Agents of the National Bureau of Investigation (NBI) Region VII arrested the suspect on March 16, five days after Silawan was found dead, thus it cannot qualify for a warrantless arrest, the City Prosecutor's Office said.
The prosecutors explained a warrantless arrest is justified if a person is about to commit a crime, had just committed a crime or is a fugitive.
The boy was linked to the crime based on several pieces of evidence, including text messages with the victim, the regional NBI said.
Jonas Bueno, who was initially tagged as the primary suspect in the killing, remained a person of interest in the case.
Bueno had admitted to the killing of a farmer in Cebu but not to the murder of Silawan.
The minor, on the other hand, was released from custody of the City Social Welfare and Development Office of Lapu Lapu City on the same day Silawan was laid to rest.
The grieving family questioned the release of the suspect and called on prosecutors to hold the release order and conduct a deeper investigation into the murder.
Lapu-Lapu City police chief Limuel Obon assured the public the investigation into the case is still continuing.
"I would not give any details regarding the suspect. We should respect the position of the NBI," Obon said.
"But we are jointly conducting further investigations," he added.
Lapu Lapu City Mayor Paz Radaza said the arrest of the 17-year-old was a lead.
"This was just the start of having a lead in the investigation, but I wouldn't say that he's the only suspect. I think the crime cannot only be pinned on one person and I don't think only one person can commit this crime," she said.
On March 11, Silawan was found dead, naked from the waist down, in a vacant lot in Barangay Bankal in Lapu-Lapu City in Cebu province. Her body bore 20 stab wounds while her face was skinned and some of her internal organs were missing.
The victim was a student of Maribago High School and was first reported missing by her mother after she failed to return home from serving as a church collector at Sunday mass. – With Jahzeel Willow Coquico/The Freeman