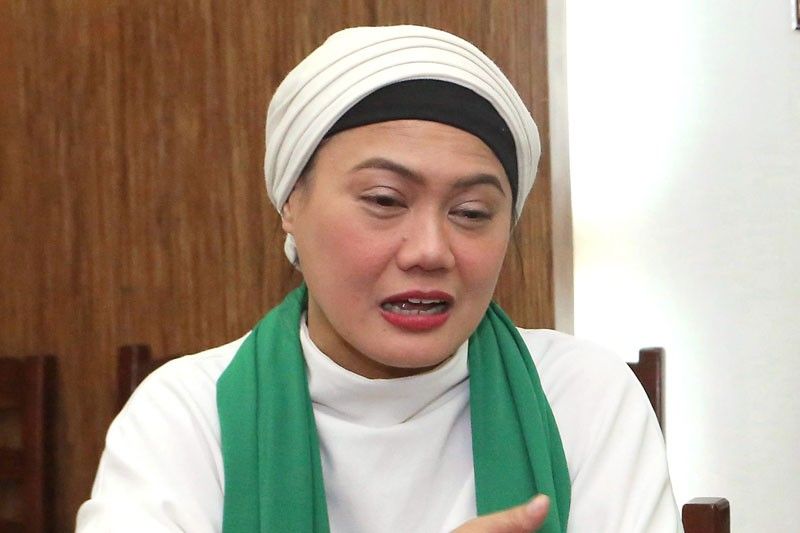 Otso Diretso senatorial candidate Samira Gutoc takes part in a round-table discussion with editors and reporters during a visit to The Philippine STAR earlier this week.
Ernie Peñaredondo
Candidate from Marawi wants to beat the odds
"Samira! Samira!"
MANILA, Philippines — Members of the Muslim community in Port Area, Manila called out her name as Otso Diretso senatorial candidate Samira Gutoc walked toward them on Monday night.
Gutoc said she had to take every chance and work double time to introduce herself because people in Metro Manila "do not know me."
A man volunteered to accompany her to a place where he said Gutoc could meet many potential voters. "Magbibihis lang po ako (I will just change clothes)," the volunteer told Gutoc, smiling, because he was wearing a sleeveless shirt.
The volunteer said it was his way of showing support as he openly declared he would be voting for Otso Diretso bets this May.
As the people crowded around her and took selfies and groupfies with her, someone suggested that she visit the barangay chairman. But since there was not much time, Gutoc asked them to relay her message to the chairman through a video. They obliged and chatted with her comfortably in their own language after recording her appeal to the village chief.
Local officials' backing important
Gutoc knows the value of securing the support of local government and barangay officials, especially in Mindanao, given their influence over their constituents.
Despite being the only senatorial candidate from Marawi City, Gutoc – a civic leader and advocate of various causes – admitted she may not be able to get the solid vote of Mindanao.
Gutoc said many local officials are apprehensive of the possible repercussions if they openly support her senatorial candidacy under the opposition coalition, Otso Diretso.
"Mindanao is under martial law, which might have implication in the electoral process because of the influence of LGUs (local government units), barangay captains. They are all afraid to be seen with the opposition," Gutoc, who was with fellow Otso Diretso candidate Erin Tañada and campaign manager Sen. Francis Pangilinan, told editors and reporters of The STAR during a visit where she also got the chance to meet members of the Muslim community near the newspaper's office.
Marawi has been under martial law since it was placed under siege by terrorists in May 2017.
Gutoc said there are no government records of the total voting population among Muslims, vowing to initiate measures to account for all the Muslims in the country should she get elected to ensure that they will receive needed services.
The Otso Diretso senatorial team is set to hold campaign sorties in the coming days in Mindanao, a known bailiwick of President Duterte.
"We would be visiting them, Marawi in April. Mindanao is critical, being the land of promise. There's never been a Marawi girl (who) won in the Senate," Gutoc said.
While there are those who are afraid, Gutoc said there are other courageous local officials brave enough to stand up for what they believe in, in addition to the people themselves who have pledged to vote for them.
"So we are so grateful to General Santos for inviting us there," the outspoken Gutoc said, referring to their campaign sortie in General Santos City recently.
As a native of Marawi, Gutoc has been calling on the government to help its residents fully recover two years after the IS-inspired Maute group attacked and displaced the entire community.
"Marawi residents are still in the evacuation (centers)," Gutoc said.
"We hope they will be brought back to ground zero… It is not about money, financial (assistance) but their self-respect and dignity – when you get your people back on their feet and they make their own decisions, they build their own houses… Resiliency is something (internal) in each and everyone, hindi 'yan binibigay lang (it's not just given)," she added.
Against the odds
Gutoc has been showing courage not just in running for a national position despite lack of resources and popular surname, but in pushing for what she thinks is right for Mindanao.
She was a member of the Bangsamoro Transition Commission appointed by Duterte to draft the Bangsamoro Organic Law but resigned because of her opposition to the President's misogynistic remarks and declaration of martial law.
"I was the one who spoke in Congress about the human rights violations (being committed in Mindanao under martial law). The PDP-Laban (to which the President belongs) invited me to run in the local level but I did not accept it because of principle," she noted.
Gutoc said the national government should ensure members of the Bangsamoro Transition Authority would be transparent and accountable.
"If elected… I will demand that reporting be done. A web portal should reflect how monthly disbursement is done. How agencies are going to spend their funds," she said.
Gutoc said she was thankful that the President signed the BOL that would replace the Autonomous Region in Muslim Mindanao but his administration should not take full credit for it because it was a product of long negotiations.
She believes it is a big step to achieve peace and development in Mindanao even if there are groups trying to obstruct the BOL's implementation.
Despite being from the opposition, Gutoc expressed readiness to support the President. She said they are being subjected to heavy trolling on social media for criticizing Duterte but she stressed they focus on issues.
Gutoc said even former president Benigno Aquino III, who worked for the BOL, has become a victim of the troll generation that could be brutal. For instance, Gutoc said one of her photos in a Catholic church was altered to make it appear she was holding a rosary during an Otso Diretso event, and she was bashed for it.
"It was a group decision. They asked me if I want to enter the church since a Muslim prayer was to be read. It is not always done, I was admonished. But the imams who were there told me (to be quiet) as they would speak for me. It was an ecumenical prayer," she noted.
The outspoken Gutoc attributed her strong personality and characteristics to the fact that she grew up in the company of foreigners. "My father Candidato Gutoc… was a career diplomat in the 1970s and we stayed in the Middle East for 15 years," she disclosed.
Gutoc finished mass communication at the University of the Philippines and has been chosen as one of the Ten Outstanding Young Men by the Junior Chamber International, a nonprofit organization – with members aged 18 to 40 – engaged and committed to creating impact in their communities.
Gutoc is counting on the support not just of Muslims but other groups pushing for advocacies like women's rights, human rights, environmental protection and others that she has also been fighting for long before joining politics.