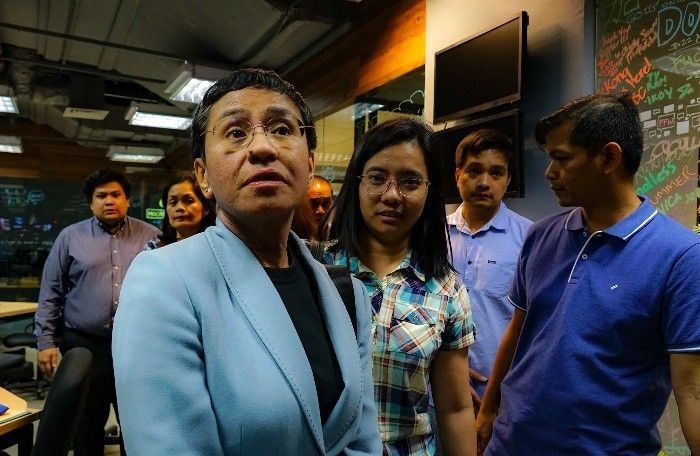 Journalist Maria Ressa (front L) leaves her office after she was arrested in Manila on February 13, 2019. Ressa, who has repeatedly clashed with President Rodrigo Duterte, was arrested in her Manila office on February 13 in what rights advocates called an act of "persecution."
AFP/Maria Tan
Court allows Ressa to travel abroad for engagements
MANILA, Philippines — The Manila court handling the cyberlibel case against Rappler CEO Maria Ressa has allowed her to leave the country with a bail bond set at P300,000, an amount lower than the initially set bond of P500,000.
Manila Regional Trial Court Branch 46 granted Ressa's request to travel outside the country and move the date of her arraignment to April 16 from April 12.
The high-profile journalist cited the following travel dates in her plea:
March 15 to March 29 to Singapore for a conference and then to the United State for business
April 2 to April 14 to Italy for a speaking engagement and then to the United States for business
April 21 to April 28 to New York, USA to attend a conference and for business
On March 14, the court granted Ressa's plea, noting that her travel "will not deprive" its power to exercise jurisdiction. It has also set the following conditions to Ressa:
That her travel itinerary be limited to places stated in her motion
That she posts a bond of P500,000 for all travels
That she gives written advice to the court within 24 hours from her return to the country
Ressa's camp, however, contested the imposed bail bond.
They pointed out that the amount was five times more than the bail she had paid, and implored the court to consider that Ressa sought to be allowed to travel from the Court of Appeals and a Pasig court—where she is facing tax-related cases—and was imposed of a travel bond of P50,000.
Ressa is currently out on bail after she spent a night in detention at the National Bureau of Investigation headquarters and paid P100,000 for the bail bond.
READ: WATCH: Ressa posts bail for the 6th time
"While this court is entitled, in its discretion, to impose conditions on the right to travel of an accused, the conditions must be reasonable. With due respect, the P500,000 travel bond is unreasonable and excessive," their urgent motion read.
To note, Sen. Antonio Trillanes IV, who was issued a travel ban over a rebellion charge, posted a travel bond of P200,000—the same amount for his bail— before a Makati court to be allowed to leave the country last year.
Presiding Judge Rainelda Estacio-Montesa then granted Ressa's plea and reduced the travel bond to P100,000 for each of the travels cited in the motion, bringing the total amount to P300,000.