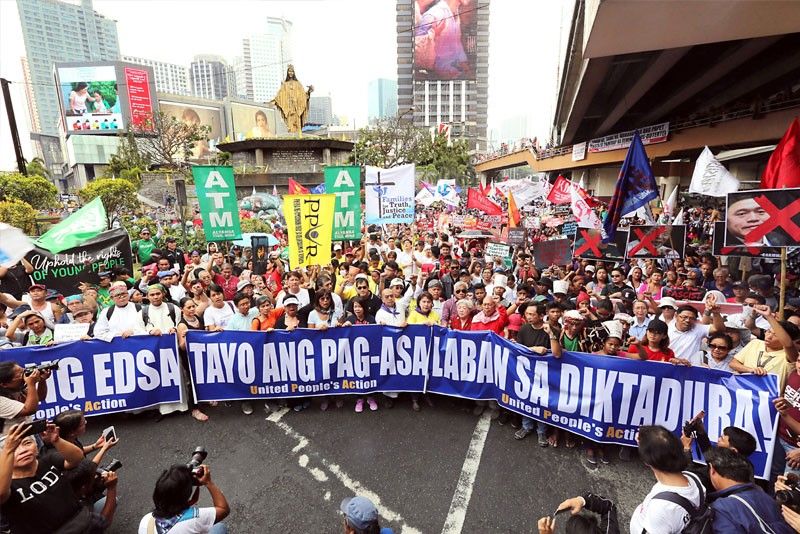 Groups from different sectors gather in front of the EDSA Shrine in Quezon City yesterday to commemorate the 33rd anniversary of the People Power revolt.
Boy Santos
'Today's people power is vote power'
MANILA, Philippines — Sen. Paolo Benigno Aquino IV is hoping voters will select senatorial candidates who will work for the people's welfare and uplift the lives of Filipino families as he called on them to air their grievances through the ballot in the May elections.
"The people power of today is vote power…I'm hoping come May, the power of the people will be displayed again," he said.
Aquino, who is running for a second Senate term, promised to push for reforms that will ensure jobs for all college and K-12 graduates and other education reforms such as improvement of educational facilities and additional benefits for teachers.
He admitted that being part of the opposition is very difficult during these times, but that somebody has to keep the government in check and make them accountable for their actions.
"This is a gargantuan task, but still it ought to be done. And somebody has got to do it," he added.
Aquino said he is banking on his legislative accomplishments to earn him a second term in the Senate, citing the 35 laws to his name, including the landmark free college law, which he pushed as principal sponsor during his term as chairman of the committee on education in the 17th Congress.
He also pushed for the passage of the Go Negosyo Act, which has established more than 1,000 Negosyo Centers in different parts of the country, catering to the needs of Filipinos who want to start or expand their business.
Other candidates of the opposition's Otso Diretso slate called on people to remember the values of EDSA People Power in these trying times, saying this is relevant amid the injustices and the undermining of democratic institutions under the current administration.
Former solicitor general Florin Hilbay said the commemoration gives the Filipino people the opportunity to recover their power in these "very dark and challenging times."
"Every dictatorship tries to separate people from power. The challenge for us is to ensure that people recover this power that they have," he said during an interview at the rally at the People Power monument.
Human rights lawyer Chel Diokno said People Power should be remembered as the pivotal event that gave Filipinos the freedoms that they enjoy today.
Magdalo Rep. Gary Alejano said EDSA should serve as a lesson to all Filipinos that change is a lifelong commitment that does not belong to any one party and that the Marcoses are trying to rehabilitate their image and effectively vilify the People Power revolution.
Samira Guntoc warned that Mindanao should not be left behind as martial law could still spill over to Luzon and the Visayas.
More than 1,300 people flocked to the anniversary rally held at the People Power monument in Quezon City.
Detained Sen. Leila de Lima said Malacañang has acquired the habit of denying that it is behind the persecution of critics and opponents of the Duterte regime.
"As we commemorate the 1986 EDSA People Power revolution, we cannot allow this tyrant to further assault and erode our democracy," she said.
"It (Duterte administration) has denied that the fake charges filed against me were in retaliation for my opposition to Duterte's bloody drug war. It has denied that the unconstitutional ouster of chief justice Maria Lourdes Sereno was Duterte's handiwork. It has denied that the revocation of Sen. Sonny Trillanes' amnesty and the revival of his criminal cases are politically motivated. It has denied that Sister Patricia Fox was deported in order to stop her active involvement in human rights work in the Philippines," added the senator.
In all cases, De Lima said Duterte first publicly attacked his victims in speeches.
"He (Duterte) serves notice to these persons concerned that they are now his targets. His implied message is that if they do not stop, he will use the full powers of his office to crush them," she noted.
Under normal times and a normal president, De Lima said all of the cases brought against these personalities would have been readily dismissed for sheer lack of legal and factual basis.
"The quo warranto case against Sereno would have been dismissed outright for being unconstitutional. The coup d'etat and rebellion charges against Senator Trillanes would not have been revived because of double jeopardy, aside from the sheer absurdity of the revocation of an amnesty due to a missing application form," she also said.
She noted that Fox would not have been deported because her years of religious work in the country remotely constituted interference in political affairs.
Agricultural workers, including the Unyon ng Manggagawa sa Agrikultura, also joined yesterday's commemoration of the 33rd year of the EDSA uprising.
Meanwhile, the Department of Labor and Employment (DOLE) said more than 20,000 job opportunities are up for grabs in tomorrow's Trabaho, Negosyo, Kabuhayan (TNK) job and business fair in Mandaluyong City as part of the 33rd People Power anniversary celebration.
The jobs include production machine operator, production workers, customer service representative, electrician, service crew, merchandiser, finishing mason and plumbers.
Also being offered are those of laborer, nurse (general), welder, pipefitter, carpenter, technician (electrical/mechanical), foreman, steel fixer, IT engineer and waitress.
Among the countries of destination are the US, Malaysia, Brunei Darussalam, Canada, Germany, Australia, Japan, New Zealand, Turks and Caicos Island, Madagascar, Malta, Mauritius, Solomon Islands, South Korea and Africa. – With Rhodina Villanueva, Sheila Crisostomo, Romina Cabrera