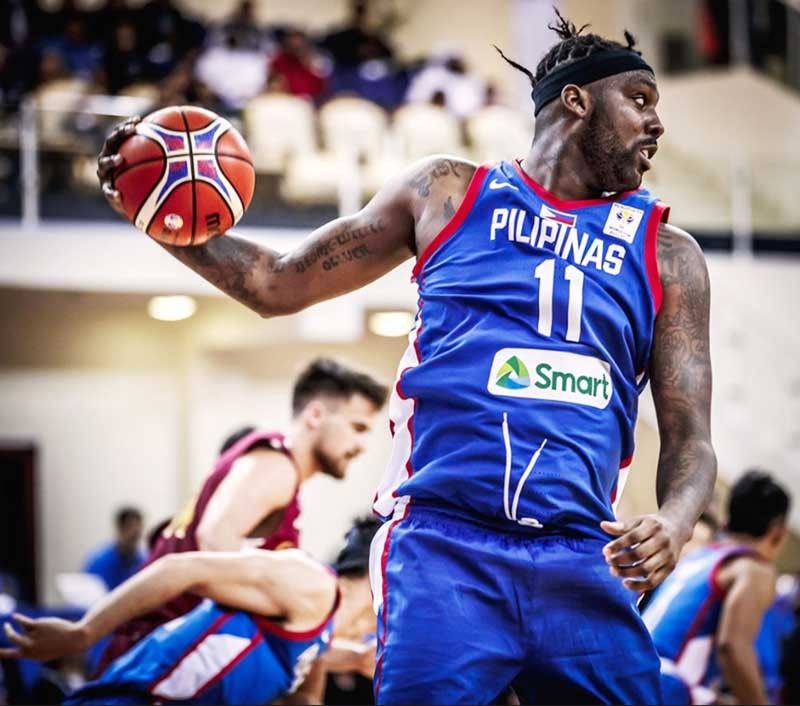 Gilas routed Qatar, 84-46, on the dominating and all-around performance of Andray Blatche
FIBA.BASKETBALL
One down, one to go for Andray Blatche, Gilas Pilipinas
DOHA – Andray Blatche is hopeful they can keep the energy and focus they showed in their 84-46 conquest of Qatar Thursday as Gilas Pilipinas swings over to Astana to play Kazakhstan in a critical match at the close of the FIBA World Cup qualifiers on Sunday.
If they can dish out the same, Blatche is optimistic they can score a two-game sweep in the final window of the FIBAWC eliminator and salvage a berth in the World Cup proper in China later this year.
"We're focused on defense and in getting the rebounds. It helped us. Each guy gave his best, and we did a great job. I hope we continue to do the same in the next game – same energy and same focus," said Blatche shortly after their 38-point rout of the Qataris Thursday night.
Gilas coach Yeng Guiao also lauded everyone for a determined effort, but pointed to Blatche as the "biggest game-changer" as the Nationals checked a two-game slide in the qualifier.
"He's the game-changer. He helped us out. He controlled the momentum and the situation. He drew a lot of attention that created opening. That's why we scored a lot of three-pointers. We didn't have that when he's out," said Guiao of the prized 6-foot-11 player.
Minus Blatche in the last two windows, Gilas won only one of four matches, dropping two games against Iran and one against Kazakhstan.
But Gilas was back as a lethal team on Blatche's return as the Nationals demonstrated in their emphatic rout of the Qataris before a sellout crowd at the Al-Gharafa Sports Club Multi-Purpose Hall here Thursday.
"His game speaks for itself," Guiao said.
Blatche did almost everything for Gilas, defending, rebounding, passing and making shots, and he finished with a near triple-double game with 17 points, 15 rebounds and seven assists.
He later said he wanted badly to help the Nationals' cause.
"It's always a great honor. There's no bigger blessing, for me, than playing with this team, creating a family, a bond, and it's a great opportunity for us," Blatche said.
A few hours after the game, the Nationals would have to endure a long trip to Kazakhstan where they would arrive early Saturday morning. They practice Saturday evening and play the Kazakhs the following day.
But Guiao and his teammates are ready to endure this just to make the world joust.
"For as long as we make the World Cup, that's the most important thing," Guiao said.
The Nationals torched the Qataris with a torrid 15-of-30 three-point shooting, with Marcio Lassiter making 4-of-4 and Blatche and Paul Lee converting trey apiece.
Unlike in their previous match, the Nationals hit strides early and led by 10, 31-21, at the half.
In their previous tiff, Team Phl struggled badly in the first 20 minutes of play, trailing by as many as 17 before finding their touch.