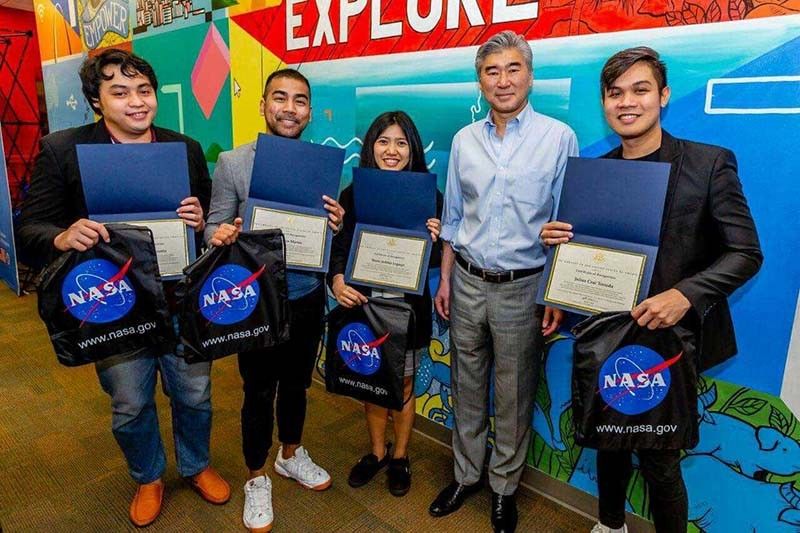 The ISDApp, developed by a group of Filipino IT experts to help provide weather alerts for fishermen through SMS, won an award in the NASA Space Apps Challenge for offering a 'solution with the most potential to improve life on Earth or in the universe.'
US Embassy/Released
Filipino-made 'NASA' app brings space data to fishermen
Janvic Mateo
(The Philippine Star) - February 23, 2019 - 12:00am
MANILA, Philippines — A Filipino-made mobile application was recently recognized by the United States' National Aeronautics and Space Administration (NASA) for its vision of providing fishermen with scientific data that could help in their everyday lives.
The ISDApp, developed by a group of Filipino creative and information technology experts, won the "Galactic Impact" award in the NASA Space Apps Challenge for offering a "solution with the most potential to improve life on Earth or in the universe."
US Ambassador Sung Kim on Thursday met with members of team iNON, which beat 1,395 teams from around the world to win in the said category.
"I am deeply impressed by team iNON's fantastic achievement in defeating teams from around the world to win first place in the Galactic Impact category of the NASA Space Apps Challenge," said Kim. "They can inspire other Filipino youth to develop innovative solutions to problems in their own communities."
According to the US embassy, ISDApp was conceived during the embassy-sponsored event in October last year, which was attended by Team iNON members Revbrain Martin, Marie Jeddah Legaspi, Julius Czar Torreda, Matthew Concubierta and Leandro de Guzman.
ISDApp aims to communicate crucial information about real-time weather and sea conditions to fisherfolk, including those who do not have smartphones.
Information useful for fishing and safety will be relayed via SMS (short messaging service) to fishermen using analog phones through an app installed from a town official's smartphone. These include weather and cloud coverage, sunrise and sunset schedule and wind speed.
The application also features emergency alerts, including storm alerts and an SOS signal that a fisherman may trigger through a text message.
"ISDApp is a simple technology with the most potential to solve a galactic problem by empowering millions of less privileged fishermen with information they need to have a better life," the team said. "May the fish be with us."
The group said they intend to incorporate more NASA data to provide more information such as tide and water temperature. They also aim to partner with a telecommunications provider and other groups to provide more benefits to users.
Space Apps is an international hackathon organized by NASA to tap coders, scientists, designers, storytellers, makers, builders, technologists and other stakeholders to come together to address challenges.