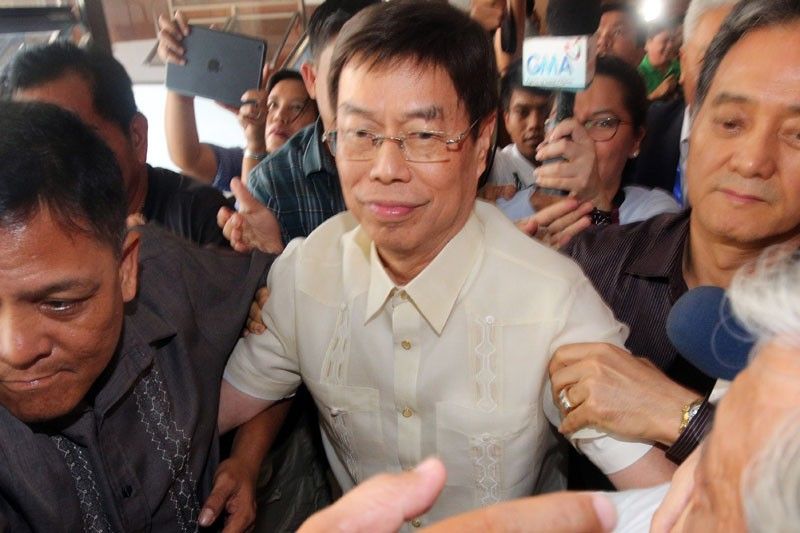 Lim has not been seen in public since the middle of last year when he was investigated by the Department of Justice.
KJ Rosales
Duterte to Peter Lim: 'Commit suicide than surrender'
MANILA, Philippines — President Duterte called on suspected drug lord Peter Lim to just commit suicide rather than surrender to the authorities even as the Chief Executive hinted of a bloodier war on drugs.
"I am warning yung mga nasa Visayas. Peter Lim, if I were you I would commit suicide, never ever surrender to me alive, you will commit suicide. I-abbreviate mo na, ikaw pa magtali sa leeg mo (just tie a noose around your neck)," Duterte said last Wednesday night after the signing of the Universal Health Bill and other important measures in Malacañang.
"I am declaring war, and declare it to the level of national security, the national security threat is a game of national preservation, either I destroy you, or I destroy you," he said.
"Since I am the President, it behooves upon me to ensure that the country is safe. War can take many forms," Duterte said.
Asked it the drug war will be bloodier, Duterte said, "I think so."
Duterte elevated anew the drug menace to the level of a national security threat after the Philippine Drug Enforcement Agency recorded at least six incidents this month where packages of cocaine were found in some of the country's sea shores.
Apart from alleged drug trafficking, Duterte said Lim is involved in money-laundering activities.
He said Lim remains at large despite his previous pronoucements against the Cebu-based trader.
Lim has not been seen in public since the middle of last year when he was investigated by the Department of Justice. Lim had denied involvement in illegal drug activities.
"A drug war is a drug war. I am not ordering the Armed Forces of the Philippines and the Philippine National Police just to go for a punitive police action. That is not war," he said.
"Oo, kasi ikukulong ko siya (Lim) ng 200 years. Kulong or mag suicide na lang siya," Duterte said.
"Sabi ko na sa inyo do not f**k my country. You destroy my country and I will kill you. I could not be more emphatic and clearer. Huwag yang droga because it is an enemy which can cause (the) destruction of a country or will render it a failed state."
During his speeches, Duterte warned that international drug syndicates – including the Sinaloa cartel and the Chinese Triad – have infiltrated the Philippines.
Interior and Local Government Secretary Eduardo Año said Duterte's declaration of a harsher war on illegal drugs was prompted by reports of the alleged involvement of government officials in the drug trade.
Año said Duterte was frustrated since despite his efforts, there are still people in government who continue with their drug activities.
Sen. Risa Hontiveros expressed concern over the President's announcement of a bloodier war on drugs.
"I am always concerned on the war on drugs. The rights of those with drug problems will be violated. They should be treated as patients and not less human and killed on the belief that they cannot be rehabilitated," she said in English and Filipino.
More operations
The Philippine Drug Enforcement Agency (PDEA) vowed more arrests and more operations following President Duterte's pronouncement of a "harsher" drug war.
Irish Calaguas, PDEA officer-in-charge of the Office of the Deputy Director General for Administration, said that it has always been the directive to intensify operations against illegal drugs.
"What the President meant is we will be raising the bar high. We are expecting more arrests and operations. And we want to review again the restoration of the death penalty for sale and drug pushing," she said.
This was discussed during the last conversation between the President and PDEA Director General Aaron Aquino, where the lead anti-narcotics agency was directed to especially go after international drug sydicates.
Calaguas noted that "emotions are running high" even within PDEA itself following the killing of one of its agents.
PDEA Agent Enrico Barba was found dead in Lupi, Camarines Sur a day after he went missing when he supposedly met with an informant.
Barba was found face down along a concrete canal with signs of torture and gunshot wounds to his face.
"We condemn this kind of killing. PDEA will not stop until justice is served," she said while noting that they have at least two persons of interest in the case.
Calaguas said that the persons of interest are "definitely connected to drug syndicates."
Meanwhile, Calaguas said the PDEA has yet to receive formal instruction from the President to release the narcolist.
Duterte expressed support for the proposal of the Department of the Interior and Local Government to release the list of politicians involved in the illegal drug trade before the midterm elections.
With Duterte's warning of a bloodier war on drugs in the coming months, a global network of 182 non government organizations (NGOs) reported that the lack of accountability for drug-related killings has further undermined peace and security in the Philippines.
The International Drug Policy Consortium (IDPC), a global network promoting objective and open debate on drug policy, said in its report titled "10 Years of Drug Policy in Asia: How Far Have We Come?" that the lack of accountability over drug-related killings prompts concerns that various actors are using the climate of impunity to perpetuate acts of violence, whether or not they are actually related to drugs.
Countries in Asia implement some of the harshest drug policies in the world.
As United Nations member-states are set to meet in March to take stock of progress made since 2009 and delineate the next phase for global drug policy, the report by IDPC evaluates the impacts of drug policies in Asia, including the Philippines, over the past decade from a civil society perspective and its catastrophic impact on human rights.
The UN's 10-year drug policy strategy is about to expire.
Using data from the UN, academic literature and contributions from civil society, this report aims to provide a critical assessment of drug policy failures and successes across the region, with the aim of informing high-level discussions on the next decade of drug policy.
The drug policy in the Philippines is characterized by harsh penalties for offenders.
According to the report that presents the Cost of Pursuing a Drug-Free Philippines, one consequence of the highly-criminalized drug policy regime is the congestion of jails, which has been exacerbated by Duterte's war on drugs.
From 96,000 inmates when Duterte assumed the presidency in June 2016, the report said the number has increased to160,000 by 2018, "a staggering 64 percent average increase that is much higher in some local jails and prisons."
Quezon City Jail, for instance, despite its bed capacity of only 286, currently hosts 3,911 inmates.
"The stiff penalties for drug-related offences have also meant that police officers and politicians alike can use drug-related accusations either to extort favors or persecute political opponents," the report said. – With Pia Lee-Brago, Romina Cabrera, Emmanuel Tupas, Cecille Suerte Felipe