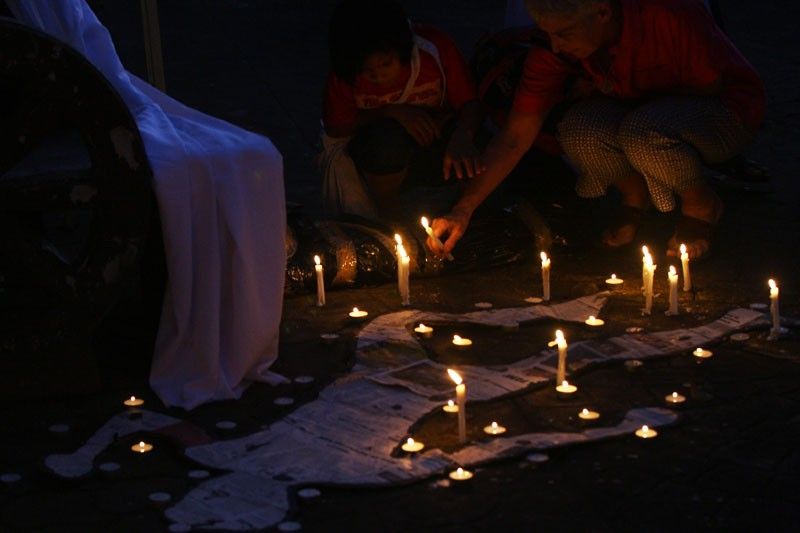 The government said at least 5,050 drug suspects have been killed since the Duterte administration launched the campaign against drugs in July 2016.
Miguel de Guzman
165 cops killed, 575 hurt in drug war
MANILA, Philippines — A total of 165 police officers have been killed and 575 others were wounded in the government's war on drugs, the Philippine National Police (PNP) reported yesterday.
PNP spokesman Senior Supt. Bernard Banac said the police officers were killed during alleged encounters with suspected drug pushers and users.
Banac said the death toll on the police side disproved allegations by critics that policemen were killing drug suspects in cold blood.
"This only shows na meron talagang nanlalaban (that there are really those who fight back)," he said.
The Kalipunan ng Damayang Mahihirap (Kadamay) earlier slammed President Duterte's anti-drug campaign, which the urban poor group said only targeted street-level pushers.
The government said at least 5,050 drug suspects have been killed since the Duterte administration launched the campaign against drugs in July 2016.
Banac said 11,080 of the 42,044 barangays in the country have been cleared of drugs.
"This proves that the drug war has been successful," he said.
The drug-free barangays comprise 26.35 percent of all barangays in the country.
"That's a big drop from the initial estimate of 36,000 barangays nationwide," Banac said in a television interview.
Around 92.784 kilos of cocaine worth P491.245 million have been confiscated by the PNP since the start of the year.
Of the number, 88.825 kilos valued at P470,772,500 were recovered in Dinagat and Siargao islands in Mindanao on Feb. 12 and 14, the largest haul of cocaine bricks so far this year.
Police seized 1.1 kilos of cocaine worth P5.3 million in Mauban, Quezon on Monday, while 989.23 grams of cocaine worth P5.2 million were recovered in Paracale, Camarines Norte on Feb. 16.
Authorities confiscated P9.9 million worth of cocaine bricks on the shores of Barangays Sula and Sabang in Vinzons, Camarines Norte last week.
Banac said they were investigating whether the drugs came from one source.
Police are monitoring the eastern seaboard of the country for suspicious vessels, which might be transporting illegal drugs.
The Philippine Drug Enforcement Agency (PDEA) has requested its counterparts in Asia for any information on similar cases of cocaine bricks found at sea.
PDEA chief Aaron Aquino said they have yet to find leads on the drug ring that might be responsible for the cocaine bricks found in the country.
Aquino said he believes the floating blocks of cocaine found on the shores could be a diversionary tactic by drug rings to smuggle tons of shabu in the country, which is more marketable.
He explained that some of the cocaine bricks had GPS navigation systems so these could be tracked by drug groups.
Aquino said it is possible that large shipments of shabu are being smuggled into the country while law enforcement agencies are focused on recovering the cocaine blocks in one area.
He found it odd that there have been 12 incidents of cocaine discoveries since last year but these have not been recovered by drug syndicates.
"I think it's a diversionary tactic, otherwise why would the syndicates agree to lose such amount of money," Aquino said in an interview over CNN Philippines.
He said another angle they are pursuing is that international drug groups are using the Philippines as a transshipment point for cocaine, where the drugs are dropped offshore and picked up by smaller boats
that would bring the contraband to the coastline before being sold to other countries where demand for cocaine is high.