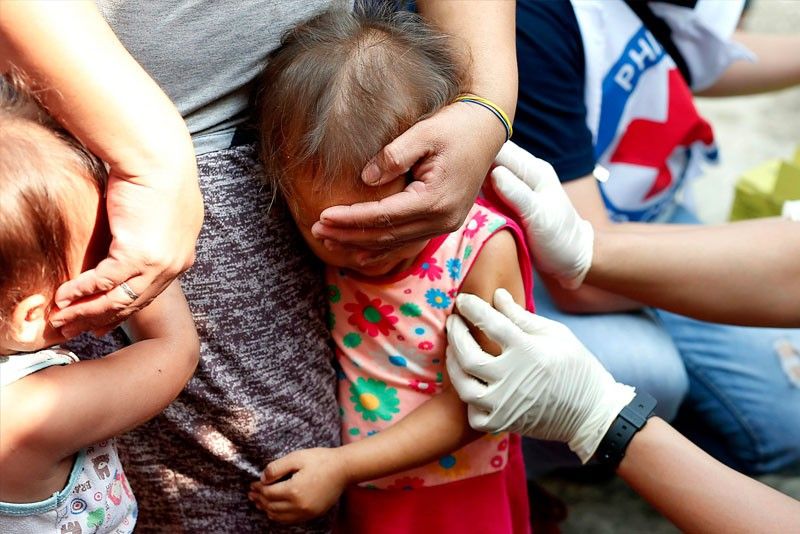 Department of Health and Philippine National Red Cross volunteers conduct house-to-house measles vaccination for children yesterday at an informal settlers' community in Manila, which is suspected by the government as the ground zero of the measles outbreak in Metro Manila.
Duterte urges public: Get kids vaccinated
DAVAO CITY, Philippines — President Duterte has appealed to parents to have their children vaccinated against measles following outbreaks of the disease in several parts of the country.
Data from the Department of Health (DOH) showed 70 persons, mostly children, have died in Metro Manila alone.
"Mga kababayan ko, duma-dami ang kaso ng tigdas at ang komplikasyon nito ay nakamamatay (My countrymen, the number of measles cases has increased and its complication results in death)," Duterte said in a televised statement on Friday night.
Duterte said the only way to fight the measles outbreak is to have children, especially those from six months to two-years old, vaccinated against measles.
Health Secretary Francisco Duque III made Duterte's call for vaccination as a battle cry to encourage more parents to have their children immunized.
The DOH has so far achieved about a quarter of its measles vaccination target to combat the outbreak in Metro Manila.
Duque said they were able to vaccinate more than 100,000 recipients in the National Capital Region in the past four weeks.
This accounts for about 23 percent of the 450,000 target that they aim to complete in the next few months.
Duque appealed to the public to take their children to the free vaccination service of the national and local governments.
He said a person affected with measles could infect 18 others.
The DOH is prioritizing the immunization of children aged six to 59 months, as well as kinder and grade school children, who account for a total of around 10 million.
Some two-million adults are also being eyed by the DOH for immunization.
40 deaths in 45 days
Health officials said Calabarzon (Cavite, Laguna, Batangas, Rizal and Quezon) recorded 45 deaths from measles within just 45 days.
Calabarzon is among regions hardest hit by the outbreak, with 1,645 cases including 40 deaths from Jan. 1 to Feb. 14, according to the DOH-Regional Epidemiology and Surveillance Unit (RESU).
During the same period in 2018, the region posted only 66 measles cases with two deaths.
The city of Antipolo in Rizal remains to have the highest number of measles cases in the region with 441, followed by Biñan in Laguna with 126 cases.
The municipalities of Rodriguez and Taytay in Rizal have 105 and 95 cases, respectively. Lipa City, Batangas has 91 cases.
Calabarzon health director Eduardo Janairo is hopeful that the outbreak can be controlled sooner, before several more individuals get infected as the disease is highly contagious.
Janairo on Friday led an emergency response meeting with various concerned government offices, including the provincial and municipal health officers, to address the rising measles cases in the region.
He outlined the latest directives and key strategies in the ongoing mass immunization against measles.
"We will be implementing key strategies on measles outbreak response including surveillance, public awareness and education, vaccination and taking care of measles patients in health care facilities," Janairo told the health officers.
He said they are targeting to vaccinate a total of 430,292 children in Calabarzon from a projected population of almost 16 million.
In Cavite, the DOH aims to immunize 113,064 children – 90,160 in Laguna, 79,839 in Batangas, 87,019 in Rizal and 60,210 in Quezon.
The DOH is also collaborating with other government agencies and departments such as social welfare and development, and education for the vaccination of children in day care and elementary schools; Armed Forces in far-flung and conflict areas; Philippine National Police and Bureau of Fire Protection for additional logistic support and interior and local government to extend the vaccination schedule beyond regular hours.
"With everything in place, we are expecting cases to decrease next month," Janairo said.
Dengue cases up
While the country is battling the measles outbreak, health officials urged the public to step up anti-dengue efforts as cases of the mosquito-borne disease also increased this year.
DOH Undersecretary Eric Domingo said it's not yet rainy season but rising dengue cases have been reported in some parts of the country.
"Several parts of the country experienced rains during the months of January and February and this contributes to the early dengue cases," Domingo said.
He said the rising trend could be reversed if the public and community leaders would intensify efforts to eliminate breeding places of Aedes aegypti, the dengue carrying mosquito.
While dengue is now considered a year-round disease, cases usually peak during the rainy season when clean and stagnant water is abundant.
The DOH said dengue outbreaks could also occur during summer, especially when households store water in containers that are not covered.
Data from the DOH showed there were 17,801 dengue cases with 75 deaths documented from Jan. 1. to Feb. 2.
The figure is 20 percent higher than the 14,825 cases recorded, including 66 deaths, during the same period in 2018.
The regions that have "exceeded the alert threshold" during this period are Ilocos, Mimaropa (Mindoro, Marinduque, Romblon and Palawan) and Northern Mindanao.
The report showed that Bicol region and Zamboanga Peninsula have "exceeded the epidemic threshold." – With Sheila Crisostomo, Romina Cabrera