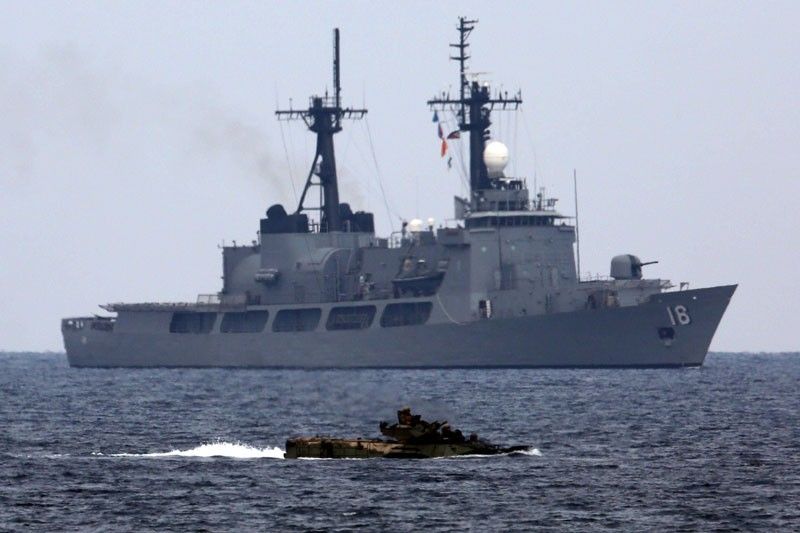 US vows to continue naval operations in WPS
Jaime Laude
(The Philippine Star) - February 14, 2019 - 12:00am
MANILA, Philippines — Following last Monday's Freedom of Navigation Operations (FONOPS) 12 nautical miles from the now Chinese-occupied man-made island on Panganiban (Mischief) Reef in the West Philippine Sea, the US Navy vowed to continue naval operations to keep the disputed Spratlys open to all ocean-going vessels.
US Indo-Pacific Command commander Admiral Phil Davidson told the US Senate Armed Services Committee on Tuesday that the freedom of navigation operations will push through, a day after US Navy ships USS Spruance and USS Preble sailed within 12 nautical miles of Panganiban Reef.
Located 130 nautical miles west of mainland Palawan, the reef that was a former obscure maritime feature that falls within the Philippines' 200-nautical mile exclusive economic zone has been transformed by Beijing into one of its highly fortified military bases.
Claiming almost the entire South China Sea as an integral part of Chinese territorial domain, Beijing has been flexing its muscles in an apparent bid to subjugate other claimant-countries in the disputed region.
"Through fear and coercion, Beijing is working to expand its form of ideology in order to bend, break and replace the existing rules-based international order," Davidson said in a published US Navy report.
"In its place, Beijing seeks to create a new order, one with Chinese characteristics, led by China, an outcome that displaces the stability and peace in the Indo-Pacific that has endured for over 70 years," he added.
Future US FONOPS in the South China Sea, he said, will soon include allies and partners to include the United Kingdom, Japan, Australia, New Zealand, Canada and France.
On Monday, the UK announced that it will deploy a new aircraft carrier with two squadrons of F-35 fighters in the South China Sea.
UK going to SCS
British Defense Minister Gavin Williamson said Monday that the Royal Navy's HMS Queen Elizabeth will sail into the South China Sea.
"We have allies and partners in the region, all in one form or another step up their operations in the South China Sea, and I think that shows the international community's willingness to push back," Davidson said.
A Philippine Air Force C-130 cargo plane landed Friday on Pag-asa Island, the largest island occupied by the Philippines in the Spratlys, to deliver telecommunication technicians that would restore cellphone signals that bogged down in the middle of last year.
The same military plane was also used on its return flight to accommodate pupils from Pag-asa Elementary School for their "Lakbay Eskwela" to Puerto Princesa City in Palawan.
"The C-130 cargo plane's landing at Pag-asa Island to bring in technicians and fly pupils to Puerto Princesa City as part of their Lakbay Eskwela has the approval of the defense department," a Camp Aguinaldo official said.
The official also confirmed the continuing presence of Chinese fishing boats near the island town, which also serves as key military outpost of Filipino soldiers deployed in the region.
A contingent of soldiers from the Puerto Princes City-based Armed Forces of the Philippines Western Command (AFP-Wescom) is on forward deployment in the country's nine occupied outposts in the Kalayaan Island Group in the Spratlys.
Meanwhile, AFP chief Gen. Benjamin Madrigal Jr. said that the military is continuously updating concerned agencies on the current situation in the disputed region, particularly on the sudden increase of Chinese fishing boats near Pag-asa Island.
"What we are doing is we regularly inform concerned agencies. For example, we report this to the Department of Foreign Affairs and to the Department of National Defense," Madrigal said, in reference to the presence of Chinese fishing boats in the disputed region.
Defense Secretary Delfin Lorenzana described these fishing boats not as fishing vessels but are in fact Chinese militia boats deployed by the People's Liberation Army-Navy.
Madrigal added that military monitoring is also being done over the Chinese-occupied Panatag (Scarborough) Shoal up north.