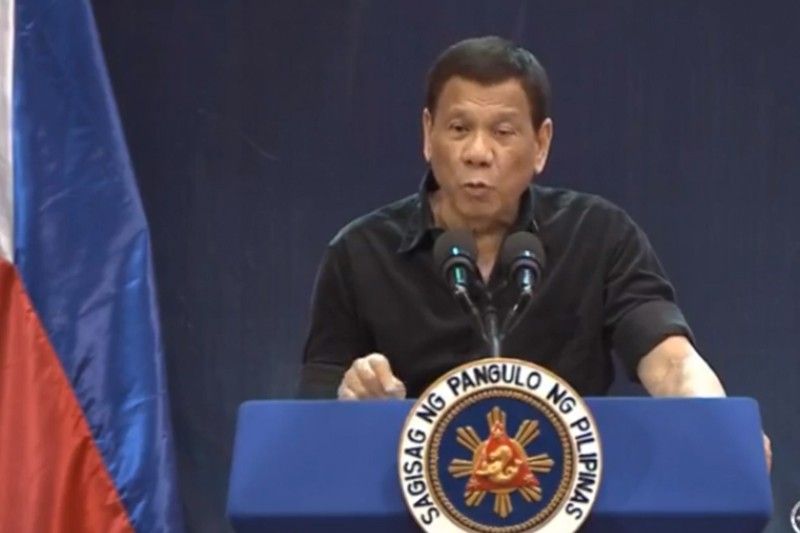 President Rodrigo Duterte discourages cabinet officials and military from campaigning in the upcoming midterm elections
Screengrab from RTVM
Duterte to armed forces, cabinet: 'stay neutral in elections'
MANILA, Philippines — President Rodrigo Duterte urged the military and his cabinet not to engage in partisan politics in the upcoming election during an event in Naga City on Friday.
"Armed forces will never side with anyone," Duterte said at an event for barangay officials in Legazpi City, Albay.

He noted the violent nature of Philippine elections and said he hopes that "we can reduce violence to the barest minimum."
The Commission on Human Rights (CHR) counted at least 53 election-related deaths from 2015 to 2016.
Even prior to election season, at least 18 mayors and vice mayors have also been killed under the Duterte's administration.

READ: Killings of 13 mayors, vice mayors resolved — PNP
In December, Rep. Rodel Batocabe (AKO Bicol party-list) was murdered in broad daylight along with his aide in Daraga, where he was running for mayor.
READ: AKO Bicol party-list Rep. Batocabe, aide shot dead in Albay

"Sanay tayo ng violent ang elections (We're used to violent elections)," Duterte said.
Duterte emphasized that he hoped that people would be following the gun ban.
"I expect everybody, not to be carrying too much firearms," he said. "You'd be limited to two [guards] in uniform," the president added, saying he is accepting the "Alunan doctrine" as policy, which refers the the rule that more than two guards is already considered a private army.
This was introduced by former Interior Secretary Rafael Alunan, who served under ex-President Fidel V. Ramos.
Alunan, who is an ally of Duterte, is running for senate again in this election after failing to make it into the top 12 in 2016.
Duterte also said he would not allow his cabinet members to campaign, even if they are not legally prevented from doing it.
"The cabinet members… through the law allows you to campaign like the president, I would insist that they should not get involved. Not only would they bring so many issues with them," Duterte said in a mix of Filipino and English.
"They will say they're using the gas, airplanes," the president added, saying he does not want state resources being used for campaigning to be made an issue.
On Duterte's end, he said he'd participate in some campaign events, "for those people na pagkautangan ko nang loob (I have a debt of gratitude to)."
He named Imee Marcos specifically — who is running for senate — as one those he has a debt of gratitude to.
The campaign period for senators and party-list is from February 12 to May 11 while the campaign period for local posts including district representatives is from March 30 to May 11.