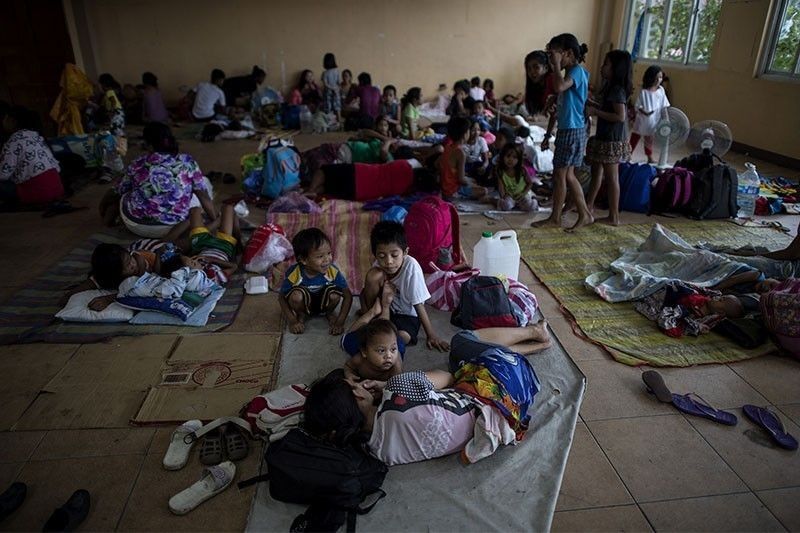 Residents affected by super Typhoon Mangkhut temporarily stay in an evacuation site in Manila on Sept. 15, 2018. Super Typhoon Mangkhut slammed into the northern Philippines, with violent winds and torrential rains, as authorities warned millions in its path of potentially heavy destruction.
AFP/Noel Celis
DILG: Local execs' travel authority, leaves recalled during disasters, calamities
MANILA, Philippines — Permit to travel and leaves of absence issued to local governments during time of disaster and typhoon would be recalled following a memorandum from the Department of Interior and Local Government.
In a statement on Thursday, the DILG said that this is to ensure that mayors and other local government officials would not be "missing in action" during emergencies and calamities.
The DILG is the approving authority of local government officials seeking permit to travel abroad and take leaves of absence.
The order is contained in a memorandum signed by Secretary Eduardo Año and was issued on Jan. 4, 2019, the statement said.
"As we are guided by the law, we will exercise it to its full extent to ensure that local chief executives are where they are expected to be in times of disaster or calamities," DILG Assistant Secretary and spokesperson Jonathan Malaya said.
The memorandum covers component city mayors and municipal mayors, sangguniang panlalawigan members whose chairmanship is peace and order and crisis management, [Disaster and Risk Reduction Management], and social welfare and development, and women, youth children and Indigenous Peoples, and appropriate department heads such as local DRRM officer.
On Monday, the DILG endorsed administrative sanctions against five Northern Luzon mayors before the Office of the Ombudsman.
READ: DILG: 5 mayors may face admin raps over absence during 'Ompong'
The DILG said that they did not find their explanation for being "missing in action" during the onslaught of Typhoon Ompong in 2018 "inadequate and unjustified."
Malaya said: "Despite having knowledge of the impending typhoon and the DILG advisory, said mayors were not in their post during the typhoon. Such act on their part may be considered as dereliction of duty, negligence or other administrative offense."
The Local Government Code provides that provincial governor, city mayor and municipal mayor should carry emergency measures during and in the aftermath of disasters and calamities.
The DILG also admonished six mayors for disregarding the agency's directives requiring their physical presence during calamities and failing to personally supervise the evacuation, rescue and relief operations of their constituents from September 14 to 16 last year.
Out of the 16 local executives from Cagayan Valley and Cordillera Administrative Region, only one mayor was excused after his absence was found to be acceptable, Malaya said.
"While the mayor had to attend a Sandiganbayan Court Hearing in Quezon City on September 13, 2018, an equally urgent matter, he nevertheless managed to return immediately to his area of responsibility," the DILG spokesperson added.