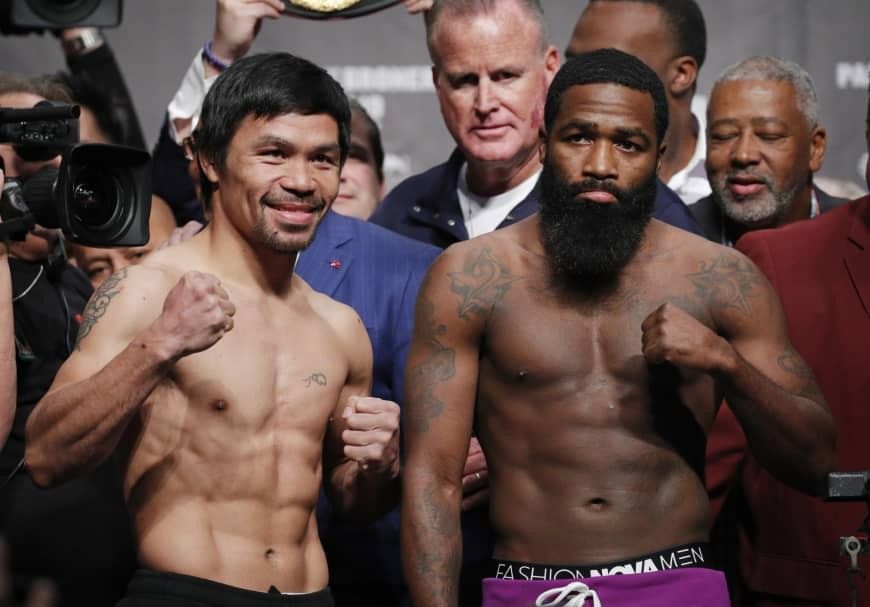 "Boxing is my passion. Being a senator is my mission," Senator Manny Pacquiao said.
AP
Hungry at 40 Pacquiao eyes big win
Abac Cordero
(The Philippine Star) - January 20, 2019 - 12:00am
MANILA, Philippines — Mayweather Jr. and Jeff Horn over recent years have given fight fans the impression that Pacquiao was over the hil and done.
His harshest critics, at home and elsewhere, have called for his retirement, saying he should instead focus on his duties as a senator.
"Boxing is my passion. Being a senator is my mission," he said.
"That's why this fight is really important to me. This is my first fight at age 40. That's why it's very challenging," said Pacquiao, fighting in the United States for the first time in over two years.
Other than Broner, the trash-talking boxer from Cincinnati, Ohio, Pacquiao is up against something every boxer dreads – Father Time.
This is his 28th fight on American soil. It's his 70th fight as a pro (60-7-2), and he's eyeing his 40th knockout win.
Pacquiao wouldn't be back here in Vegas if not for an impressive seventh-round knockout win over Lucas Matthysse in Kuala Lumpur last July, a year after he was robbed of a victory against Horn, a former school teacher.
A new partnership with promoter Al Haymon, the founder of Premier Boxing Champion (PBC) and a known ally of Mayweather, also made it possible for Pacquiao to return to the US amid his tax problems.
For Saturday's pay-per-view show, Pacquiao, the heavy favorite, is reportedly guaranteed $10 million (roughly P520 million).
Broner stands to receive $2.5 million, and may have already spent half his purse on jewelry. Here in this glitzy gambling capital, he glitters with gold, with diamond-studded Rolex watches on both wrists.
If you ask Pacquiao, he'd insist this fight is not about the money.
It's the opportunity to prove that at his age, when most boxers have either retired or have turned promoters, trainers or boxing analysts, he remains one of boxing's top draws, if not the biggest.
Pacquiao is chasing a rematch with Mayweather, currently retired and counting his millions. An impressive win over Broner, a knockout or a lopsided decision, might lure Mayweather back in the ring.
Together, Mayweather and Pacquiao can make half a billion dollars in a rematch. The former is expected to be at ringside Saturday.
"Let's focus on Broner first. Then we can talk about the next fight," said Pacquiao even when someone so close to him and his wife, Jinkee, said that a rematch, indeed, is in the works, and may happen in July.
The source said Mayweather is looking at London or Russia as an alternative venue.
Pacquiao claims that he feels young when on paper he's not. He's starting to grow gray hair but insists that physically, he trains and moves like he's 25.
"Age is just a number. It doesn't matter if I'm 40 years old. I still feel young," said Pacquiao, who has learned to give his body more time to rest and recover during the eight weeks of training.
"Life begins at 40," he said.
If Pacquiao is not successful here, it may be time to seriously consider retiring for good.
Pacquiao weighed in at 146 pounds. Broner, who had been told to shave off his beard before the fight, came in at 146.5.
"I'm excited. I'm ready. There's no problem in our preparation," said Pacquiao, who trained and pushed hard in training – rain or shine.
Pacquiao went out for his morning runs in Los Angeles and Vegas even when the weather got extremely cold, even when it drizzled.
Word is that Pacquiao showed symptoms of the common cold on the eve of the weigh-in, and had his strength coach Justin Fortune calling the VADA (Voluntary Anti-Doping Association) office to check on which cold remedy wouldn't do Pacquiao more harm than good.
Whether he took medicine, no one would say.
"I'm ready," Pacquiao kept saying.
His Filipino trainer, Buboy Fernandez, has told the Filipino press that Broner may not last longer than four rounds. Freddie Roach, happily back in Pacquiao's corner for this fight, had mentioned his favorite number: nine.
Broner, a cocky fighter who had won world titles at 130, 135, 140 and 147 pounds, said Friday a victory over Pacquiao makes him "a legend overnight."
The bearded boxer vowed to put on a show, and send Pacquiao back to his native land without the WBA belt.
"Of course, I'm going to send him home beltless. I'm coming to win and that's how I'm going to send him home beltless," he said.
Broner thinks Pacquiao is scared of him.
"He don't wanna see me, for real. He don't wanna see me. See, what he do is try to smile, but he's nervous. He tried to smile his way out of it. He nervous, though. He be trembling (sic)," said Broner in his native jive.
He must be looking at a different person.
Broner lashed out at mediamen here last Wednesday for painting a wrong picture of him. He also said he doesn't care what Pacquiao has accomplished in the sport because any boxer is only as good as his last fight.
"I don't give a (expletive). I don't care that he is an eight-time world champion and all the weight classes and (expletive). I don't care about none of that. All I care about is as long as my money (is) right, we can have a nice fight," he said.
During the press conference here, he threw racial comments at members of Team Pacquiao.
But Broner, who has never been knocked out in 37 fights (33-3-1 with 24 knockouts), is looking forward to something else.
"I'd love to come to the Philippines," he said.
It's up to him.