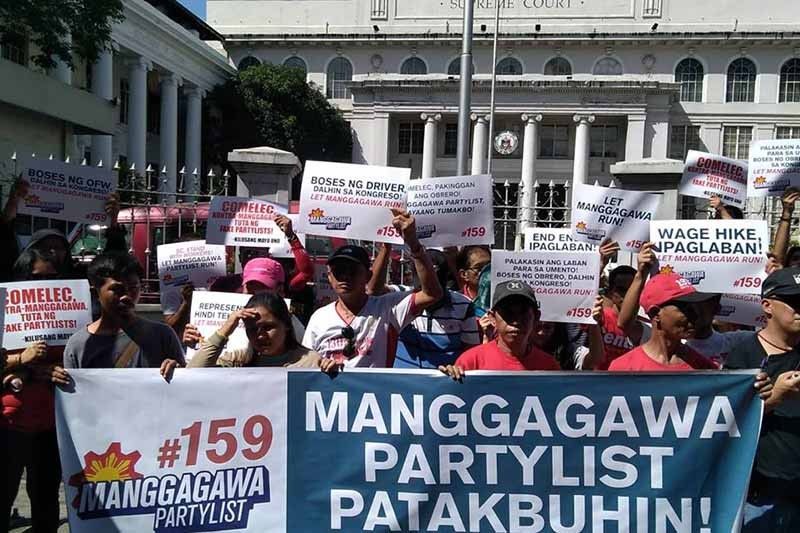 Members of the Manggagawa party-list trooped to the Supreme Court on Friday, January 18, to elevate their disqualification case ruled by the Commission on Elections.
Manggagawa Partylist/Facebook
Manggagawa party-list seeks SC relief in disqualification
MANILA, Philippines — Manggagawa party-list on Friday asked the Supreme Court to order the Commission on Elections to include its name in the official ballots for the midterm poll.
Manggagawa filed a Petition for Certiorari saying that the poll commission committed grave abuse of discretion when it disqualified the party-list in the 2019 midterm elections.
Manggagawa is a sectoral organization of workers, employees, informal labor and other members of the working class. It is seeking a seat in Congress in the coming May elections.
But the Comelec, in a resolution released last August, held that the party-list failed to comply with the requirement to state that it is a project organized or an entity funded or assisted by the government and disqualified the group.
Manggagawa assailed the Comelec resolution and argued that they already said that it does not receive funding from any organization whether directly or indirectly for partisan political activities.
This, they said, is a broad enough statement that also answered the qualification that Comelec said the party-list failed to comply with.
"After all, if petitioner does not receive any support from any organization, it follows that it is not a project or entity funded or assisted by the government," the petition read.
The party-list appealed the Comelec's decision but did not receive a favorable ruling, prompting them to elevate the case to the SC.
"It is prayed that this Petition be given due course and after due proceedings, the subject Order and Resolution...be annulled and nullified," the petition read.
They also asked the tribunal to order the Comelec to stop the poll body from not including the party-list in the official ballot.
The Comelec is set to start printing official ballots on January 22.