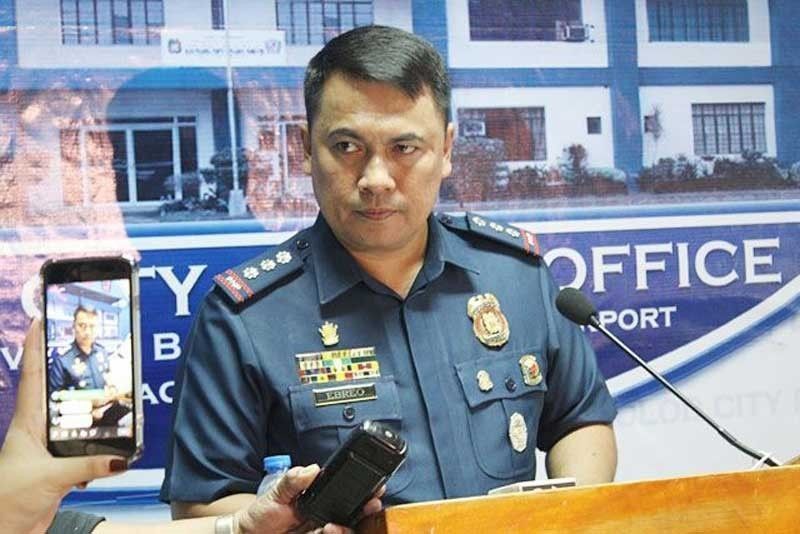 In this photo, S/Supt. Francisco Ebreo is seen talking to members of the press.
Bacolod City Police Office Facebook
Duterte 'castigated' sacked Bacolod cops, Palace says
(Philstar.com) - January 16, 2019 - 4:00pm
MANILA, Philippines — President Rodrigo Duterte "castigated" the four Bacolod cops whom he ordered relieved from their posts due to their alleged links to local drugs.
Presidential spokesperson Salvador Panelo said in a statement that Duterte met with Senior Superintendent Francisco Ebreo, deputy for administration Superintendent Allan Macapagal, deputy for operations Superintendent Ritchie Yatar and Station 3 commander Senior Inspector Victor Paulino on Tuesday afternoon.
The president, in another one of his freestyle speeches last weekend, relieved the four ranking Bacolod cops over their alleged involvement in the illegal drug trade.
"The president particularly expressed his frustration as to why they had no knowledge about the presence of certain personalities in Bacolod who are involved in the illegal drug industry," Panelo also said.
"[Duterte] gave the police officers a dressing down and castigated them for allowing the proliferation of illegal drugs to persist in Bacolod who are involved in the illegal drug industry," the spokesman added.
The president, in his speech over the weekend, was quoted as saying: "In your involvement in drugs and making the people of Bacolod miserable, I am relieving and dismissing you from the service as of now, Senior Superintendent Francis Ebreo."
Evidently, Ebreo is still in the police service.
Ebreo not on police watchlist
Director General Oscar Albayalde, police chief, said in a press conference on Monday that Ebreo was not included in the PNP's watchlist of police officers with drug links.
He also said that the PNP's counter-intelligence team is still looking into the allegation. "We are not closing the investigation because they are relieved already. There may be others involved in this... if this is true," he said.
But he said that their relief was enforced as it came directly from Duterte who is the commander-in-chief.
Albayalde however said the Bacolod cops would be given due process in the investigation.
Panelo, in the same statement on Duterte's meeting with Ebreo, reiterated Duterte's support for cops who resort to force "only when the same is inevitable."
The Palace spokesperson said that the relief of Ebreo is a reminder that Duterte will not tolerate incompetence and efficiency especially with the government's war against illegal drugs.
He added that the president would continue to back police when a suspect "performs aggressive and violent resistance amounting to actual or imminent threat to their lives and limbs."
Critics of the drug war as well as human rights groups have questioned the "nanlaban" narrative. According to government data in October, more than 4,900 "drug personalities" had been killed while violently resisting arrest since July 2016. — Kristine Joy Patag