Russian ships in Manila for naval cooperation
January 7, 2019 | 12:00am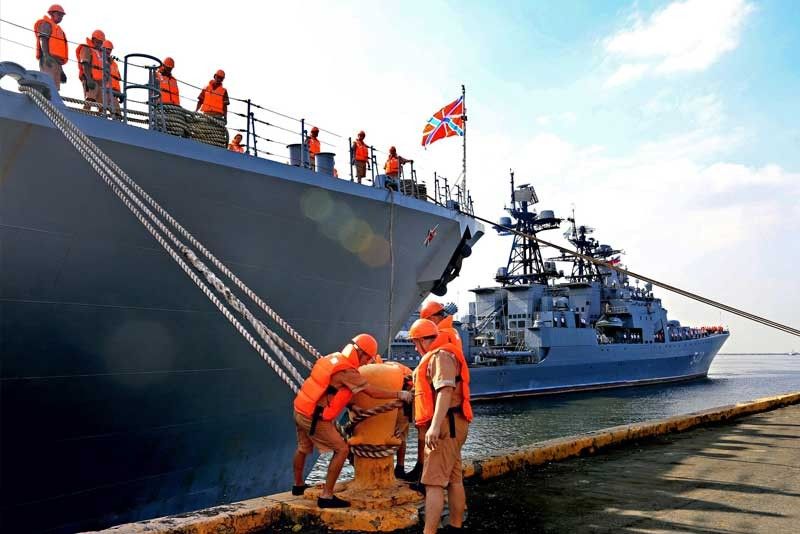 MANILA, Philippines — To further develop naval cooperation between the Philippine and Russian navies, the two forces will hold goodwill games, a boodle fight and shipboard tour in Manila.
The Russian Pacific Fleet Task Force—comprised of the guard missile cruiser Admiral Varyag, the large antisubmarine ship Admiral Panteleev and the large sea tanker Boris Botuma—arrived yesterday at the Port of Manila for a five-day unofficial visit.
Commander Jonathan Zata, Philippine Naval Public Affairs Office director, said this is the first visit of the Russian Navy to Manila this year and the seventh since 2012. This is also the first for Admiral Panteleev and the second for Admiral Varyag and Boris Botuma, which both visited the country in May last year.
He added that the visit also aims to strengthen the relationship between the two navies and "will further enhance and sustain the promotion of peace, stability and maritime cooperation of the two countries through naval diplomacy and camaraderie."
The Philippine Navy yesterday extended its formal greetings and emphasized that mutual friendly port calls between the Philippines and Russia could make a significant contribution to improving the bilateral navy collaboration towards ensuring peace and stability in the Asia-Pacific Region.
Russian Rear Admiral Eduard Mikhailov pointed out that for the past years mutual goodwill visits of navy ships have been taking place on a regular basis and by now have become a tradition.
"There is a certain degree of symbolism to the fact that the New Year 2019 starts with current visit of the Russian Pacific Fleet Detachment to Manila. For each person these days bring an opportunity to come up with new plans and intentions, to hope for prosperity, happiness and wellbeing," a statement from the Russia embassy read.
The embassy also said that this would give its forces the chance to replenish supplies and give its crew some rest.
Zata said that, like their previous visits, the Russians would lay a wreath at the Rizal monument and make a courtesy call on Philippine Vice Admiral Robert Empedrad. On Friday, a send-off ceremony with customary Passing Exercise (PASSEX) will cap off the visit of the three Russian Navy ships and its crew.
The Russian Navy contingent is led by its head of mission, Rear Admiral Edward Mikhailov, together with Admiral Panteleev Captain Dmitriy Tihomirov; Admiral Varyag Captain Alexsei Ulyanenko and Boris Botuma commanding officer Sergev Bondar.
Zata said Commodore Toribio Adaci Jr., representing the flag officer in command, headed the Philippine delegation together with Empedrad. Both officers yesterday gave the visiting navy a welcome ceremony, press briefing and health and security briefing aboard Admiral Varyag. – With Pia Lee-Brago