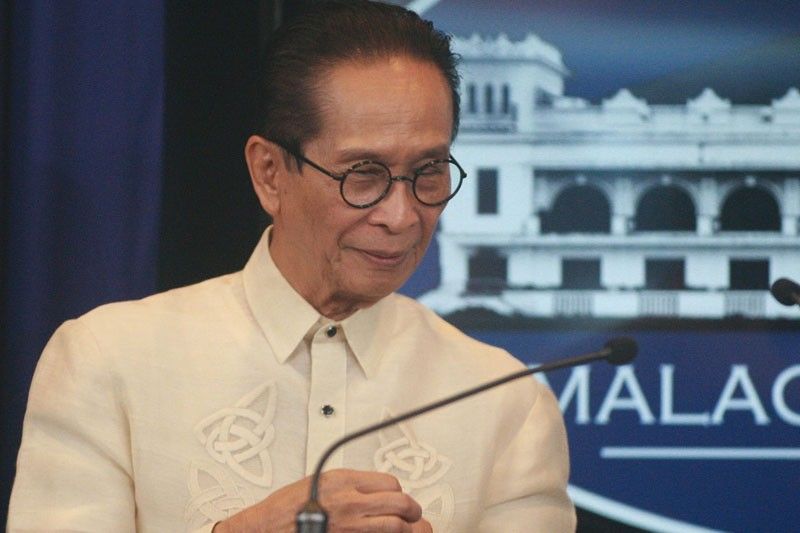 Presidential spokesman Salvador Panelo said Catholics should welcome Duterte's remarks "as a process to strengthen further their faith or enlighten those who seek the truth of what they have embraced."
Joven Cagande, file
Don't be offended by Duterte comments on beliefs, Catholics told
(Philstar.com) - January 2, 2019 - 1:30pm
MANILA, Philippines — Catholics should not be offended by President Rodrigo Duterte's remarks on their beliefs, the Palace said Wednesday, saying it is his way of initiating a supposedly intellectual discussion on their faith.
Duterte has repeatedly criticized Catholic beliefs. In late December, the president took aim at the belief in the Holy Trinity, which states that there is only one God in three divine persons: The Father, the Son and the Holy Spirit.
"There is only one God, period. You cannot divide God into three. That's silly," the president said. Catholics are not actually taught that God is divided into three.
In a statement to media, presidential spokesperson Salvador Panelo claimed that "the remarks is his way of shaking long-held religious tenets and beliefs that instead of molding them into being righteous individuals make them cling to religion as an opium."
He claimed that the president meant "to initiate an intellectual discussion for the faithfuls' enlightenment and spiritual awakening which could lead them to thread [sic] the path of uprightness so necessary in the moral regeneration of a nation so abundant with religiosity but wanting in spirituality."
"Rather than the Church and its believers being offended by such unorthodox narratives, they should welcome it as a process to strengthen further their faith or enlighten those who seek the truth of what they have embraced," Panelo said.
Duterte and some Church leaders have been at odds over deaths in the government's campaign against illegal drugs, with the president often mentioning supposed transgressions by Catholic clergymen in his speeches.
RELATED: Church still favorite whipping boy
Panelo has, in the past, justified Duterte's remarks against the Church and its teachings as "jokes." In November, when Duterte referred to Catholic saints as drunkards, he pointed out that Cabinet members at the event laughed at the supposed joke.
"The fact that they burst into laughter (as shown by the video clips of the TV news) showed that they were not offended by what the good bishop and a few critics perceived to be an offensive religious statement," he said then.
According to the Presidential Communications and Operations Office, among the officials present when the president made the remarks were Interior and Local Government Secretary Eduardo Año, Defense Secretary Delfin Lorenzana, Social Welfare and Development Secretary Rolando Bautista, Labor Secretary Silvestre Bello III, Public Works and Highways Secretary Mark Villar, and Health Secretary Francisco Duque.
Panelo, on Wednesday, said Duterte "sets the limits of the freedom of expression to a notch higher than its common use," adding the president does not care about any "consequential erosion of his public support" by making contriversial statements.