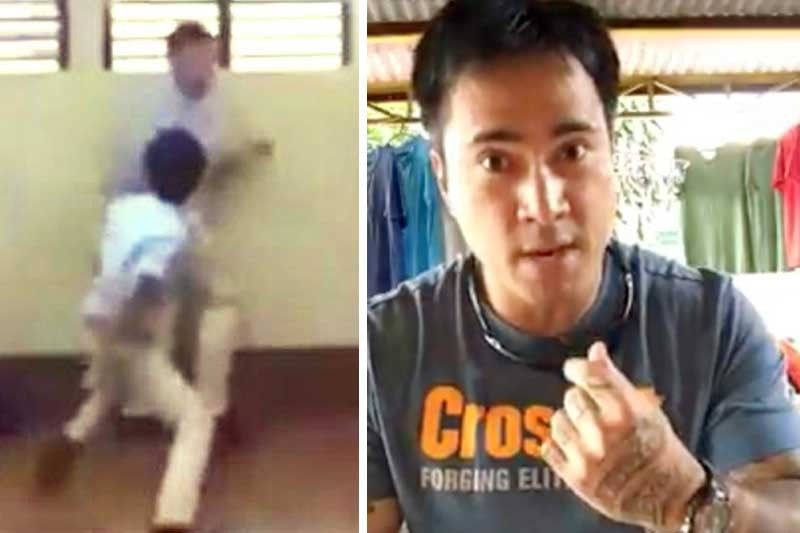 Fil-Canadian Joseph Perez Otazu, an Afghan war veteran of the Canadian Army, is seen in this image from a Facebook post yesterday. He challenged the father of the Ateneo de Manila student who beat up a schoolmate (left image) to a fight and even offered to pay the father P100,000 if he wins.
Fight me, Fil-Canadian challenges bully's dad
(The Philippine Star) - December 22, 2018 - 12:42am
MANILA, Philippines — Bullying is a serious matter that shouldn't be taken sitting down.
An angry father, who trained in close quarters battle (CQB), posted a video yesterday on Facebook inviting to a one-on-one fight the father of the Ateneo junior high school student caught on video bullying a schoolmate inside the toilet of the school.
Joseph Perez Otazu, who identified himself as a Canadian in the video, made scathing remarks both in English and Filipino directed at the student's father, who has reportedly remained unapologetic about the bullying incident involving his son.
"I don't really blame the kid for that kind of behavior, I blame the parents for that," Otazu said.
Otazu has a 13-year-old son and an eight-year-old daughter, he said on the video. They came home for a vacation in the Philippines. He noted in the video that he and his children only have two more weeks to stay in the country.
In typical Filipino teleserye fashion, Otazu dared the father to a fight. "Name the time, the place, I'll be there," he said.
Otazu was apparently serious about his offer. "Mr. ..., if you are watching the video, I hope you do, I really hope you do, this is my offer to you. Obviously hindi mo tinuturuan properly ang mga (you don't properly teach your) kids mo, so this is what I'm gonna do to you, I'm challenging you into a fight, tayong dalawa, kung gusto mo sa harap pa ng kids mo (just the two of us, in front of your kids if you want)," he said.
He added, "I'll even make a sweeter deal for you. If you beat me, I'm going to give you P100,000. But if I beat you, you're going to apologize to the kid who was bullied by your son, and to his family. You're going to apologize in front of me."
"It's up to you as a parent to control your kids, teach your kids respect and alam mo naman yan kung (if you know) your kid is exhibiting that kind of behavior, it's up to you to correct your kid," he said.
Otazu also offered to teach the victim and his friends self-defense techniques.
"Kung nakikinig ka at nanonood ka (If you're watching), this is my offer to you," he addressed the victim. "I am going to teach you self-defense techniques for free, because we have to put a stop to this…not only to you, (but also) to your friends. Ako pa ang pupunta sa 'yo (I'll even go to your place)," he said.
Otazu, with tattoos on both arms, said he is a "CQB instructor in the Canadian Army." He said he has been in the army for over 20 years. "I'm a combat veteran of Afghanistan."
He wrote his mobile numbers on a piece of paper and flashed it on screen, hoping that the father would take up his offer to fight.
The STAR tried to reach Otazu several times but his phones were out of coverage area.
As of press time, the video he posted has gone viral with 408,579 views and 1,200 shares.