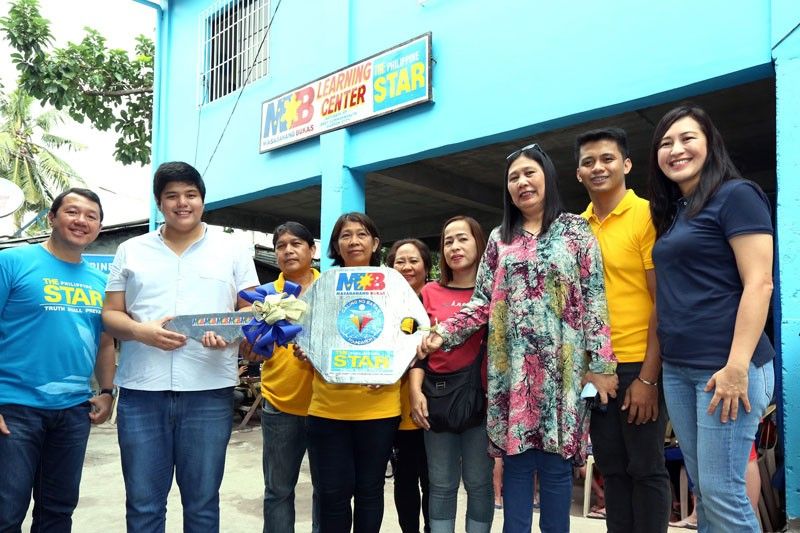 Quezon City Vice Mayor Joy Belmonte (right) leads the opening of the Masaganang Bukas Learning Center in Barangay Commonwealth together with (from left) Galing ng Bayan Foundation president Mikey Belmonte, homeowner association officers Ronald Abesamis, Jesusa Ginayhinay (president), Nimfa Gandicila, Ucor Base 3 Rosalina Herrera, Kagawad Rowena Lucas, and Jayson Diocto.
Walter Bollozos
More Masaganang Bukas Learning Centers open in Quezon City
Epi Fabonan
(The Philippine Star) - December 21, 2018 - 12:00am
MANILA, Philippines — Operation Damayan, The Philippine STAR's social arm, in partnership with the Galing ng Bayan Foundation Inc., inaugurated two more Masaganang Bukas Learning Centers on Wednesday.
The opening of the learning centers in Barangay Commonwealth and along Road 5 in Barangay Bagong Silangan brings the total number of Masaganang Bukas Learning Centers in Quezon City to five. The foundation earlier turned over three similar facilities to Barangays Payatas, Bagong Silangan and Batasan Hills on Nov. 24.
STAR president and CEO Miguel G. Belmonte and his son, Galing ng Bayan Foundation Inc. founder and president Mikey Belmonte, led the inauguration of the new centers. They were joined by Quezon City Vice Mayor Joy Belmonte, who shared that education has always been a priority advocacy of the family in serving Quezon City and promoting its competitiveness.
Mikey Belmonte, whose Galing ng Bayan Foundation was recently recognized by the city government as an outstanding volunteer organization, said the daycare centers were put up in areas where young children have limited access to pre-school facilities. "The areas we selected are those where there are no daycare facilities so that the people there won't have to walk so far just to acquire basic education," he said.
Welcoming the new learning center in Barangay Commonwealth, homeowner association president Susan Ginayhinay could not believe that the project was now a reality, recalling so many times in the past 20 years that they were promised by this and that politician that a facility would be built in the area, only to be left empty-handed. "Si Mikey, isang meeting lang, tinupad agad (We only met with Mikey once, and he immediately acted on our request)."
In the future, the Galing ng Bayan Foundation plans to add another story to each of the learning centers that would serve as multi-purpose halls so that children being taken care of inside the facilities could have more space for playing and learning.
They are also looking forward to donating chairs and tables to each learning center to make a more conducive environment for learning.
"We all know that the future of our country is in the hands of the young, so we want to do our little bit to help contribute to their education," STAR president Miguel Belmonte said.
Operation Damayan coordinator Emie Cruz added, "For the past 15 years, Operation Damayan has been prioritizing the education and literacy of young Filipinos by building classrooms in depressed and underserved areas, especially in the countryside. But this time around, we wanted to serve the depressed and underserved youth in urban areas, which is why we started building these Masaganang Bukas Learning Centers."