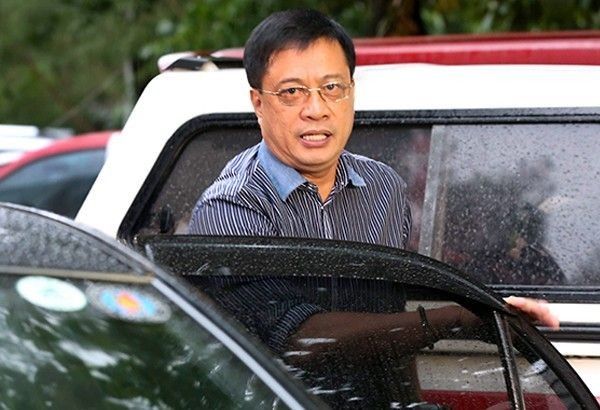 "It's a joke, not an accusation," presidential spokesperson Salvador Panelo said of President Rodrigo Duterte's comments linking former Interior Secretary Manuel Roxas II to the ambushes on the Daanbantayan mayor.
Philstar.com/File Photo
Palace: Duterte comment linking Roxas to ambushes 'a joke'
MANILA, Philippines — Was President Rodrigo Duterte serious when he claimed former Interior Secretary Manuel "Mar" Roxas II was responsible for the two ambushes on Daanbantayan Mayor Vicente Loot?
"It's a joke, not an accusation," presidential spokesperson Salvador Panelo said during a Malacañang press conference on Wednesday afternoon.
"If you notice in some of his speeches, when drugs is the subject matter, he always, names Loot," Panelo said in a mix of Filipino and English. "He gets angry. He's extremely angry [at Loot]. That is his way of showing displeasure. He is so disappointed with this man," Panelo added.
Despite the allegations, no formal criminal charges have been filed against Loot over his alleged ties to illegal drugs.

One ambush that was reported happened last May near the Maya port in Daanbantayan in Cebu.

READ: Cebu mayor in narcos list survives ambush

Duterte said in a speech in Davao City on Tuesday evening that Loot was ambushed twice but "could not be killed." The former Davao City mayor said further in Cebuano: "I wasn't the one who ordered his ambush, it was Roxas."
"Your [former Deputy Director General Marcelo Jr.] Garbo, your senior police aide is involved in drugs. That's was why Roxas was irked. He said, 'kill him so we won't get embarassed."
While Loot and his family weren't hurt, his two drivers, and house helpers were injured by gunfire during the ambush.
'Narco general'
Mayor Loot is a retired police superintendent, and was one of five alleged "narco generals" Duterte named at the beginning of his term in 2016.

The other four officials named by Duterte are former Quezon City Police District chief Edgardo Tinio, former National Capital Region Police Office chief Superintendent Joel Pagdilao, ex-Western Visayas police Chief Superintendent Bernardo Diaz, and Police Deputy Director General Marcelo Garbo Jr.
They all denied their involvement in the drug trade.
Loot, who won by a margin of seven votes in the 2016 elections, is currently on extended leave and is spending the holidays with family in the United States and Canada.

READ: Vicente Loot extends vacation leave

Philstar.com reached out to Loot for a reaction on the president's statements but has not received a response as of this post.

Roxas has yet to address Duterte's claim publicly, but his 2019 senatorial campaign manager Rep. Edgar Erice (Caloocan) told a local media outlet that Roxas was letting the comment go.
The ex-Aquino Cabinet official ran against Duterte in the 2016 elections and came in second place with 14.4 million votes, behind the current president's 16.6 million votes.