Duterte still trusts Diokno despite House troubles, says Palace
December 13, 2018 | 4:40pm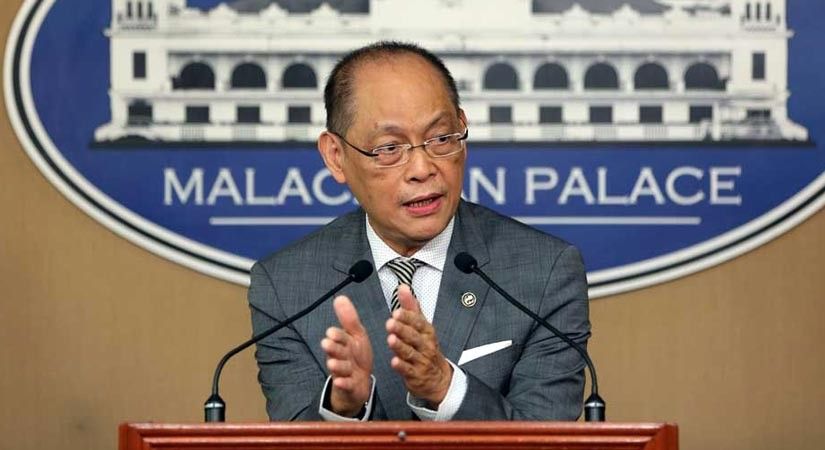 MANILA, Philippines — Despite a House resolution recommending Budget Secretary Benjamin Diokno's removal from the Cabinet, presidential spokesperson Salvador Panelo said on Thursday that President Rodrigo Duterte still trusts him.
"While we respect House Resolution No. 2365 which urges the Office of the President to reconsider the appointment of [Department of Budget and Management] Secretary Benjamin Diokno as an expression of sentiment from a separate branch of the government, we similarly wish to express that the president continues to trust the Budget secretary and the confidence reposed on him remains unimpaired," Panelo said in a press statement.
House Minority Leader Danilo Suarez (Quezon) filed HR 2365, which calls on Duterte to fire Diokno over an alleged P75 billion in "insertions" of pork funds into the budget of the DPWH, on Wednesday night. The resolution was passed by an "overwhelming majority," The STAR reported.
Resolutions express the sense of a chamber of Congress but are non-binding.

READ: House Resolution urges Duterte to fire Budget chief

Diokno admitted to adding P75 billion to the DPWH's 2019 budget, but denied these were "insertions," and said the increases were "above board."
He also said that it was not the DBM's job to select contractors.
Diokno denies links to 'preferred contractor'
House Majority Leader Rolando Andaya (Camarines Sur) has accused Diokno of having links to CT Leoncio, a Bulacan-based construction firm that he said bagged "billions" in government projects.
Diokno denied links to the alleged "preferred contractor."
Andaya, a former Budget secretary, said on Tuesday that the projects Leoncio bagged were worth "billions."

READ: Budget chief denies links to 'shady' contractor

"CT Leoncio has cornered not only projects in the Second District of Sorsogon. But we found out today that they also have projects in Samar and in Catanduanes," Andaya said during the Tuesday press conference..

He also raised red flags over the quality of the projects delivered by CT Leoncio.
"If you look at the status of the projects, these were bid out in January," Andaya told reporters.
"These are projects worth P50 million, P100 million, P120 million, if you look at the performance, all are slippage. All are not complete-complete, and many have problems with right of way acquisition," he said.
Slippage refers to delays in the implementation of a project.
According to Andaya, when a single proprietorship like CT Leoncio does not deliver on a project, or is delayed, the company should be blacklisted. "Until now, why have they not been blacklisted? It must be someone up there," Andaya alleged.
He and Minority Leader Suarez, both supporters of House Speaker Gloria Macapagal-Arroyo, confronted Diokno about his alleged connections to the owner of CT Leoncio, Consolacion Leoncio, during his appearance at "Question Hour" at the House of Representatives Tuesday evening.
Diokno: I have no knowledge of projects
Diokno acknowledged he is related to the vice governor of Sorsogon province, where CT Leoncio has projects.
According to a report in The STAR, Diokno's daughter Charlotte Justine is married to Romeo Sicat Jr., who is the son of Sorsogon Vice Governor Esther Hamor, from her first marriage.
"Bawal pag usapan sa amin iyan (That kind of talk isn't allowed in our home)," Diokno said. "Absolutely, I have no knowledge about that (projects). I don't know and I don't care. I have no idea what was released. The DPWH knows that (projects)."
Andaya and Suarez attributed Diokno's loose connections to the Hamors – who they say are close to Consolacion Leoncio – as the reason Diokno had been allegedly meddling on the company's behalf in bagging projects.
Panelo: Duterte doesn't meddle in House affairs
Majority of the House of Representatives voted in favor of the resolution on Wednesday, which questioned the P75 billion allegedly inserted into the 2019 national budget.
"The issues on the augmentation in the budget of the Department of Public Works and Highways without the DPWH secretary's knowledge and consent remains unresolved," the House resolution read.
Panelo, responding to the House's call to fire Diokno, pointed out that the president did not get involved in the lower house when they selected their leaders during the 2018 State of the Nation Address, when they voted to oust Rep. Pantaleon Alvarez (Davao Del Norte) as House speaker.

"In the same manner that the president doesn't tell Congress who it will choose as its officers and how to go about it, we wish that its members return the same courtesy," he added.
Duterte's spokesperson and chief legal counsel said Congress could find other ways to correct irregularities instead of firing Diokno.
"Should it feel that there was irregularity in the allocation of the budget, it can always correct it apart from having the option of recommending the filing of charges against those they deem are responsible for the transgressions should the same amount to a crime," Panelo said.
Panelo said as far as the Palace is concerned, the Budget secretary's reputation was "upright, competent, and honest public servant stays solid up to this day."
The accusations against Diokno come a week after Arroyo and Andaya were accused of cornering the biggest congressional insertions at a combined P4.3 billion in the 2019 budget, an accusation the Palace said they should answer for.
Both Arroyo and both denied having the biggest allocations and said that they were both unfairly "singled out."