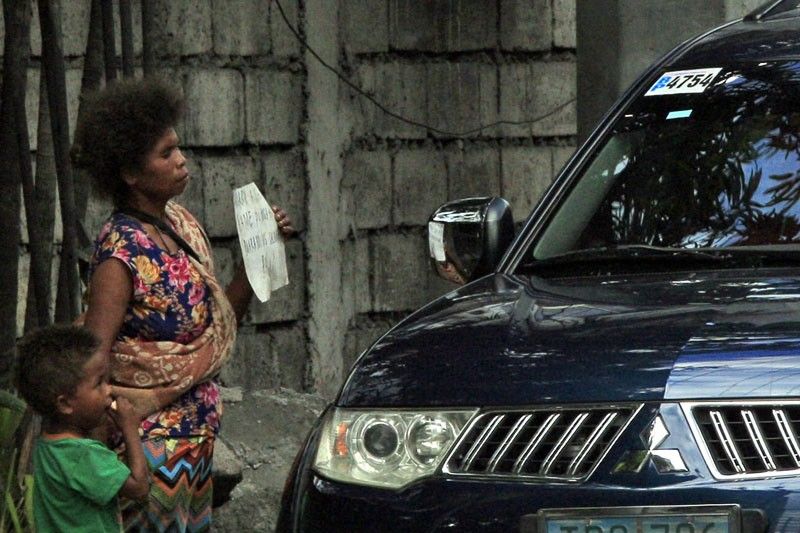 Aetas beg for alms from motorists along United Nations Avenue in Ermita, Manila yesterday. The National Capital Regional Police Office has announced it would conduct rescue operations for the indigenous people flocking to Metro Manila in time for the holidays.
Edd Gumban
Do not give to beggars — DSWD
Janvic Mateo
(The Philippine Star) - December 12, 2018 - 12:00am
MANILA, Philippines — The Department of Social Welfare and Development (DSWD) yesterday reminded the public not to give alms to street dwellers, saying there are other ways to help this Christmas season.
"We appeal to our kababayans especially here in Metro Manila not to give alms to children and families on the streets, as this will perpetuate their beliefs that it is OK to ask for alms and that it is a good way to earn," DSWD spokesperson and assistant secretary Glenda Relova said.
"We understand that during Christmas season, people give extra love and care. They are more generous as this is the season of giving. But let us not give alms. We believe it is not the best solution," she added.
Relova said they monitor an increase in street dwellers during Christmas season as more people go to city centers to ask for alms during the Christmas season.
"Starting October, we usually see our fellow citizens who are Aetas and Sama-Bajaus go to Metro Manila to ask for alms, as it is a means of livelihood for them," the DSWD official said.
"If quick cash won't be accessible to them, they will not pursue this practice anymore," she added.
Instead of giving alms, the DSWD urged the public to take part in their initiatives to help the homeless through its #HelptheHomelessPH advocacy campaign.
Relova said the public may organize gift-giving events or small reach-out activities, as well conduct art or story-telling and even feeding programs and medical missions.
"What we also encourage is for the public to help us in developing programs for street dwellers and to give to our centers, non-government organizations and other charitable institutions that provide comprehensive services for street children and families," Relova said.
She said indigenous peoples who go to Metro Manila to beg are also being supported through their Balik-Probinsya program.
"The Silungan sa Barangay project will be pilot-tested in cities and municipalities here in Metro Manila. Under this project, the DSWD aims to have processing centers for street dwellers in the LGUs or a temporary home or 'silungan' where they can stay and be provided with a convergence of holistic services from different groups," the official added.