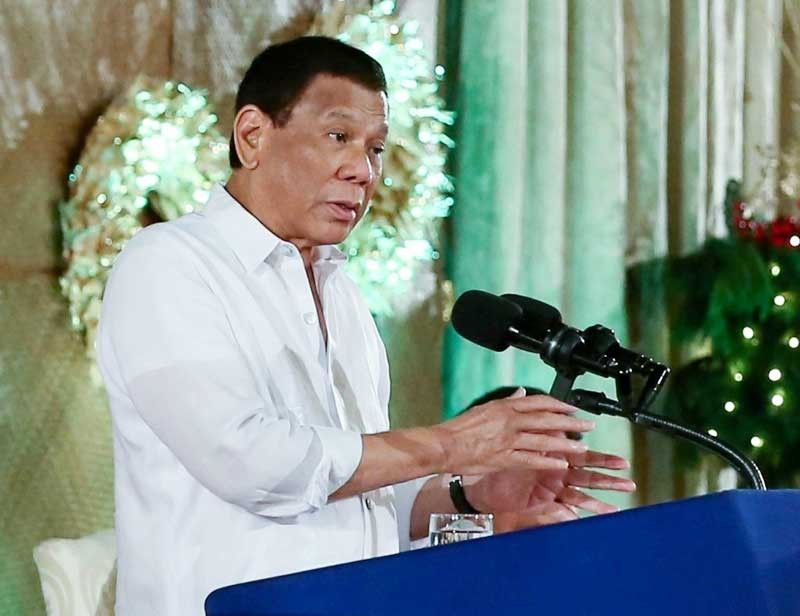 Duterte sent letters to Senate President Vicente Sotto III and Speaker Gloria Macapagal-Arroyo, imploring the two chambers to grant his request as he cited the security gains achieved since May 2017 when he issued Proclamation 216 declaring martial law and suspending the writ of habeas corpus in Mindanao at the outbreak of the siege of Marawi City.
Robinson Ninal/PPD
Duterte seeks longer martial law, says rebellion persists
Paolo Romero
(The Philippine Star) - December 11, 2018 - 12:00am
MANILA, Philippines — There is a "continuing rebellion" in Mindanao perpetrated by the Abu Sayyaf and other Islamic extremist groups while the communist New People's Army (NPA) continues to stage attacks, President Duterte told leaders of Congress yesterday as he asked for a third extension of martial law in the region.
Duterte sent letters to Senate President Vicente Sotto III and Speaker Gloria Macapagal-Arroyo, imploring the two chambers to grant his request as he cited the security gains achieved since May 2017 when he issued Proclamation 216 declaring martial law and suspending the writ of habeas corpus in Mindanao at the outbreak of the siege of Marawi City.
He said further extending martial law and the suspension of the privilege of the writ of habeas corpus will enable the Armed Forces of the Philippines (AFP), the Philippine National Police (PNP) and other law enforcement agencies "to finally put an end to the ongoing rebellion in Mindanao and continue to prevent the same from escalating in other parts of the country."
"We cannot afford to give the rebels any further breathing room to regroup and strengthen their forces," Duterte said in his letter dated Dec. 6.
"Public safety indubitably requires such further extension in order to avoid the further loss of lives and physical harm, not only to our soldiers and the police, but also to our civilians," he said.
Senate Majority Leader Juan Miguel Zubiri read the letter on the floor about an hour after senators listened to a briefing from security officials on the situation in Mindanao.
The officials hoped to convince the lawmakers to vote for extension at the joint session of the Senate and the House of Representatives tomorrow.
Duterte said the Abu Sayyaf, Bangsamoro Islamic Freedom Fighters, Daulah Islamiya (DI) and other extremist groups – labeled as local terrorist groups (LTG) aiming to foment global rebellion – continue to stage attacks.
The groups were said to be behind four bombings, including in Lamitan City, Basilan last July 31 that killed 11 people; and in Isulan, Sultan Kudarat last Aug. 28 and Sept. 2 that killed a total of five individuals and injured 45 others.
He said DI forces continue to pursue their rebellion against the government through radicalization activities and recruitment of new members in vulnerable communities in Mindanao.
While the government was preoccupied with confronting LTGs, communist rebels took advantage of the situation, staging 342 violent incidents including harassment of government installations, assassinations and arson attacks, Duterte said.
Another extension, he said, will also enable the government and Mindanaoans to sustain the gains achieved toward peace and progress since the declaration of martial law.
He cited the neutralization of 685 LTG members and 1,083 communist rebels; the dismantling of seven guerrilla fronts and weakening of 19 others; the surrender an unprecedented number of loose firearms and substantial reduction in crime.
Defense Secretary Delfin Lorenzana and Interior Secretary Eduardo Año led security officials in briefing senators behind closed doors.
Sotto said he was inclined to support the request of the President. "There are more gains but the situation is still grave," Sotto told reporters after the briefing.
He asked Executive Secretary Salvador Medialdea for a legal opinion on the suggestion of Senate President Pro Tempore Ralph Recto that an extension be limited to only six months.
Recto said that since a new Congress will convene in July, he thought the present 17th Congress should not make a decision for them.
"What is appealing is they (AFP and PNP) are saying they can wipe out the Abu Sayyaf and reduce the capability of the NPA but the question is, can we extend martial law beyond our term?" Recto said.
Sen. Aquilino Pimentel III said the length of the extension would still have to be discussed "but if we extend then maybe we should extend for the requested period."
Sen. Joseph Victor Ejercito said he was also in favor of granting Duterte's request as based on his regular trips to Mindanao, the people there welcome the improved peace and order situation.
He said martial law limited the movement of private armies and lessened the proliferation of illegal firearms.
Senate Minority Leader Franklin Drilon, however, said there was nothing in the security briefing that could convince him that an extension was constitutional.
"Under our Constitution, there must be rebellion, insurrection and public safety requirements, rebellion is defined by law as an actual uprising designed to remove the allegiance from the government. What I am saying is that I am not convinced and there has been no showing that there is actual armed uprising," Drilon said.
Sen. Paolo Benigno Aquino IV said the five-member minority bloc is likely going to vote against an extension.
Senior Associate Justice Antonio Carpio, for his part, said there is nothing illegal about the President seeking an extension of martial law – even for several times – as long as there are grounds for doing so.
"As long as the grounds for declaring martial law exist, then you can continue with martial law," he stressed in an interview. "There's no limit. It can be extended without limit."
Earlier, Albay Rep. Edcel Lagman, whose group earlier assailed the legality of the proclamation before the SC, questioned the proposal, saying "a third extension will unduly and inordinately prolong the regime of martial law in Mindanao."
Carpio cited the Supreme Court's decision in July last year that upheld the constitutionality of Duterte's martial law declaration.
In upholding Proclamation 216, the high court said the necessary requisites for declaration of martial law were present in Mindanao, particularly the existence of a "real and present rebellion that threatens the lives of our fellow Filipinos in Mindanao, and their much-cherished liberties."
The SC explained that it could only step in once there is clear showing of arbitrary and improvident use of power by Congress under Article VII, Section 18 of the 1987 Constitution, which it said is lacking in this case.
Carpio had voted to uphold the legality of martial law declaration but wanted it limited to Marawi City.
CPP unfazed
Meanwhile, the Communist Party of the Philippines (CPP) said an extension of martial law will not stop its guerrillas from collecting so-called revolutionary taxes, especially during the election period.
"Over the past weeks, many political parties and candidates have already complied with policies and requirements including settlement of required fees, while numerous others have affirmed their plan to fulfill their obligations," the CPP said.
Militant groups like the Kilusang Magbubukid ng Pilipinas (KMP) said martial law has caused so much suffering in Mindanao.
"Martial law in Mindanao has caused enough damage and suffering for farmers, indigenous people and the poor people of Mindanao. There is strong public opinion against another martial law extension because it is practically a declaration of war against the lumad people who fight to defend their ancestral land against land grabbing," KMP said.
"Martial law did not bring peace or prosperity in the south. What Mindanaoans experience is wanton violation of human rights, deepening poverty and social injustice," it added.
Based on the data gathered by human rights group Karapatan, 88 people have become victims of political killings, 1,480 harassed and slapped with trumped-up charges and more than 360,000 forcibly evacuated due to bombings since the implementation of martial law.
"Farmers and indigenous people are the most affected by militarization and martial law," said Antonio Flores, KMP secretary-general.
There are close to 300 political prisoners across Mindanao while almost 500 have been unjustly tagged as terrorists and rebels.
"Martial law in Mindanao continues to suppress all sectors defending land and economic resources against foreign plundering. It is only intended to protect investments and businesses of foreign companies including foreign agri-plantations, large-scale mining corporations and other investments," Flores said.
KMP also noted that more than 70 percent of the military's ground troops are now deployed in Eastern and Western Mindanao commands. At least 74 AFP battalions are deployed in Mindanao, from the 55 battalions before martial law, KMP said without revealing the source of its information. – With Alexis Romero, Edu Punay, Rhodina Villanueva, Artemio Dumlao, Ben Serrano