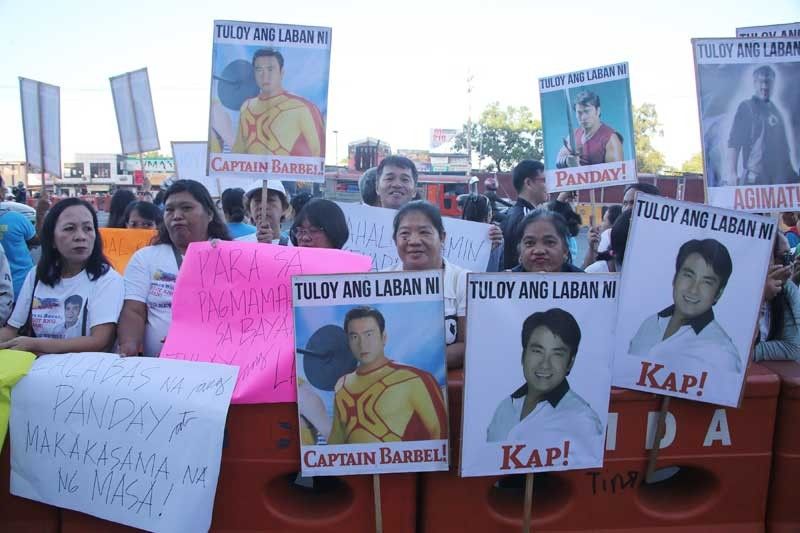 Supporters of actor and former senator Ramon 'Bong' Revilla Jr. wait for the verdict on his plunder case at the Sandiganbayan in Quezon City yesterday.
Michael Varcas
The dissent: Forgery given too much weight
MANILA, Philippines — Sandiganbayan First Division chairman Associate Justice Efren de la Cruz and sitting member Associate Justice Ma. Theresa Dolores Gomez-Estoesta have criticized the majority decision acquitting former senator Ramon "Bong" Revilla Jr. of plunder.
In separate dissenting opinions released to the media yesterday, De la Cruz and Estoesta said their three fellow magistrates erred in their decision that Revilla cannot be held liable for plunder because the prosecution supposedly failed "to establish beyond reasonable doubt" that the former senator received rebates, commission or kickbacks from the allocation of his Priority Development Assistance Fund (PDAF) or pork barrel to the bogus non-government organizations owned by alleged pork scam mastermind Janet Lim-Napoles.
"With the majority opinion, senator Revilla's general defense of denial, in the guise of forgery, was given the most credence but to a great fault," Estoesta said. "His imminent freedom has dismally thrown away all evidence that once forebode of repelling the scathing tale that never before of such magnitude has been told."
Voting 3-2, the Sandiganbayan Special First Division acquitted Revilla of plunder and convicted co-accused Richard Cambe and Napoles.
In favor of Revilla's acquittal were Associate Justices Geraldine Faith Econg, Edgardo Caldona and Georgina Dumpit-Hidalgo while De la Cruz and Estoesta voted for conviction. Econg served as the ponente or author of the majority decision.
In her dissenting opinion, Estoesta bared that a special division composed of five members was convened after Econg and Caldona, the regular members of the First Division, dissented in the original decision written by division chairman De la Cruz.
Under the Revised Internal Rules of the Sandiganbayan, a "unanimous vote of the three justices" is required when deciding on a case. If a unanimous decision is not reached, the presiding justice would have to designate two other justices from other divisions to participate in the voting.
Thus, Estoesta and Hidalgo, chair and junior member of the Seventh Division, respectively, were tapped to participate in the voting.
Estoesta said the three justices erroneously gave weight to the recantation of the testimonies of whistle-blowers Marina Sula, Merlina Suñas and Mary Arlene Baltazar, but failed to look into the other pieces of evidence presented by the Office of the Ombudsman's prosecution panel, which supposedly point to Revilla's involvement in the elaborate scheme involving the misuse of his PDAF.