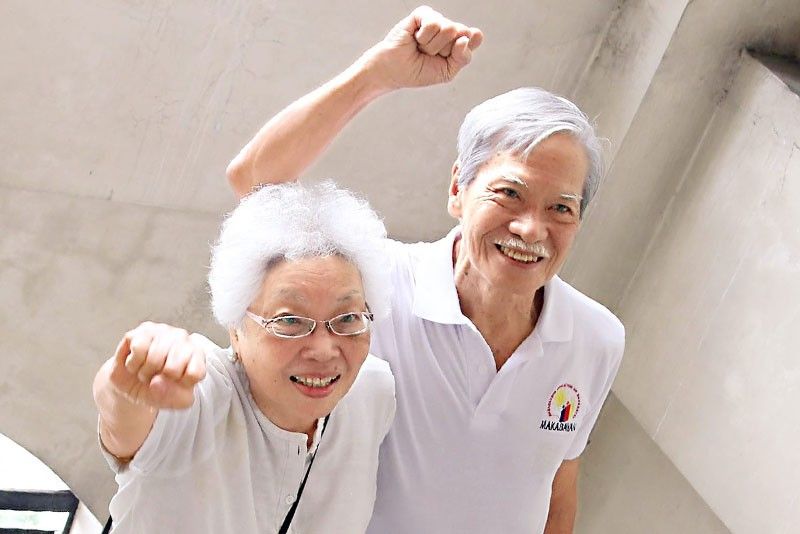 Former Bayan Muna congressman Satur Ocampo and his wife Carolina walk to a press conference in Quezon City yesterday, in his first public appearance following his arrest last week.
Michael Varcas
'Satur Ocampo free to file countercharges'
MANILA, Philippines — Former Bayan Muna party-list representative Satur Ocampo and Alliance of Concerned Teachers party-list Rep. France Castro are free to file charges against anyone they believe had violated their rights, Malacañang said yesterday.
Ocampo and Castro, vocal critics of the Duterte administration, were arrested last Wednesday for allegedly trafficking 12 minors in Davao del Norte. They were freed on Saturday after posting bail of P80,000 each.
Security officials said the group of Ocampo and Castro were transporting minors from Sitio Igang in Barangay Palma Gil to Maco, Compostela Valley when they were intercepted. The group included 12 teachers and 29 students of Lumad schools, four pastors and an administrator of the Salugpungan community learning center.
Supporters of Ocampo and Castro have accused the government of filing "trumped-up" charges. They have also claimed the two were conducting a "solidarity mission" to help students and teachers of Lumad schools who are supposedly being targeted by government forces.
Presidential spokesman Salvador Panelo said Ocampo and Castro have the right to seek legal remedies against those whom they thought did them wrong.
"It's their right against whomsoever have violated their rights. That's what the President has been saying. He won't allow any violation of the law. Whoever violates the law should be charged and let the law run its course," Panelo said.
Panelo also denied the executive branch is behind the arrest of Ocampo's group.
"When the judge saw there was probable cause, that means they were given due process. In fact, they were allowed to post bail. I think their allegations against the government are baseless," Panelo said.
"The executive has nothing to do with the judiciary ever since," he added.
Ocampo, Castro and their 16 companions were released from jail on Saturday after posting bail.
Panelo urged Ocampo's group to prepare their defense and to just allow the court to study the case.
"They should hold their horses and let the law run its course. They were charged and they have the right to defend themselves. They are entitled to the presumption of innocence. They were allowed to post bail so they can prepare," he said.
Ocampo and his group accused the Davao del Norte regional police of illegal detention after the court granted their temporary freedom in posting bail.
Police regional director Senior Supt. Ferlu Silvio however denied the allegations.
He said they were just waiting for the decision from Tagum City Executive Judge Arlene Palabrica to decide on the matter.
"There was an oral argument at the sala of judge Palabrica, which is why their release was delayed," Silvio said.
A lawyer for the police argued the P80,000 cash for each accused is only for the case for violation of Anti-Child Abuse Law and does not cover the other cases of kidnapping and failure to return a minor.
"That was why there was an oral argument and the judge issued a supplemental order afterwards," Palabrica said.
Ocampo's group was eventually released shortly before 9 p.m. Saturday. Silvio denied they followed the former lawmaker's convoy after they were released.
"That was their allegations. We were just outside the compound of the hall of justice," he said.
Silvio said they are working on gathering more evidence against Ocampo and his group.
Armed Forces of the Philippines spokesman Col. Edgard Arevalo said the court should decide on the issue.
"All other issues with regard to the legality, the factual and actual and the legal basis, are all now in the courts. So let the courts decide," he said.
Arevalo said claims by Ocampo and his group that they were rescuing minors is contrary to the fact that the minors were taken without permission from their parents.
Worse, the so-called rescue was done "at the dead of the evening, in the dead of night" during which they were intercepted at a checkpoint because tribal leaders and parents sought help from the police and the military. – Michael Punongbayan, Emmanuel Tupas, Romina Cabrera