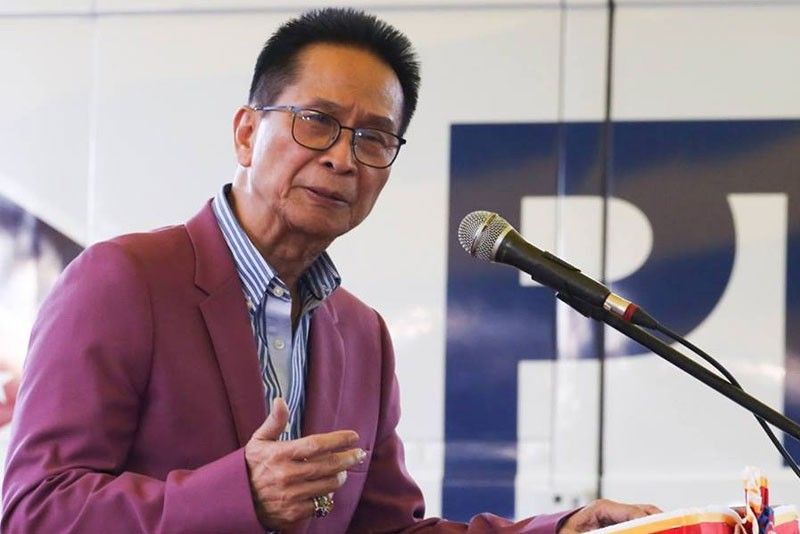 Chief presidential legal counsel Salvador Panelo serves in a concurrent capacity as spokesman for President Duterte and as chief presidential legal counsel.
www.facebook.com/pg/SecretarySalvadorPanelo
Panelo explains why Carpio not picked as chief justice
MANILA, Philippines — Supreme Court Senior Associate Justice Antonio Carpio's turning down of a previous nomination for chief justice affected President Rodrigo Duterte's decision not to appoint him this time, the Palace said.
In July, Carpio declined nominations for the chief justice to replace Maria Lourdes Sereno, whose appointment as chief justice in 2012 the Supreme Court voted to void.
The senior justice said then that he had to be consistent with his position on the government's quo warranto petition against Sereno. "On a personal level, because I have voted against it, I don't want to benefit from it, so I will decline any nomination," he said.
Associate Justice Teresita De Castro was appointed chief justice and retired less than two months later, opening nominations for her replacement. Carpio accepted the nomination this time.
Panelo: All vacancies after Sereno were caused by her ouster
"What I am saying is if you follow his (Carpio) logic, it will apply to every vacancy because the vacancy was triggered by the ouster of Sereno. If Sereno were not ousted we would have a chief justice until she retired," Panelo told reporters in an interview.
"That was the reason cited by the president. He (Carpio) said he would decline because he did not want to take advantage (of Sereno's ouster)," he added.
If Sereno were not ousted, she would have reached retirement age in 2030.
Supreme Court Associate Justice Lucas Bersamin has been appointed to succeed de Casto as chief justice.
Panelo reiterated that Carpio's opposition to Duterte's manner of handling the South China Sea issue had no bearing on the selection of chief justice.
"Look at (former presidential) spokesperson (Harry) Roque. He did not only campaign against him. He said a lot of things against teh president," he said.
Roque supported the presidential bid of former vice president Jejomar Binay in 2016.
"Just remember, it was discretionary on the part of the president. He also looked at other aspects," Panelo said.
Asked if Carpio could still become chief justice, Panelo replied: "But then again as you said, pwede namang magbago, pwede rin namang magbago ang Presidente, nasa presidente yan. Hanggat buhay mag pag-asa (It can change, the president may change his mind. It's up to the president. One still has hope as long as he lives)."
Bersamin is set to retire on October 18, 2019. Carpio reaches retirement age on October 26 of that year.