Duterte: Philippines should be careful on crackdown of illegal Chinese workers
November 28, 2018 | 1:33pm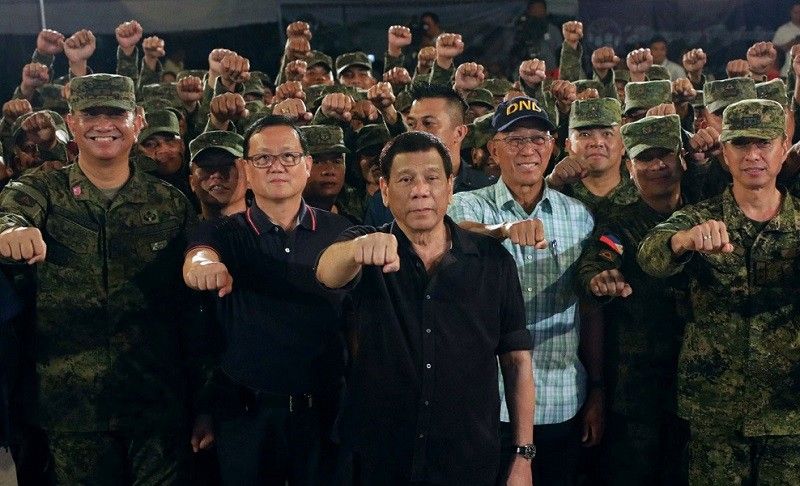 MANILA, Philippines — Illegal Chinese workers have to be deported but the Philippines should be cautious on such crackdown because there are several Filipinos getting lenient treatment abroad, President Rodrigo Duterte said.
During a recent Senate inquiry on the influx of foreign workers in the Philippines, it was revealed that the Labor department has issued almost 52,000 alien employment permits for workers from China.
Labor officials have said the Chinese enter the country using tourist visas before getting short-term permits to work for online gaming firms. The Senate labor committee has also learned that more than 119,000 tourists, most of them Chinese, were able to skirt Philippine labor regulations.
Duterte agreed that the illegal workers should be deported but noted that some countries have been lenient to Filipinos.
"Yes, they should be deported. But in the same manner, you should be careful because when you point to the Chinese you also point yourself at us. There are so many thousands of Filipinos working there or went inside China as tourists and working there," the president said.
"Remember it's not just exploiting a story about the Chinese working here. We are doing the same thing in Malaysia. There are a lot of our women are there - in Indonesia, in China, in Korea," he added.
Duterte said while some Filipinos are complaining about the presence of foreign workers, other countries are facing the same issue. He said going "rough" on the issue might have an impact on Filipinos in other countries.
"Remember that we have also exported the same problem to them," the president said.
Duterte said the entry of illegal workers is not okay but there has to be an "arrangement" on how they should be handled.
"It is not okay but there has to be an arrangement there. So if you think that you are at a loss, at a disadvantage because there are so many Chinese nationals working here, remember that we have the same equal amount of people - Filipinos who are there working in China. But they are not departing anyone. So maybe you can just tell them to go home," Duterte said.
"Otherwise, if you start to get rough on this issue, there is a distinct possibility that it will also happen to you. So you know when you sail your ship of state, you avoid turbulent waters," he added.
The president cited the case of South Korea, which he said has been lenient in issuing visas to Filipinos out of gratitude for the Philippines' assistance during the Korean War. He said the lenient treatment "should not be a cause for abuse."