Xi wants to deepen mutual trust with Philippines
November 19, 2018 | 12:00am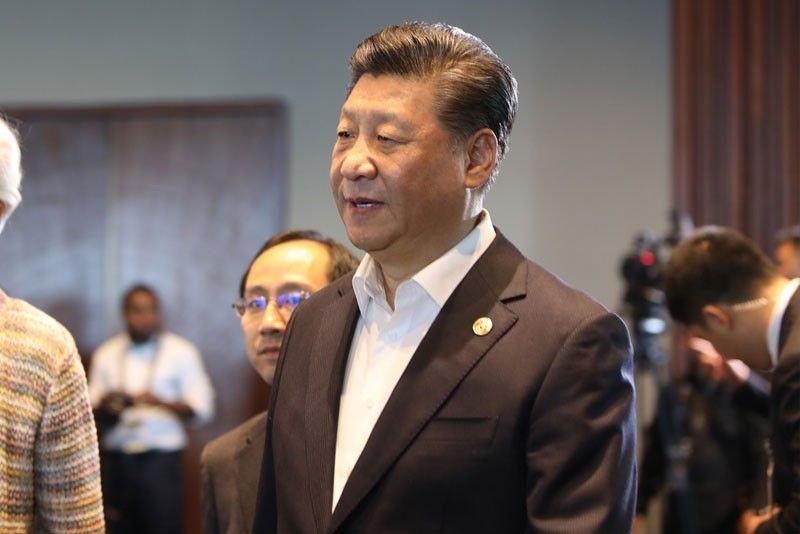 'SCS should be sea of peace, friendship'
MANILA, Philippines — Chinese President Xi Jinping is welcoming the Philippines and other countries on board the "express train" of his country's development as Manila rolls out the red carpet for his two-day visit here starting tomorrow.
"As a Philippine proverb goes, 'Seize today, or you will lose tomorrow.' China will work with the Philippines to seize the opportunity and go along with the trend of our time," Xi declared in an article sent to The STAR.
"I am visiting this time mainly to have in-depth discussions with President Duterte on how to elevate our all-round cooperation under new circumstances and make overall plan for greater progress in our relationship toward a higher level," Xi noted.
Seen as the most powerful Chinese leader since the late Deng Xiaoping, Xi cited "a number of things" needed to be done to achieve this goal: deepen "political mutual trust" in dealing with bilateral and international issues as well as East Asia cooperation for "win-win" results; enhance cooperation in business, trade, infrastructure, agriculture, tourism and other fields; and strengthen people-to-people ties.
The Chinese leader, who visited Manila in 2015 to attend the Asia-Pacific Economic Cooperation summit, noted that since Duterte took office, China and the Philippines have reengaged in dialogue over the South China Sea issue.
President Duterte, in an interview with Chinese media last week before leaving for Singapore, said he would discuss the South China Sea issue with Xi during the state visit and is hoping for a peaceful resolution of the dispute.
China is facing issues related to land reclamations and putting up of structures in the South China Sea, which countries say may threaten peace and stability in the region.
It also has to deal with allegations of unfair trade practices and that countries who borrow from China for development projects fall into a debt trap.
"We need to properly handle differences through friendly consultations, enhance dialogue and cooperation on maritime issues, and make the South China Sea a sea of peace, friendship and cooperation that truly benefits our two peoples," Xi said.
"China will continue to deepen cooperation with the Philippines in defense, drug control, counterterrorism and law enforcement to foster a sound environment for the development of our two countries and stability of our region," Xi added.
According to Xi, China now contributes over 30 percent to global growth and is opening itself further, lifting more than 700 million people out of poverty by the standard of the United Nations.
"Trade liberalization and economic globalization is an unstoppable trend of our times. As a major responsible country committed to win-win cooperation and greater openness, China stands ready to share with all countries the opportunities and potential of its market," Xi said.
"Several centuries ago, China's GDP (gross domestic product) already accounted for 30 percent of the global total, yet it never engaged in aggression or expansion," Xi added.
Xi stressed peace and stability is the only way to development and prosperity and that this is neither a choice of expediency nor a diplomatic rhetoric.
"It is our firm conviction and a guidance of what we practice on the ground. China will remain committed to the path of peaceful development and will always stay as an anchor of peace and stability for the Asia-Pacific and the wider world," Xi said.
Full alert
National Capital Regional Police chief Director Guillermo Eleazar reiterated yesterday that their 27,000-strong force will be on full alert during Xi's visit.
Manila Mayor Joseph Estrada has also suspended classes and work in the city government on Tuesday to "ensure public order, safety and convenience."
"Based on our monitoring, several militant groups are out to stage lightning rallies. But we expect these rallies each time our country has visitors from foreign countries… we have no problem with that. We are ready," Eleazar said in an interview.
Eleazar said they are in the thick of their accounting of personnel and that anti-riot contingents have been closely coordinating with the Chinese embassy in connection with the visit. – With Edith Regalado, Non Alquitran