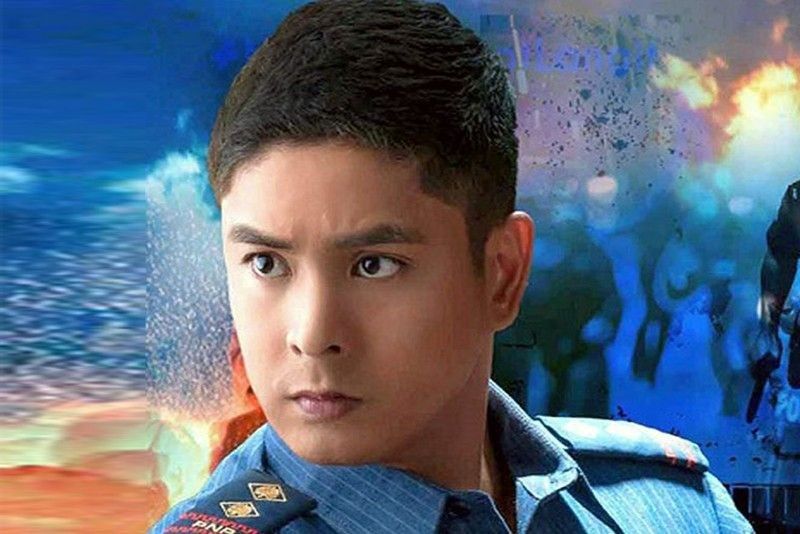 Coco Martin plays the lead character in ABS-CBN's "Ang Probinsyano."
File
'Ang Probinsyano' is purely fictional, network assures PNP chief
(The Philippine Star) - November 14, 2018 - 7:22pm
MANILA, Philippines — The TV show "FPJ's Ang Probinsyano" is fictional and is not meant to disparage the Philippine National Police, ABS-CBN said after Director General Oscar Albayalde, PNP chief, complained of its supposedly negative portrayal of cops.
In a statement, ABS-CBN Integrated Corporate Communications head Kane Errol Choa said "the characters, places, and incidents in the program are purely fictitious as stated in the disclaimer aired at the start of the show every night."
"There is no intention to smear the reputation of any organization or portray any person in a negative light," he also said.
Sagot ng ABS-CBN sa pahayag ni PNP Chief Oscar Albayalde na umaalma sa representasyon ng "Ang Probinsyano" sa mga pulis. pic.twitter.com/CLdG3V6iKP

— News5 AKSYON (@News5AKSYON) November 14, 2018
According to a report on state-run Philippine News Agency, Albayalde plans to write to the Movie Television Review and Classification Board over the show's supposedly unfair portrayal of police.
"We had a previous letter to MTRCB already last September. Now we will be writing both the production outfit and the MTRCB," he said in the PNA report.
The report cites PNP chief Albayalde as saying "the show's portrayal of the PNP Chief as a villain is far from reality."
In the show, which has been running since 2015, the fictional PNP chief and a similarly fictional vice president are portrayed as working together in illegal activities.
ABS-CBN pointed out that Cardo, the main character of the show, is "a hardworking police officer dedicated to saving lives and serving his fellowmen."
Violence against women
Earlier this month, Albayalde also said it was unfair to judge the entire police force over an incident of "palit-puri", where an officer of the Manila Police District allegedly raped the teen daughter of drug suspects in exchange for her parents' liberty.
The incident prompted Coalition Against Trafficking in Women-Asia Pacific to claim that the scheme had worsened under the Duterte administration.
"There was never a single incident of that sort, yung sinasabi nyo nang ganun. There are probably sexual advanced pero 'dun sa sinasabi nilang rampant, that's too harsh to say," he said then.
Last week, two rookie police officers of the Quezon City Police District were arrested for allegedly raping a woman they had arrested for illegal gambling.
According to the Center for Women's Resources it has documented 33 cases of violence against women committed by police officers since July 2016.
'Internal cleansing'
The PNP has a continuing "internal cleansing" campaign against corrupt police officers, with Albayalde being told when the assumed the post of PNP chief in April "to double his efforts to cleanse the ranks of police scalawags that tarnish the image of the entire police organization."
In August, Albayalde welcomed President Rodrigo Duterte's announcement of a supposed P5-million reward for every "ninja" cop killed. "Ninja" cop refers to corrupt police officers involved in the illegal drug trade.
"That's an awful deterrence for these few bad cops from continuously treading on their crooked path," Albayalde said then.
Also in August, a Caloocan court wrapped up the trial of the murder and planting of evidence case against three police officers for the death of 17-year-old Kian delos Santos, who was killed in a "One Time Big Time" operation in the city in August 2017 .
In late July, authorities arrested three Taguig cops for kidnapping a couple and holding them for ransom. Another police officer involved in the abduction was killed in the operation.