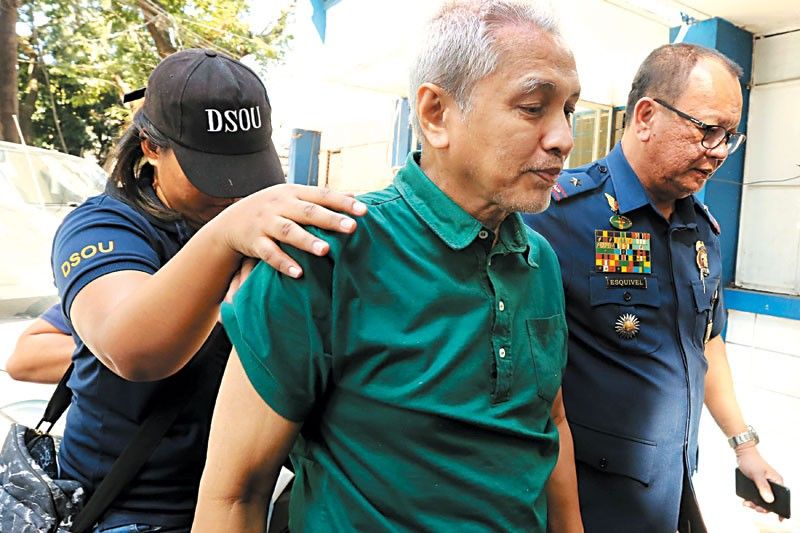 National Democratic Front consultant Vicente Ladlad is escorted by QCPD director Chief Supt. Joselito Esquivel at Camp Karingal in Quezon City following his arrest yesterday.
Boy Santos
NDF consultant, 2 others nabbed over firearms
MANILA, Philippines — Police arrested a consultant of the communist National Democratic Front (NDF) in Novaliches, Quezon City early yesterday.
Philippine National Police (PNP) chief Director General Oscar Albayalde said Vicente Ladlad and two of his staff, spouses Alberto and Virginia Villamor, were arrested for illegal possession of firearms and explosives.
PNP and military intelligence agents raided the supposed safehouse of the suspects in Barangay San Bartolome and seized an AK-47 assault rifle, an M16A1 assault rifle, a .45 caliber pistol, four hand grenades and assorted ammunition.
Lawmen also seized several documents, including books and CDs they tagged as "subversive."
Albayalde stressed the arrest was covered by a search warrant issued by a Quezon City court.
Albayalde said the operation stemmed from information provided by residents complaining of suspicious looking people at the house where Ladlad was staying.
"Confidential information from concerned citizens about the suspicious activities of the suspects prompted police operatives to initiate a
thorough investigation, operational research and case build-up," Albayalde told a press conference in Camp Bagong Diwa, Taguig City.
Ladlad's wife Fides Lim confronted Albayalde before the briefing started. "Where is my husband?" an emotional Lim shouted at Albayalde.
Fides denied her 69-year-old husband had firearms and explosives. She claimed government agents planted the firearms to make the arrest appear legal.
"It's very stupid, very unfortunate for the police to be violating the law because they are the ones planting evidence," she said.
National Capital Region Police Office (NCRPO) chief Director Guillermo Eleazar denied the claims.
He said it has been the usual alibi of suspected criminals arrested for violations.
"The search was conducted in an orderly manner. Even in other application of search arrant, they are always saying it's planted," Eleazar said.
Quezon City Police District (QCPD) director Chief Supt. Joselito Esquivel said the case build-up that led to Ladlad's arrest took months.
Esquivel said they only found out that Ladlad was involved during the latter part of the investigation.
"This is only a joint law enforcement operation. It turned out that he is a high-ranking official of the NDF. For the police, it is a plain and simple application of the law for illegal possession of firearms," he said.
Albayalde said Ladlad and the two other suspects would be facing charges of illegal possession of firearms and explosives under Republic Act 10591.
Albayalde added Ladlad is a ranking member of the Communist Party of the Philippines (CPP) central committee and head of the National United Front Commission.
Ladlad is among the consultants of the NDF that represents the CPP and New People's Army (NPA) guerrillas in the scrapped peace talks with the government.
The military said Ladlad was behind the mass killing of NPA cadres suspected as government spies in Eastern Visayas in the 1980s.
In 2006 soldiers dug 67 bodies of NPA cadres in Inopacan City with the government charging Ladlad as among the brains behind the massacre.
Ladlad's co-accused in the Inopacan massacre, Adelberto Silva, was arrested early this month at an Army checkpoint in Sta. Cruz, Laguna.
Ladlad is the second NDF consultant arrested in Quezon City following the collapse of the peace talks.
Rafael Baylosis was arrested in February for allegedly carrying a pistol and hand grenade hidden in a bag while walking along Aurora Blvd.
The human rights group Karapatan said the arrest of Ladlad was a violation of the Joint Agreement on Safety and Immunity Guarantees (JASIG), which gives consultants of the NDF freedom from arrest during the peace talks.
Karapatan secretary-general Cristina Palabay said Ladlad should be immune from arrest and detention and other harassment and attacks under the JASIG.
Malacañang defended the arrest and pointed out JASIG cannot be invoked by Ladlad as an NDF consultant.
"JASIG is operative only if there are peace talks ongoing; but that has been terminated by the proclamation of the President on Nov. 23, 2017," presidential spokesman Salvador and chief presidential counsel Salvador Panelo said.
"Secondly, the crime of rebellion is a continuing crime and therefore no warrant of arrest is needed for that," he added.
Panelo said the same policy goes for other communist leaders who were earlier released in connection with the peace negotiations.
"We expect future arrests if and when we see that these personalities violate the laws. The arrest of Ladlad stemmed from an information from concerned citizens and the community that they are bearing loose firearms, high-powered firearms and explosives," Albayalde added.
"Even with the JASIG, it will not excuse you from violating the law. We cannot use it as cover to violate the law. We will be treating everybody here equally," the PNP chief said. – Rhodina Villanueva, Jaime Laude, Christina Mendez, Romina Cabrera, Jose Rodel Clapano