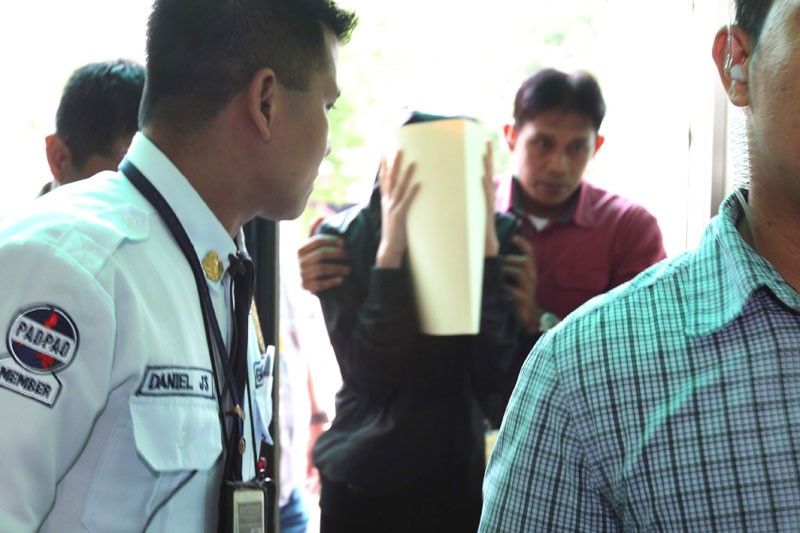 Jeane Catherine Napoles covers her face with bodyguards during the arrival to attend the hearing at Court of Tax Appeal in Quezon City.
Boy Santos
Court junks Jeane Catherine Napoles' petition vs BIR
MANILA, Philippines — The Court of Tax Appeals (CTA) has affirmed the dismissal of Jeane Catherine Napoles' petition for review assailing the Bureau of Internal Revenue (BIR)'s assessment that she has P40.03-million unpaid tax liabilities to the government.
In a 17-page decision promulgated last Oct. 29 and released to the media yesterday, the CTA full bench upheld its Second Division's Feb. 16, 2017 ruling dismissing Napoles' petition for review against the BIR due to her and her lawyer's repeated failure to attend the proceedings.
The court concurred with the Second Division that the rules must not be relaxed in favor of Napoles and her lawyer Ian Encarnacion's "self-serving and extremely unreal" excuses in failing to attend the scheduled pre-trial conference that caused at least three resettings.
"It cannot therefore be denied that the petitioner was accorded all the leeway to prosecute her case, but for reason only known to her, failed to appreciate it in her favor," the CTA's decision read.
"On a final note, procedural rules exist to be followed, not to be triffled with, and thus, may be relaxed only for the most persuasive reasons," it added.
The decision was penned by Associate Justice Esperanza Fabon-Victorino with the concurrence of Presiding Justice Roman del Rosario and Associate Justices Juanito Castañeda Jr., Ma. Belen Ringpis-Liban and Catherine Manahan.
Filed in May 2016, Napoles' civil case against the BIR stemmed from its assessment that she had P40.03 million in tax liabilities to the government for 2011 and 2012, the time she supposedly bought a posh condominium unit at Ritz Carlton in Los Angeles, California worth $1.2 million.
Napoles said the BIR erred in its assessment as she did not have any legitimate source of income in 2011 because she was just a student at the time.
Napoles is the youngest daughter of former Marine officer Jaime Napoles and businesswoman Janet Lim-Napoles, the alleged mastermind of the multibillion-peso pork barrel scam.