Mail bomb suspect in US claims Philippines ties
October 28, 2018 | 12:00am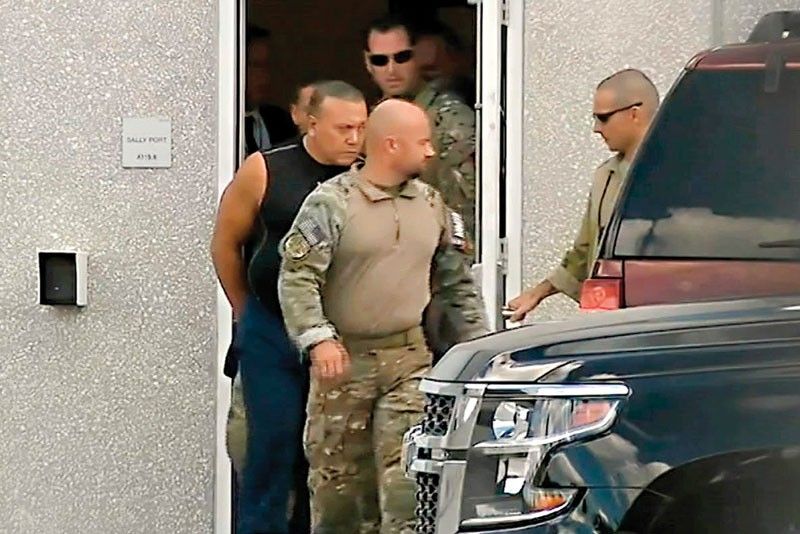 PLANTATION – FBI agents used DNA and a fingerprint to identify the Florida man suspected of sending at least 14 bombs to critics of US President Donald Trump days ahead of congressional elections.
Cesar Sayoc, born to a Filipino father and Italian mother in Brooklyn, New York in 1962, has been charged with five federal crimes including threats against former presidents and faces up to 48 years in prison if found guilty, US Attorney General Jeff Sessions said.
He earlier said the suspect could face 58 years. "We will not tolerate such lawlessness, especially political violence," he said.
Sayoc's father, born in the Philippines on May 14, 1932, immigrated to the US and was naturalized in 1970. From New York, the younger Sayoc moved to Florida where he was involved in a series of crimes.
Sayoc has been accused of mailing over a dozen IEDs (improvised explosive devises) to prominent Democrats, including former president Barack Obama, former secretary of state Hillary Clinton and billionaire George Soros.
Authorities are still investigating whether other people were involved and did not rule out the possibility of further arrests or more explosive devices in the mail.
FBI agents arrested Sayoc, 56, in Plantation, Florida and also hauled away a white van plastered with pro-Trump stickers, the slogan "CNN SUCKS" and images of Democratic figures with red crosshairs over their faces.
FBI director Christopher Wray told a news conference that fingerprints on a package sent to Rep. Maxine Waters belonged to Sayoc.
Announcing the arrest by the FBI to a cheering audience at the White House, Trump said such "terrorizing acts" were despicable and had no place in the United States.
"We must never allow political violence to take root in America – cannot let it happen," Trump said. "And I'm committed to doing everything in my power as president to stop it and to stop it now."
Sayoc's home address was listed in public records as an upscale gated apartment complex in the seaside town of Aventura, Florida.
According to the records, he is a registered Republican with a lengthy criminal past – including once making a bomb threat – and a history of posting inflammatory broadsides on social media against Trump's political foes.
Four more suspicious packages were found on Friday, according to officials and media reports, bringing the total to 14. None of the devices has detonated, and no injuries have been reported.
The intended recipients of packages discovered on Friday included Democratic US Senator Cory Booker of New Jersey, former US Director of National Intelligence James Clapper, Democratic US Sen. Kamala Harris of California and Democratic donor Tom Steyer.
When TV networks flashed the name Cesar Sayoc as the suspect who mailed pipe bombs to prominent Democrats, the Filipino-American community held its collective breath and hoped he was not one of their own.
But as the story trickled out on live TV, newspaper websites and social media, it became apparent that Sayoc is indeed one of them.
The Filipino community in the Washington metropolitan area cringed when Sayoc's ancestry was disclosed.
Filipino-Americans have a good reputation in the United States as law-abiding, hard workers and any scandal that tends to stain that record is considered a "loss of face" by the nearly four-million Filipino community.
Asian cultures put a great degree of emphasis on "face," a peculiarity difficult to describe but simplistically relates to shame and embarrassment.
Community leader Eric Lachica said he had mixed feelings when he heard news about the suspected bomber. He was glad Sayoc was arrested before anyone was injured or killed but worried about the impact on the community.
"I'm shocked and relieved. Phew! Glad Sayoc was caught. One less terrorist to worry about," he said in a text to The STAR.
Hours after a federal law enforcement official said the investigation's focus on Florida had intensified, police closed roads around the parking lot of an AutoZone store in Plantation where Sayoc was arrested, and helicopters flew overhead.
Investigators covered Sayoc's van with a blue tarp before removing it on a truck.
Trump's critics charged that his inflammatory rhetoric against Democrats and the press created a climate for politically motivated violence. Tensions are running high ahead of Nov. 6 elections that could shift the balance of power in Congress, which is currently controlled by Trump's fellow Republicans.
"If we don't stop this political mania, this fervor, rancor, hatred, you'll see this again and again and again," New York Governor Andrew Cuomo told MSNBC. "We have to get to the genesis, and the genesis is an overheated, vitriolic political division in this country and it starts with the leaders, and it starts with the President."
Trump's supporters accused Democrats of unfairly suggesting the President was to blame for the bomb scare.
After first calling for unity at the White House event, Trump lamented attacks against him and again pointed at the media."I get attacked all the time ... I can do the greatest thing for our country, and on the networks and on different things it will show bad," he told the crowd, acknowledging an attendee who shouted "fake news." – Reuters